Heading on a road trip with your dog?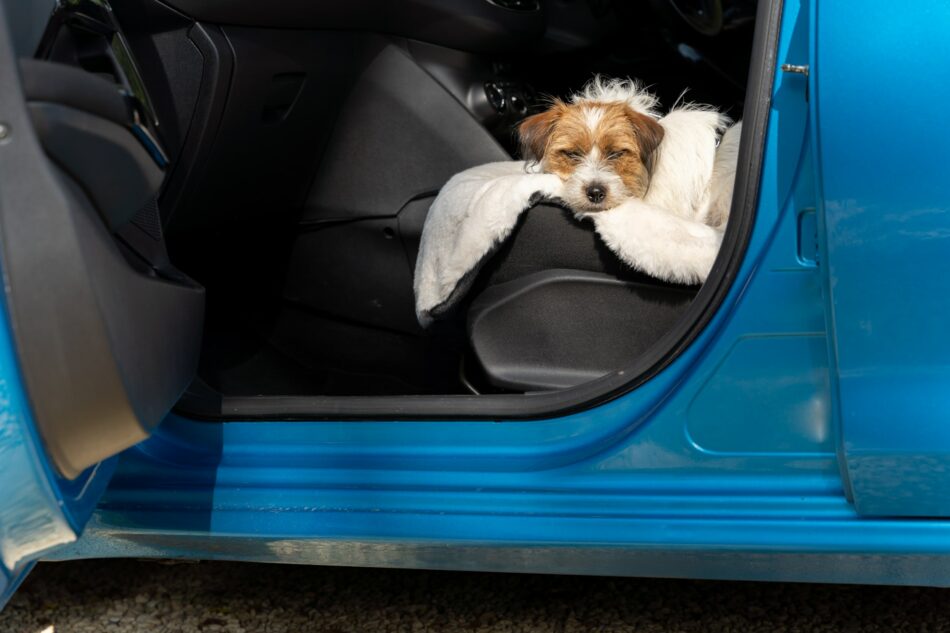 Heading out on a road trip with your dog? It's great fun having a four-legged companion by your side for a long drive. Barking and singing along to your favorite playlist with the summer breeze blowing in your hair sounds blissful but, before you start your engine, buckle up for our doggy road trips dos and dont's.
Safety first
Preparation is key to making sure your dog's safety stays the number one priority on your adventure. As of right now in the US, dog microchipping laws are defined by each state, but it's highly recommended for the safety of your pet. Once this is ensured, you should also check your pup is up to date with their vaccinations and in good health before heading out.
If you're planning on a long road trip, slowly ease your dog into spending more time traveling in the car. Just like us, some dogs suffer from motion sickness when in the car, so it's important to assess how they cope on shorter trips first. If car sickness is something that they experience, contact your vet to see if they can prescribe medication.
Seatbelts on?
So, you've taken your dog to the vet and know they're a good traveler – now what? It's time to consider how you plan on restraining your dog on the journey. Using a dog seatbelt, dog crate or a dog guard are 3 ways you can keep Fido secure whilst in the car. And, depending on what state you live in, using a dog restraint whilst traveling is mandated by law. 
If a crate is your dog's desired method of transport, the Fido Classic is the ideal choice. Available in 3 sizes, the crate can fit dog breeds as small as a Yorkshire Terrier to those as large as 70 lbs. The crate can easily be folded too, making it perfect for packing away once you reach your destination. 
Crate training your dog is an invaluable tool and will make traveling a lot easier for both you and your furry friend. Rather than seeing it as somewhere restrictive, a crate is a safe space for your dog to retreat to, anywhere they go. It will also make the journey and trip away a lot less stressful for everyone involved. Follow our dog crate training guide and see how simple it is for your dog to settle when they're away from home.
Reminders of home
Road-tripping is great, but pangs of homesickness can set in at some point. Dogs can experience this too, so it's a good idea to pack a few of their favorite things to remind them of home. Dog toys are essential for going away with your pup, just as they are back at home. Keeping your dog stimulated is super important once you arrive at your destination, so take along a long-lasting toy such as a Kong that will keep them entertained for hours, even in a new environment.
Or how about taking along their cozy dog blanket or super soft dog bed for them to rest on when you stop? Omlet's Cushion dog bed is the go-anywhere bed, perfect for taking from place to place whilst promising a pillowy soft sleep. 
What's more, you can even match your dog's bed to their collar and leash with Omlet's Dog Walk Collection. Shop from a range of designer dog collars and leashes in 8 signature prints, inspired by the beauty of the humble dog walk. Plus, don't forget about a dog poop holder, also available in matching prints to add a little flair to not so fun part of pet parenthood.
Pit-stops pending
Your and your dog's bags are packed and you're ready to go! But just before you hit the road, make note of any breaks you'll need to take. It goes without saying you should never leave a dog alone in the car. Regardless of the time of year, the temperature your car can reach unattended can be fatal for dogs, albeit dangerously hot or too cold. Cracking open a window is not enough to keep your dog safe from the elements when trapped in a car, so you'll need to choose suitable pit-stop locations that are dog friendly. A quick search will bring up a number of locations where your pup will be able to stretch their legs, use the toilet and have a drink. Whilst your dog might not need to go potty as frequently, depending on their age, it's wise to stop off somewhere every couple of hours for a break.
Omlet and your dog's adventure
Whether you're heading out on a big adventure or staying at home, Omlet has the products your dog needs to continue thriving. From ultra-soft dog beds to easy-to-travel dog crates and cozy dog blankets, we expertly engineer everything you need as a pet parent to ensure your four-legged friend lives their life to the fullest.
This entry was posted in Dogs
---