How To Choose the Right Chickens for You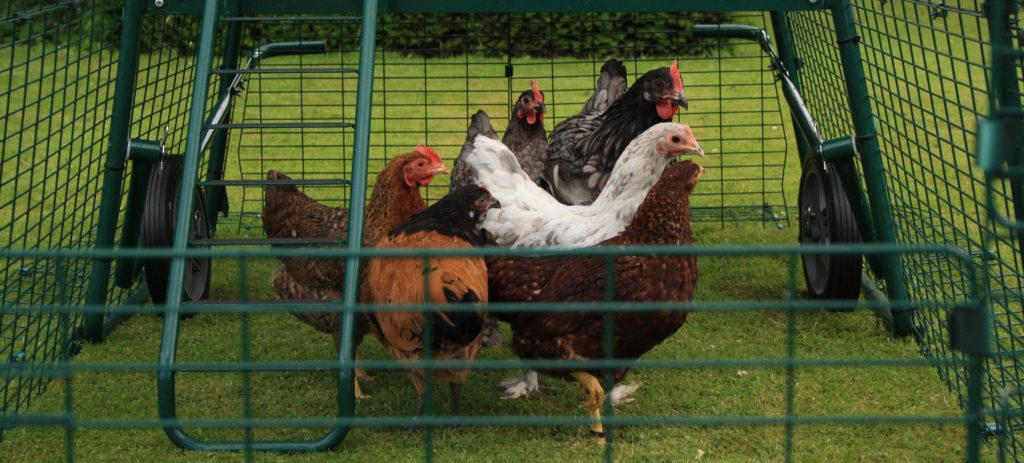 You may be thinking of buying chickens, or expanding your flock. But what exactly are you looking for?
There are a number of factors to consider. For example, is the main aim to have a good egg supply? Or colorful eggs? Will the hens be kept chiefly as pets rather than providers of eggs and/or meat? Will they need to be docile so that children can handle them?
Here are a few pointers, to make sure your feathered friends are fit for purpose.
Good Layers
All the chicken breeds available for purchase lay eggs. But if you're looking for two or three hens that will satisfy your family's weekly egg requirements, there are certain breeds renowned for their productivity.
Most hens go through a period in winter when production drops off. So, an average of five-plus eggs a week over the course of a year is the most you can hope for, and the breeds that regularly achieve this are Ancona, Australorps, Favaucana and Rhode Island Red. Many other breeds average four a week, but these four breeds are the queens of the coup when it comes to eggs, and will deliver between 260 and 300 a year.
And if we had to pick an overall winner, it would be the Australorps, as one hen of this breed holds the world record – 364 eggs in a single year!
Colourful Eggs
Most hens lay brown or white eggs, and shell color makes no difference to the taste of an egg or the color of its yolk (that's all down to what you feed your hens – plenty of greens will result in rich orange-yellow yolks).
However, some hens lay eggs of a more unusual colour. The Ameraucana, Cuckoo Bluebar, Cream Legbar and Super Blue Egg Layer will – as you may have guessed from that last name – deliver blue eggs.
The Araucana, Easter Egger, Favaucana and Ameriflower lay green-blue eggs, while the group of birds known as Olive Eggers give you eggs of a lovely olive-green hue.
Beautiful chocolate-brown eggs are the speciality of the Delaware, Marans and Penedesencas, while red-browns and pinkish-browns are delivered by Catalana, Plymouth Rock, Barnevelder and Welsummer hens.
The Sumatran and Swiss breeds produce eggs of a very pleasing cream hue. A mixture of different colors from a mixed flock of hens makes the perfect Easter basket – no dyes required!
Hens For Kids
Many chicken breeds can be nervous, while others can be quick to peck at intruding hands. These are not ideal for children, for the obvious reasons – 'scared' and 'aggressive' are not tags you would wish to apply to any kid's pet!
Some hens are lovely and docile, though, and will soon get used to being stroked, picked up and treated as friendly members of the family. Some of the best breeds in this respect are the Brahma, Cochin, Belgian d'Uccle Bantam, Easter Egger, Golden Buff, Orpington, Silkie Bantam and Sussex.
Sunday Roast?
Many people keep what are known as 'dual-purpose' chickens, and these are the breeds that combine good egg production (an average of four a week) with good eating. Not all good egg-layers make good oven birds, but many – including the Delaware, Dorking, Faverolle, Jersey Giant, Orpington, Plymouth Rock, Redcap, Rhode Island Red, Sussex and Wyandotte – do.
Hens bred specifically for meat, and not eggs, are known as broilers. They grow faster than breeds developed for egg-laying. Popular birds in this category include Bresse, Cornish Cross and Freedom Ranger.
Ornamental Hens
If you're not worried about egg supply or drumsticks and simply want something that will brighten up the garden, bantams are best. These are small birds, purposefully bred to look good, with endless variations on plumage, patterns and colors. They are particularly popular with keepers who like to enter their birds in shows and exhibitions.
Popular breeds in this category include Barred Plymouth Rock, boasting a striking stripy plumage; Buff Brahma with lovely bright colours and feathery feet; Cochins, which come in a wide variety of coat patterns and colors; the spectacular Mille Fleur d'Uccle Bantam; and the wonderfully fluffy Silkies.
So, whatever you're looking for in a hen, the ideal chicken is out there somewhere!
This entry was posted in Chickens
---