Dog boredom-busting ideas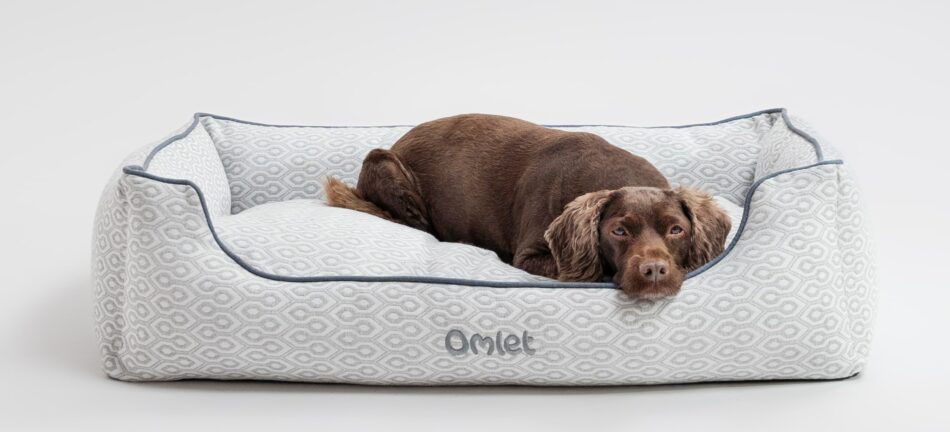 It's no secret that dogs are smart, but with such intelligence comes an innate need to be stimulated. While your post-work weekday walks might occasionally seem a chore, our canine companions thrive when tested both physically and mentally, so finding activities to help bust dog boredom will prevent them from causing mischief. Here are some ideas to try and keep Fido out of trouble.
Bored dogs – spotting the signs
A bored dog is actually quite simple to spot. If you notice any of the following, then your pup could be trying to tell you they're in need of more fun.
Destructive behavior
Chewed-up shoes, gnawed chair legs and loose stuffing dotted around your home… sound familiar? Destructive dog behavior is frustrating, but behind it all, the cause is often boredom. But with no other outlet for their emotions, dogs often turn to destroying your and their own property.
This being said, some behaviors, such as chewing, are also associated with canine anxiety, as well as puppyhood, which you can read about in our previous How to redirect your puppy's chewing blog.
Whining and woofing
Notice your dog whining and woofing a lot more than usual? It's not unusual, especially for certain dog breeds, to make a lot more noise than others, but if you see that it's becoming more relentless with no apparent reason, this could be another sign of boredom after you've ruled out any illness or injury.
Getting dizzy?
Watching Fido chase their tail might initially be entertaining for us to watch, but if your dog is doing so obsessively, this could indicate an underlying problem. In younger dogs, this behavior is most likely nothing more than a playful pup discovering what that thing attached to them is! But, if you suspect your dog's tail-chasing is becoming a habit, contact your veterinarian. Should there be nothing of concern, you could simply have a bored canine who needs a little more attention.
Persistent pacing
Restless dog behavior can include pacing. If your dog is going up and down your home in a frantic manner on a regular basis, then boredom could be to blame.
Off I go!
Got a Houdini hound on your hands? A dog that is frequently attempting to, or successfully, running away from home could be off to find entertainment elsewhere. Losing sight of your dog is a terrifying experience for any owner and when you're providing such a loving home, it can be puzzling as to why they'd want to leave. Fortunately, most will find their way back and it's important never to direct your frustration at them. Rather, see this as an opportunity to provide some more stimulation. 
Commanding attention
Other than whining and barking, dogs can seek attention in any other way they know that will get their owners to make a fuss (even if it means when they're getting into trouble!). This can include pawing and nudging, jumping up at you, dropping a toy on your lap and even stealing your favorite pair of shoes. A bored dog is a needy dog, so making sure you provide them with enough stimulation is key to putting this behavior to bed.
Boredom-busting solutions
Now you know what to look out for, here's how your furry friend can be on their way to living a more fulfilled and happier life. 
Get digging
Dogs love to dig, especially terriers such as the Border terrier, Jack Russell and fox terrier. But, finding them digging up the backyard isn't so fun for us. Instead, encourage their digging instincts by creating a digging box they can use inside the home. All you need is a cardboard box, some scrunched up paper and a few of their favorite treats to bury inside. Or, you can even use a dog ball pit, hiding treats at the bottom.
Fido fit for purpose
Working dog breeds were originally bred to take on tasks such as guarding, herding and retrieving. Huskies, for example, were bred as sled dogs, while the Bernese Mountain dog was bred as a working farm dog to drive cattle and guard the farm from predators. 
Today, many breeds are kept as loving family pets, so it's inevitably not possible for every dog to fulfill needs they were originally bred to meet. Enrolling them in an activity that resembles their intended "job" can help keep boredom at bay. Finding toys, hide and seek, rounding up toys and throwing their ball in the water to fetch are just a few fun activities you can incorporate into their routine, depending on your dog's breed.
Back to school
They might have already graduated from puppy training but there are plenty of groups available for adult dogs. This could be further sessions to brush up on their tricks or even agility. If you're not sure that a class is right for your dog, you can also set up a dog obstacle course of your own at home.
Doggy brain training
With their intelligence akin to that of a child between 2 and 2.5 years old, dogs can really benefit from brain training as part of their boredom-busting routine. Brain training toys, which encourage them to locate their treats such as snuffle mats or Kongs are readily available or can be made at home. 
You can try using a muffin tray filled with tennis balls and treats hidden underneath. Or, why not use a few empty yogurt pots or cups for them to work out which one the snack is under? 
Pup playdates
Puppy play dates can be a great way for your dog to exercise. Perhaps you have a friend with a similar-sized dog that gets along with yours, or you can even join local groups of like-minded pet parents. But before you go ahead and unleash your dog, be sure to read our advice on how to make your dog's play date a success. 
Rethink your route
The same scenic stroll might be enjoyable for you but it's important not to forget that a walk is for everyone involved – Fido included. Exploring a new walking route will give your dog new territory to explore with their nose and also the opportunity to try out training in another environment. 
Alternatively, you can even try changing up the pace of your walking or letting your dog lead you. While letting your pup take the lead isn't a habit you want to fall into, especially for leash pullers, occasionally allowing them to choose where they want to go can be a good way to switch up walks. 
Omlet and your dog
And after all that exercise, what better for your pooch to relax than on an ultra cozy Bolster dog bed? A tired dog is a happy dog after all. Continue to discover the wondrous world of Omlet with our range of other dog products such as our dog crates that double as furniture, cozy dog blankets and luxury dog collars and leashes.
This entry was posted in Dogs
---