Best cat beds for every feline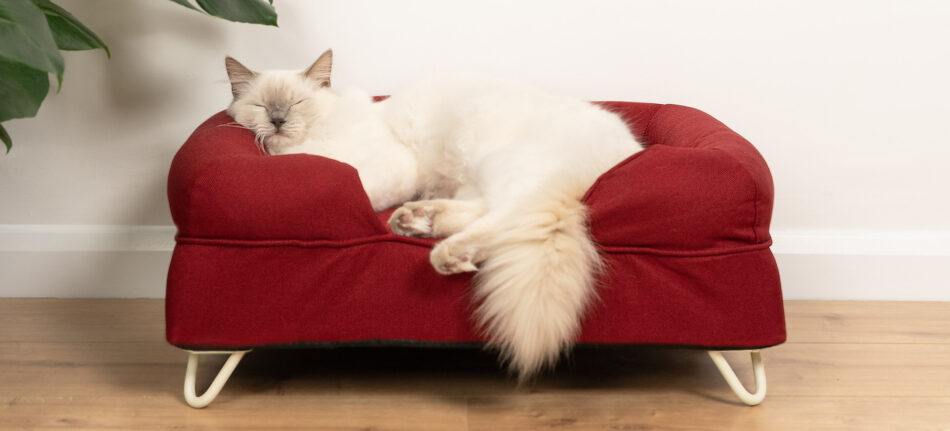 The best cat beds offer a level of comfort to rival a human mattress. But, with no cat being identical, finding a bed that's right for all ages, breeds, sizes and personalities can be quite the task. Luckily for our feline friends, Omlet has had years of experience not only as pet lovers, but as expert product designers, who have carefully calculated the formula for creating the perfect cat bed.
How to choose the best bed for your cat
When choosing the best bed for your cat, there are a few things you should consider.
Best cat beds for small and large felines
Lithe and little or stately and statuesque, your cat's bed should be suited to the size of your cat. Whilst the vast majority of cats will fit on the small-size Bolster Cat Bed, we also know that some cats need that extra bit of space for wiggle and stretching room. 
Whilst not an exhaustive list of larger cat breeds, the Maine Coon, Ragdoll and Siberian for example, will benefit from a bigger bed such as the medium-sized Bolster Cat Bed. With a high-performance, memory foam mattress, the bed is able to withstand any additional weight, whilst helping them to relax their muscles. This is especially important for overweight cats, who are more prone to muscle and joint complications. You can read more about keeping your cat at a healthy weight in our How can I make my lazy cat exercise? blog.
For smaller cat breeds such as the munchkin and American curl, we recommend the small Bolster Cat Bed.
Best cat beds for kittens
We all know kittens are undeniably cute and lots of fun. They absolutely love to play, and spend their early days constantly causing mischief! And after a long day with their favorite toys and cat scratcher, a great cat bed is a number one kitten essential for catching up on some precious ZZZs. In fact, kittens can sleep for up to 20 hours a day, so finding a bed to support their hours of napping is essential.
The Maya Donut Cat Bed is perfect for growing kittens, with the plump cushion able to hold its shape for many years to come. Kittens are also prone to becoming more cold as the temperature drops. The Maya Donut Cat Bed is ideal, with its faux fur cover to keep felines snug. You can even add a Luxury Sheepskin Cat Blanket on top of the bed for those chilly winter nights.
Best cat beds for older pets
We all need a bit of extra support as we age – and the same goes for our pets. Getting in and out of bed can become a chore for senior cats who may suffer from joint problems and arthritis, which is far from ideal, considering they too like to clock in up to 20 hours of shuteye every day. 
A cat bed with slightly raised feet can help though, providing easier access to their sleeping space. Both the Maya Donut Cat Bed and Bolster Cat Bed are available with a range of stylish feet to complement the bed's cover and your home. Already got a Maya Donut Bed but purchased it without feet? You can shop feet for your Donut Cat Bed, which can easily be attached using our cat bed feet frame.
Best bed to calm your anxious cat
Cats can become anxious for many reasons, a lot of which are fairly commonplace. Since most don't adapt to change well, having to move to a new environment, for example, can even be enough to trigger a cat's anxiety. Hiding, freezing, or using the toilet outside of their cat litter box are all common symptoms of an anxious cat. If the behavior continues for a prolonged period of time, contact your veterinarian for advice. In the meantime though, there are some things you, as an owner, can do. 
Offering them a cozy and enclosed bed can help. The Maya Donut Cat Bed is great for cats with anxiety, providing them a sense of security with raised edges to make them feel safe. Position your cat's bed in the Maya Indoor Cat House for even more privacy, where your anxious cat can have their own space, away from the hustle and bustle of the home.
Cat care with Omlet
Caring for your cat has never been easier than with Omlet's range of products. From our customizable cat beds, to our sustainable cat scratchers, Catio, and odor-control Maya Cat Litter Box Furniture, Omlet is your one-stop shop to meet every cat's need, with ingenious designs that make looking after them even more instinctive and rewarding.
This entry was posted in Cats
---