Where to Put a Cat's Bed
Does your furry feline peacefully snuggle up next to you in bed or insist on sleeping on your pillow? Or do you have a designated spot for your cat to claim as their own, yet they still prefer the back of your sofa?
There are pros and cons to sharing your bed with your cat, and even though a bit of bed-hopping might be fun, having your own place to rest your sleepy head can't be a bad thing.

Choosing to have your cat's bed in a specific spot not only provides them with security, but also gives you peace of mind knowing that they are comfortable, and hopefully where they should be. That's not to say that the odd sleepover in your bed won't happen though! So, where do you put a cat's bed that checks the boxes of these very selective customers?
We explore the best kitty approved places for a cat bed or snuggle den.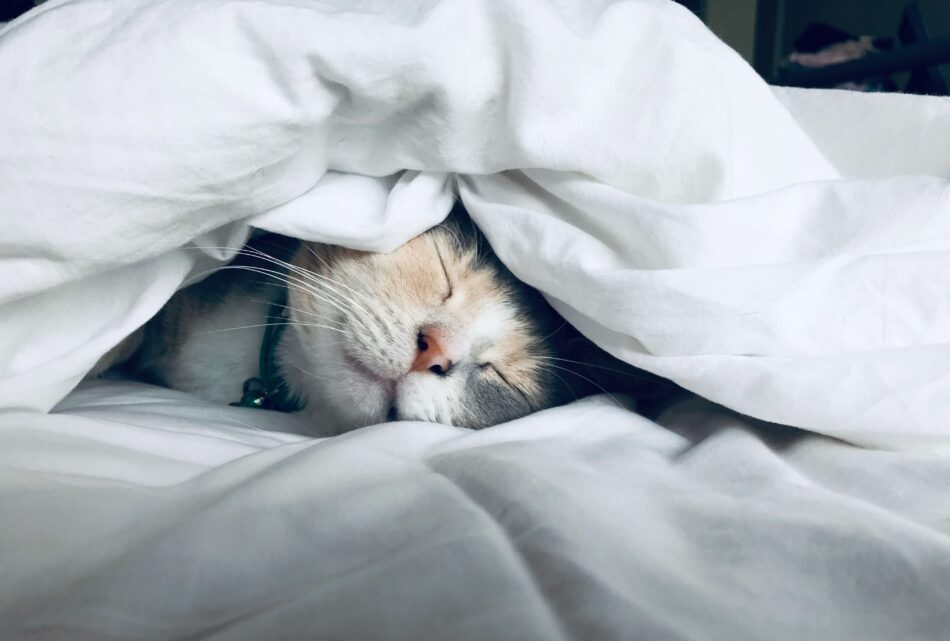 Where to put a cat's bed
Resting is a fundamental part of a feline's life, and they give plenty of time to it. Cats ordinarily pick their most loved snoozing spot(s) themselves and it can be challenging to encourage them to choose somewhere else. To expand the possibilities of your feline utilizing the bed you have picked, you can at least ensure that it is set in a peaceful spot, away from any drafts. A warm spot, close to a radiator or in the sun, is typically great and should get the seal of approval!
The indoor cat house is a modern and stylish piece of furniture that can be placed anywhere in the home. It's sheltered and cozy so your cat can snuggle up and have a peaceful snooze away from the hustle and bustle of a busy home. Perfect for cats who like solitude and calm. Likewise, a few felines really like to rest high up, so for the more intrepid explorers, you may find your cat has more of a head for heights and likes to be well out of the way and off the ground. In this case, you can accommodate this personality with an incredibly versatile freestyle floor to the ceiling cat tree. As a customizable piece, you can add whatever you want to make this a fun entertainment and napping zone all in the comfort of your own home! You may even be jealous of your cat's den/hideaway!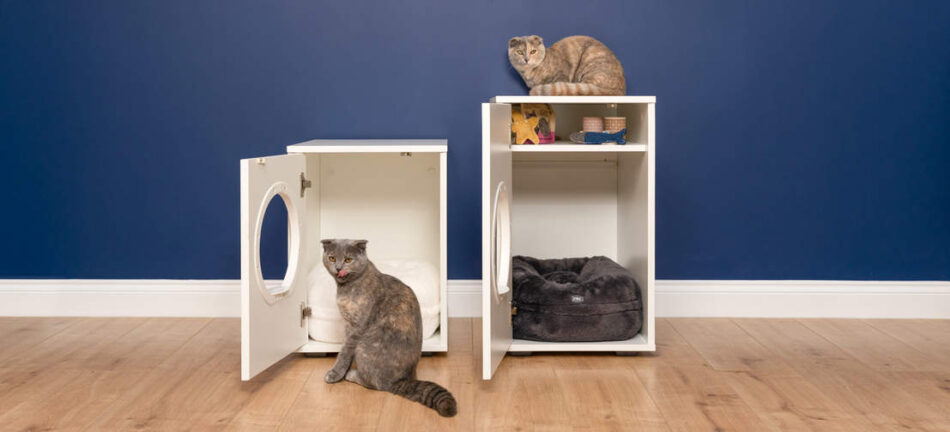 Top Cat-tips
Here are a couple of suggestions, recommended by cats for humans:
On your bed (with or without you in it)

On the windowsill, preferably south-facing

In the utility room when the tumble dryer is on

In the linen closet on nice warm towels

Curled up on my

snuggly donut cat bed

(my favorite is peacock green)

Occasionally on your laptop
How much sleep does a cat need?
How long a cat sleeps and how often will depend on the age and personality of the cat. They are renowned for having mid-morning or afternoon siestas or it may seem as though they just sleep all day. Got a nice warm spot by the window? Then you'll most likely find your cat there. Warmth and quiet are key to blissful nap time. Cats on average spend 12-16 hours per day snoozing, so that spot has to be right. Most of us envy cats who always seem to find the most comfortable place in the house and can sleep most of the day, and while we're working or doing chores our cats always find time to enjoy a peaceful slumber. Cats can grow irritable and restless if they don't get enough sleep (a bit like their pet parents). This could be because their bed isn't in the right place, and they are not comfortable.
Your cat's own space
Cats are quite private and while they do enjoy human interaction and affection, which is good for bonding, they do also love their own space. Cats organize their territory around clearly defined areas so, combining a useful piece of furniture that doubles up as the perfect little home for your kitty cat. The Maya Nook is practically a bedroom, which would suit any kitten or mature cat. The bed itself is slightly raised which reduces drafts and there is even a curtain, which is great for blocking out external noises during those important daytime naps.
Cats love to seek out enclosed spaces, which is why they often find themselves curled up inside a cardboard box! Why not take it one step further and make that a permanent feature of their living space – plus it really does look nicer than cardboard and it will last longer!
Cats who are nervous, perhaps a rescue cat, an older cat or one that generally has a more cautious demeanor can really benefit from having their own space. They feel safe and secure and being somewhere familiar to them, somewhere they can crawl into whenever they feel like it is most ideal.
If you have a lively puppy a fairly boisterous dog or a host of energetic children, then ensuring that cats have this space for themselves is super important. We know cats do love peace and quiet and only to be bothered on their terms!
Sharing your space
Occasionally sharing your bed with your favorite snuggly cat is no crime! In fact, most cat owners will have done this once or twice. Cats definitely benefit from being close to their pet parent and the feeling is mutual. It secures a bond and provides companionship.
Most cat owners know that cats are more active at night, even though they love to snuggle up to you to start with. Once they've had enough sleep there is always a possibility that they will pounce when your foot twitches or will come and plonk themselves on your pillow right next to your head. Even though it's adorable, it can lead to a sleepless night (for you!).
Creating an area in your bedroom for your cat could be an option, so that if they do become a little more active or start fidgeting, they can always relocate themselves to their luxury cat bed that's so soft you'll want to curl up on it yourself – ideal for the pampered feline!
It comes in a variety of beautiful colors to suit any boudoir. Choose to have it without feet so you can place it inside your funky cat house or add that extra little design element which oozes elegance with a modern twist. For the cat with a bold personality who loves being the center of attention!
Where not to put a cat bed
A cat will not be very forgiving if you place its bed in a cold or damp spot. You should also make sure that it's away from potentially drafty windows or a particularly noisy spot. For example, if your living room or kitchen faces a high traffic zone, then this will not be favorable to your kitty, and they will most likely seek out somewhere quieter to rest.
Don't shut them away
You may have a house full of pets, children or antique furniture in which case you might be tempted to shut away your cat at night. This isn't recommended, given that they are most active at night, this is valuable playtime for them. It doesn't mean they should roam the house completely rogue but allowing them some space to explore is important to their development and ultimately their happiness.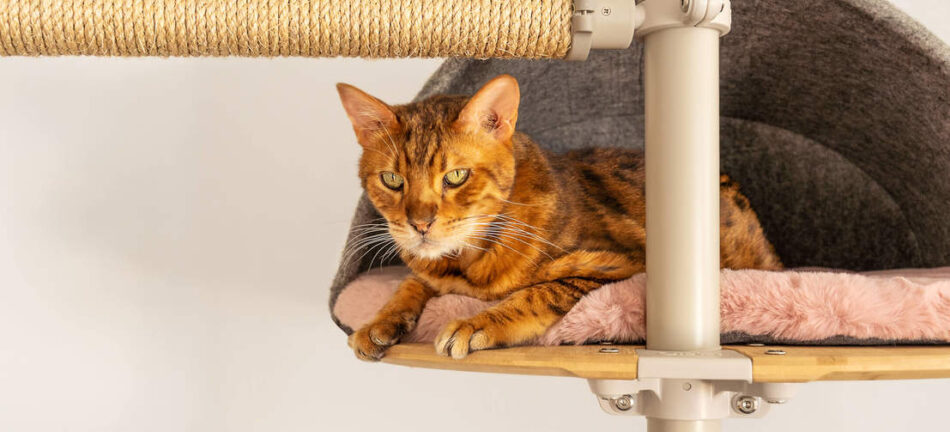 Conclusion
There is no definitive answer as to exactly where your cat's bed should be placed. Though it is super important to make sure that your cat is comfortable. Having their own space is key to providing stability, space and a routine that your cat is happy with. Having favorite napping spots is perfectly okay and your cat will undoubtedly choose their own whether you like it or not but knowing they can call a place a home of their own will make them purrfectly happy and adjusted. A stable home environment is paramount to your pussycat's happiness, you can read one of our recent blogs Why Do Cats Run Away which outlines the importance of a peaceful and secure home environment.
Omlet has worked tirelessly to design and create tried and tested products with your furry feline in mind, so we are certain that there is something for even the most demanding of kitties!
This entry was posted in Cats
---