How to Create a Doggy Obstacle Course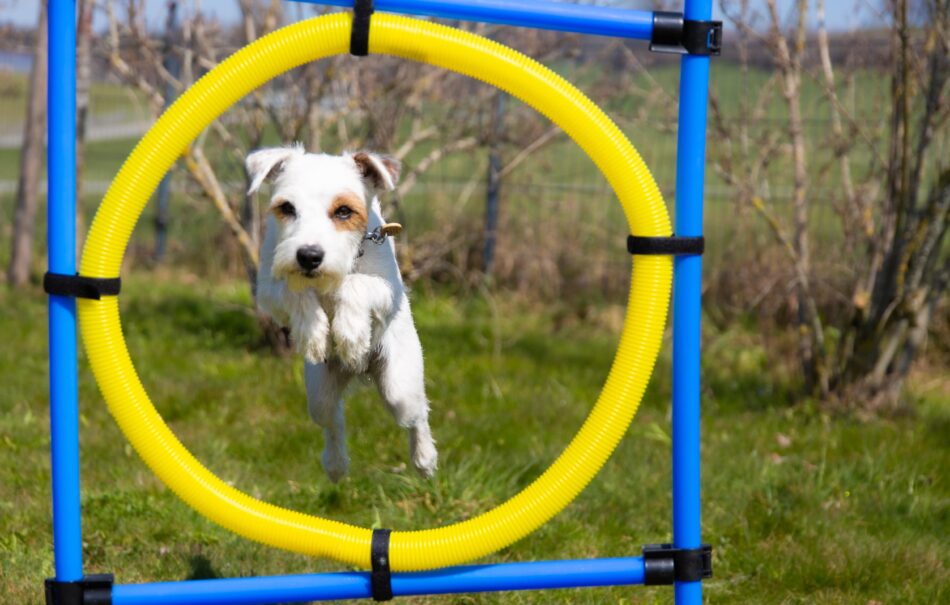 Creating a doggy obstacle course at home is much easier than you think! You already have materials in and around your house that can be used for agility and provide your dog with the incredible benefits of physical exercise and mental stimulation. And any activity that involves you and your dog working together is sure to build a closer bond between you both! Start your obstacle course today with these simple tips and tricks!
Can all dogs do agility?
The great thing about agility training is that every dog breed can do it! The only exceptions to this type of activity would be puppies younger than 12 months due to their still developing joints or any dog that has a medical condition, such as arthritis. But, if your dog falls into one of these categories – there are still many ways you can keep your dog active and stimulated!
So what exactly is agility? Simply put, agility is a series of obstacles paired together to form a course for your dog to navigate through with direction. It doesn't matter if your dog has training experience or not – you can start easy and small and work your way up as you and your dog learn more. 
You love spending time with your dog and creating an obstacle course is just one more way to bring you both closer together! As with any new activity, if you have any concerns about your dog's ability to participate, consult with your vet first to be sure.
Safety first!
Before getting started creating your at home doggy obstacle course, you want to make sure you pick out a location with enough space to allow room for lots of movement. This may be indoors or outdoors depending on your home and backyard. The most important thing to remember in keeping this activity safe for your dog is to remove any objects from the area that could potentially hurt your dog or get damaged. After all, your dog will be running and jumping!
Now that you have your course location picked out, you want to make sure your dog is familiar with listening to and following commands. Any doggy obstacle course is only as good as the human that is verbally navigating where to go, so make sure you practice simple commands so you both are comfortable and stay safe. Your dog doesn't have to become a professional but a simple understanding of commands such as sit and stay are a great starting point!
Once your obstacle course is set up, you want to make sure you give your dog a good warm up before running through it. You wouldn't try a new physical activity without first properly stretching, right? The same goes for your dog! Just a quick walk around the block or a game of fetch will suffice to warm up your dog's muscles to safely enjoy the obstacles.
Hurdles and jumps
If you and your dog are new to obstacle courses, jumping is a great first activity to try. But how do you know what height to set your jumping bar to? It all depends on your dog! Smaller dogs, like Chihuahuas or Dachshunds, only need a short height to try and clear while bigger dogs, like Labradors and German Shepherds, should be able to jump over higher obstacles.
So what can you use to create a hurdle for your dog to jump over? Here are some great ideas with materials you likely have at home already:
Grab two laundry baskets and a curtain rod. Place either end of the curtain rod onto each laundry basket and, voila! You have a jumping hurdle! Move the rod up or down for varying heights depending on your dog's ability.

Have any PVC pipes laying around from an old plumbing project? These make a perfect tool to make a hurdle of any height!

Check your beach bag for a leftover pool noodle – they make great jumping hurdles! Not only are they soft, they are also easy to hold for your dog on their first obstacle run!
There are countless options that can be used to create a DIY hurdle for your doggy obstacle course. Just make sure they are lightweight or soft so they do not hurt your dog in all the fun. And if your dog has never jumped over a hurdle before, you can encourage them to explore the new activity with dog treats or verbal commands. No matter your dog's age, you can teach them new tricks!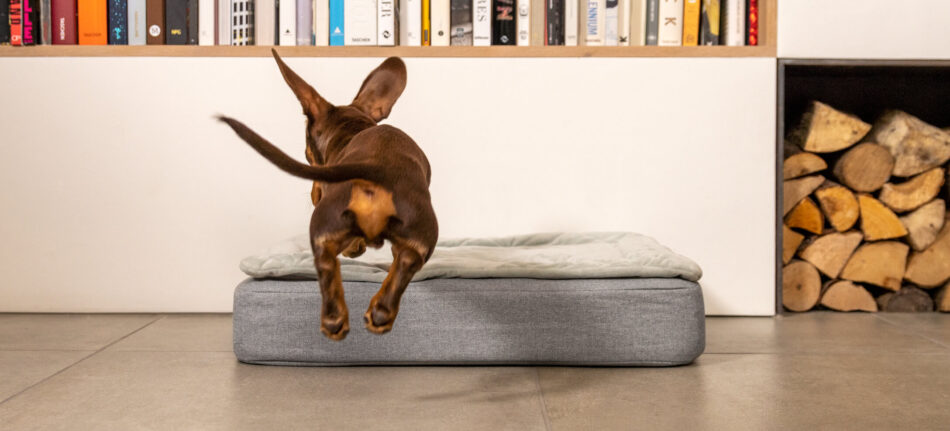 Zig zag
Next, you can move on to the weaving portion of your obstacle course. Similar to the hurdle portion, you want to make sure the materials you use for the zig zag are lightweight or soft to avoid your dog getting hurt!
Let's take a look at some options to make a zig zag obstacle for your dog.
If you have kids, you likely also have some small orange play cones as well. These make a great option to set up a zig zag for your dog's obstacle course! Start spacing them out far apart to allow your dog plenty of room to navigate. As your dog gets better at weaving you can slowly move them closer together.

Not sure what to do with all of your leftover cardboard boxes? Use them to make the perfect weaving obstacle! Not only are boxes lightweight and easy to set up, but if your dog crushes them in their run, you can simply break them down to recycle.

Did you know some Christmas decorations make a perfect zig zag obstacle for your dog? Before you put away your plastic candy canes from the yard, try using them as part of the course. These lightweight poles are a great option to train your dog to weave in and out of.
Start out slow when teaching your dog to weave in and out of any object. With consistency of hand and verbal commands, your dog will quickly learn this new and fun activity!
Tunnels
The tunnel portion of the obstacle course may be the most intimidating for your dog if they've never done agility training before. One of the best ways to help your dog learn? Make sure you navigate the tunnel first to show them how it's done!
Creating the perfect tunnel obstacle for your course is as easy as setting up items you have around your house. Here are a few options to choose from:
Line up some chairs and drape a lightweight blanket across them. Now you have a tunnel! Show your dog how to go under the chairs by crawling through yourself so they can follow the fun! If your dog is of bigger stature, you may need taller chairs or pick a different option.

Do you have a collapsible fabric tunnel that your kids climb through? Your dog can use this fun toy, too! Get the whole family in on the fun of a doggy obstacle course by having your child show your dog how to crawl through the tunnel first.

Those large cardboard boxes can be used once again! Open up both ends of the box to create a square-shaped tunnel and watch your dog run in and out with ease.
While some dogs may enjoy running through tunnels more than others, agility training is an enriching experience for every dog! 
Putting it all together
Once you have created each individual obstacle, you can start to put them all together to create the ultimate course! Be sure you have practiced the hurdles, zig zag and tunnels all separately before you set them up in any sequence. This will ensure your dog is familiar with what to do.
You can set up the course any way you like! Does your dog like the zig zag the best? Put that obstacle at the start of the course to encourage movement through the rest of the obstacles. Once you have created each separate obstacle you can move them around to try different combinations and course options!
The trick to any successful doggy obstacle course experience is patience, consistency and fun! And having plenty of dog treats on hand will help to encourage activity and reward hard work! Creating an at home obstacle course is a great way to add exercise to your dog's life and create a closer connection between you and your best friend!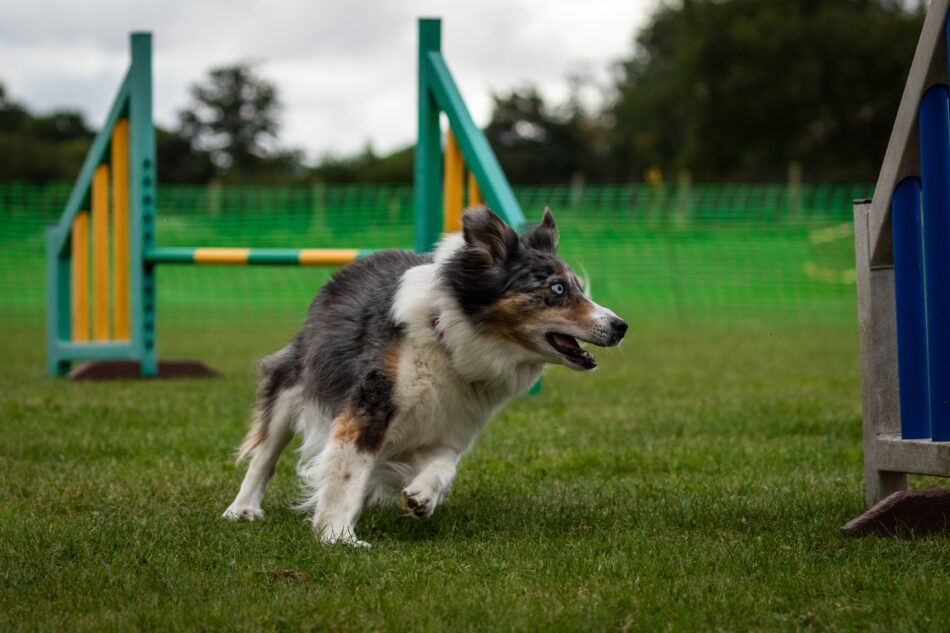 This entry was posted in Dogs
---