How to Exercise Your Dog Indoors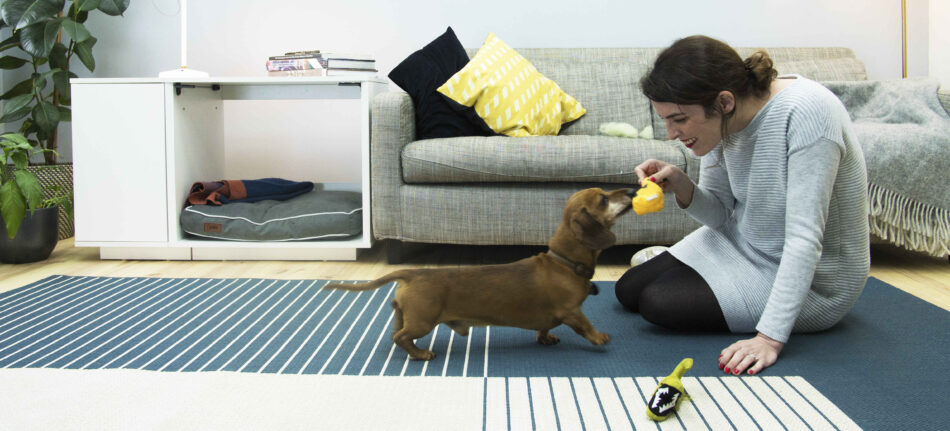 Come rain or shine our dogs need their daily walk… or two, right? But what happens when this just isn't possible? Sometimes we can't take our dogs outside for a number of reasons, be it extreme weather conditions, or maybe you're in isolation. Regardless of your explanation, it's a good idea to know how to keep on top of your dog's physical health, as well as having an understanding of how to keep their brains engaged and stimulated while inside the home, even for when you're able to take them for their regular walks again.
Although exercise with your dog inside most definitely does not substitute for your dog's activity outdoors, there are a number of ideas to help you and your pup out, should you find yourselves in a situation when you can't leave your home.
Physical Exercise Ideas
Tug of War
Tug of war is a great game to encourage your dog to exercise indoors. Before making a start it's important that you've taught your dog the release command, to ensure they know how to drop their tug toy as soon as you ask them. Once they've mastered this, you can begin playing with a durable tug of war toy like the Triangle Tug toy on the Omlet site that comes in Blush Pink and Red, which you can use to tug back and forth with your pup.
Create an Obstacle Course
An obstacle course is a fantastic way to get your dog active around the house. You can make your course as simple or complicated as you want, and you'll probably already have most of the equipment you need in your home! You can use a children's play tunnel for your dog to run through, or even make your own using an old cardboard box, with treats to lure your pooch in. If you've got carpeted stairs, you can incorporate these into the course for your pet, or even use a hula-hoop or PVC pipes to have your pup jump through. You can really get creative here, as long as your dog is supervised at all times.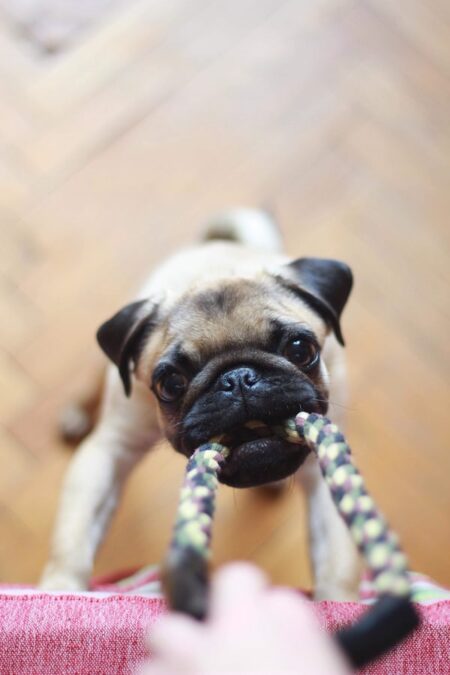 Play Fetch in The Living Room
This is definitely one for a rainy day when it's impossible to even play with your furry friend in the garden. This classic game is one form of indoor exercise that is bound to tire out your dog, but be wary of this one if you're lacking the space inside (or a great aim!). Remember to always use a soft ball toy to play this game to avoid any damage.
Get a Treadmill
Treadmills aren't just for humans! If you have a particularly active dog breed that you know is dependent on being outdoors for hours of running, a treadmill is a great way to get their physical activity in and tire them out. It's not advisable to use a treadmill built for us to take your dogs on, so if you're considering this option to exercise your dog, you can invest in a purpose built dog treadmill. That way you can be assured that your pup will stay safe, knowing the machine is suitable for their weight and joints.
Mental Exercise Ideas
Try Out Puzzle Toys
Exercising your dog isn't all about physical activity. Physical and mental stimulation are both incredibly important, with mental stimulation being able to use as much energy as physical exercise for dogs. Invest in a puzzle toy or treat maze, a brain game that will really get your pup thinking, providing them with plenty of mental stimulation. Watch as your dog uses up their energy as they work out how they can get to their treats.
Play Hide and Seek
Although hide and seek can involve a lot of physical exercise, it also requires a lot of brain power from your dog. Find a hiding space and have your dog wait until you call their name to find you. When your pup finds your hiding place, give them lots of praise or reward them with a treat.
Teach Your Pup New Tricks
Teaching your dog new tricks is an activity you can do without hardly any space, and something that will keep them mentally engaged. You can begin teaching your puppy basic commands as soon as they arrive home, usually at eight weeks old. However, as your pup gets older these can become more complex and fun.
You can try hiding some of your dog's favorite treats to really get their nose (and brain) working. This game is perfect for mental enrichment for your pup, and also one you can try to incorporate into your obstacle course. Before hiding your pup's treats, teach them the "find it" command, so they know what to do when you release them to go on their scent hunt. You can first hide a treat under a towel and then build this up to hiding treats around the house.
---
Being stuck indoors is no fun for you or your dog, but hopefully after a bit of inspiration you've been able to pick up helpful tips to make it a lot less boring before you can be out and about again.
This entry was posted in Dogs
---