Meet the "Pawsome" Stars of Topology!
Meet five "pawsome" stars from our exciting new video, and find out more about their new favorite dog bed: Topology!
Topology is a super stylish, comfortable and practical bed that both dogs and owners will love! Machine washable toppers zip on and off the supportive memory foam mattress, so that your dog's bed can easily be kept clean and hygienic. The range of five different toppers also means that you will be able to customize the bed to fit your dog and their personality.
We asked five of the canine characters in the Topology video to tell us which topper was their favorite and why:
Freddie love his Topology Dog Bed with a comfy Beanbag topper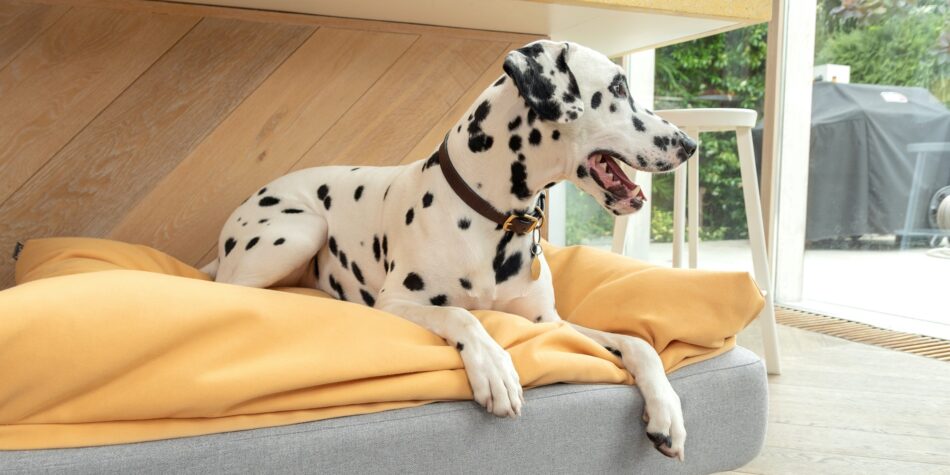 Freddie is a boisterous Dalmatian with bundles of energy! He loves showing off his jumping skills, and will happily throw himself at his bed over and over again to burn off some steam. This isn't a challenge for the robust fabric and stitching of the Topology Dog Bed, and Freddies favorite topper, the Beanbag, is both fun and super comfortable as it fully lets the dog's body relax as they lie down on top of it.
It doesn't happen often, but sometimes even Freddie needs a good, long nap, and as much as the Topology dog bed can withstand his lively playing, it will also provide superb support for his resting body. Thanks to the memory foam layer in the base and the softness of the topper, the owners of Freddie have no doubt he's fully relaxed and comfortable when he finally settles in for the night.
Woody could relax for days on his Topology bed with luxurious Sheepskin topper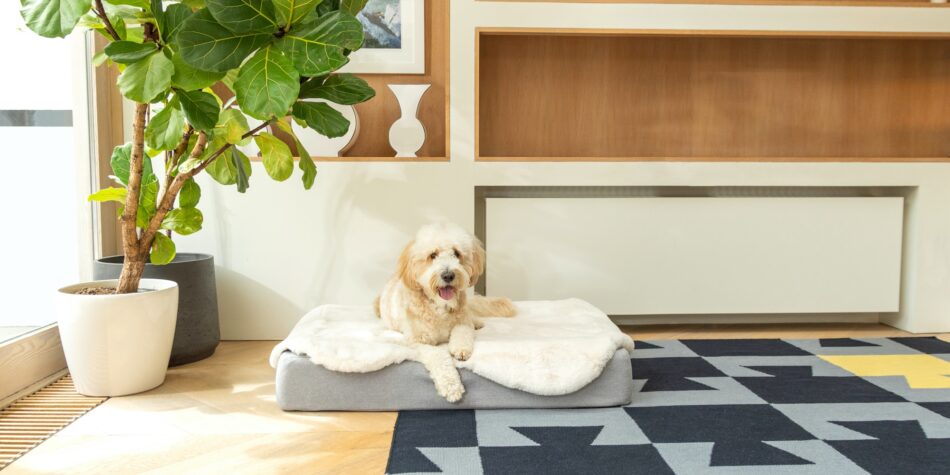 Even if neither he nor his owner would admit to it, Woody the Goldendoodle is what many would describe as a pampered pooch. He won't settle for anything but the most luxurious of dog beds after his strolls around the city's parks, so it's no surprise that his favorite topper is the sheepskin.
Positioned in the best position in the living room, Woody can stretch out on his Topology Dog Bed and feel the super soft fabric against his skin while the memory foam mattress molds around his body. Woody's owner really appreciates how easy it is to remove and clean the topper.
Winston feels safe and supported on his Topology dog bed with Bolster topper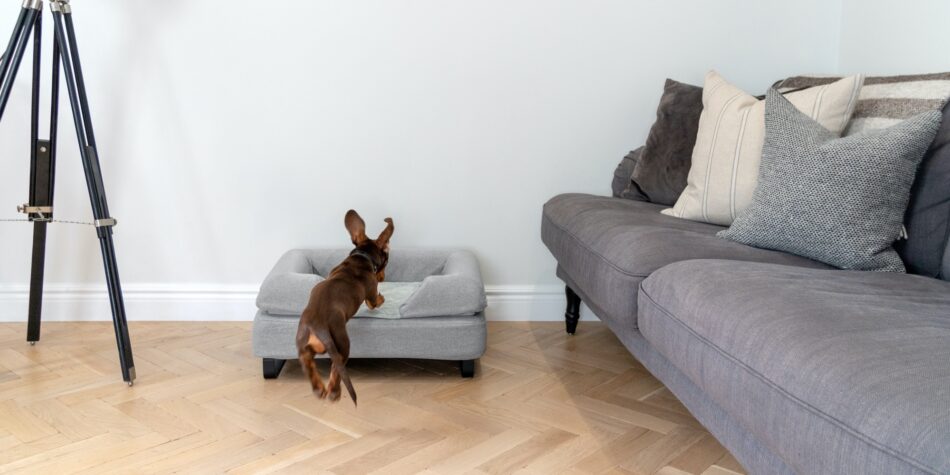 Little Winston is a Dachshund, and only six months old. With all the exciting exploring, learning, playing and chewing shoes he has to do all day, it's extra important that he has a comfy bed to retreat to when he gets tired.
Winston absolutely loves the bolster topper. Not only does the perfectly padded bolster give his little head support when he snoozes, it also encloses the body to provide a den-like feeling that adds a sense of security.
Margot favors the elegance and extreme comfort of the Quilted topper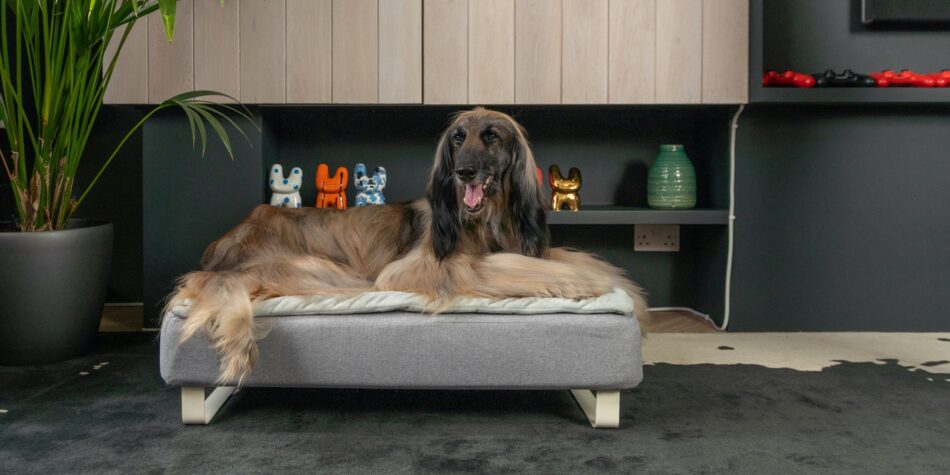 Margot is a classy Afghan Hound who appreciates the simple luxuries in life. She loves being comfortable, preferably curling up by the fire after a walk around the town when she enjoys meeting new dogs to sniff.
Margot's favorite topper is the super soft quilted version. It stays cool against the body in Summer and has a warming effect in Winter, and the classic design oozes luxury and comfort. Additionally, Margot's owners love the look of the soft minty grey against the rest of their furniture!
Esme can dry off and relax on the Microfiber topper on her Topology Dog bed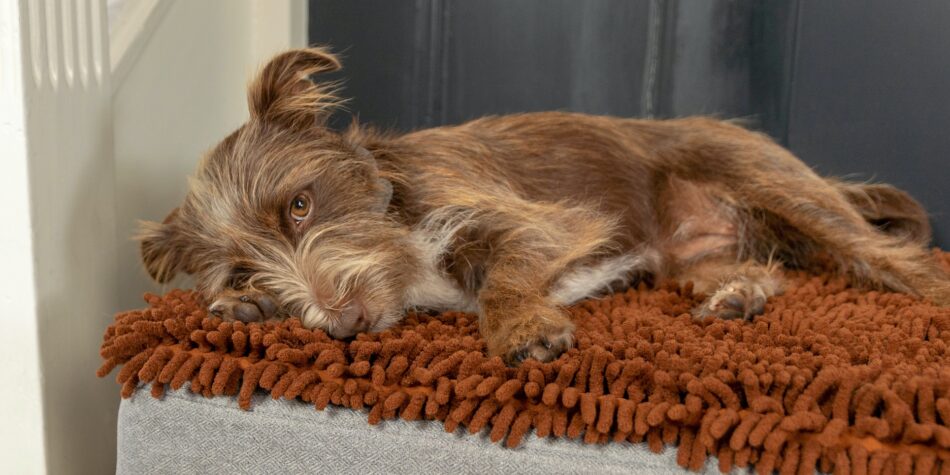 Esme is a perfectly sized terrier mix who loves nothing more than running over wide fields and chasing squirrels between trees on long country walks. Rain and wind won't stop her – the muddier the better! That's why the microfiber topper is her favorite. The structured fabric is nice to roll your wet back against, and it will speed up the drying process.
Esme's owners also love that she's got a space to dry off after inevitable hose-downs that isn't the living room carpet! Leftover mud and moisture from walks will quickly and smoothly blend into the microfiber topper, and it can be washed over and over again, allowing for more lovely nature walks.
This entry was posted in Dogs
---