What your dog needs this fall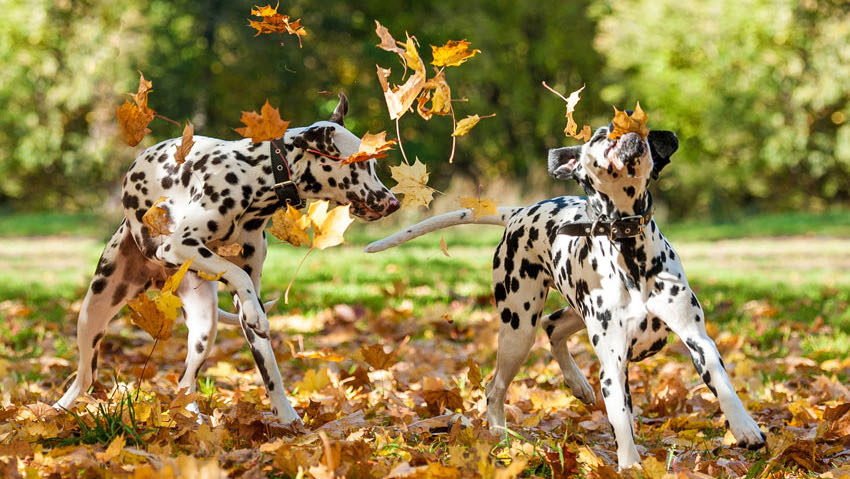 Most dogs love fall. The children are back in school, which means the house is quiet during the day, and their favorite parks and walking trails are calmer. They're allowed back on the beaches, there's no pollen in the air and the temperature is pleasantly cool enough to be able to run around without worrying about overheating. And we haven't even mentioned jumping in piles of crisp raked-up leaves! Safe to say there's a lot to look forward to in the coming weeks for both canines and humans, but to make this time of year as amazing as possible for your furry friend, there are some things you might want to invest in or stock up on. Here is some advice and a useful checklist of what your dog needs this fall.
A warm and comfy bed
When returning to the house after a rainy walk at this time of year, you'll appreciate getting yourself comfortable with a cozy blanket on the sofa, or even under the covers in your bed. Your dog will feel exactly the same. Make sure your dog has a soft and supportive bed to rest on as the nights draw in. The Omlet Bolster dog beds have a high-performing memory foam mattress that will mold itself around your dog as they relax their bodies, and will provide them with a long, restful sleep all night.
Having a safe and warm space to return to after hours of fall play is especially important if your dog is still a puppy. Keep your pet's bed close to the central heating or in a room with a wood burner so they can be in the same room as the rest of the family, and make sure it stays warm throughout the night.
Coats for dogs
Dogs of all breeds can benefit from wearing a dog coat on walks to give them extra warmth and comfort during fall and winter, but it's extra important for small or short-haired dogs who are not naturally evolved to deal with lower temperatures.
Dog jackets are available in a wide range of styles and materials, and which you decide to go for is up to you, but we would recommend choosing a waterproof version that's easy to clean.
If your dog is not used to wearing a coat it might take some time to get them comfortable. Start slowly by letting them sniff and explore the material, rewarding them with treats to give reassurance. Once they seem comfortable around the coat you can put it on for short periods in the house or in the backyard, slowly increasing the time.
Halloween costume
Although possibly not a fall essential, if the rest of the family is dressing up for Halloween you should of course include any furry friend as well. You can get super cute costumes online or in pet stores, or you could opt for a DIY version. A quick Google search should give you some inspiration. It's important to never force your pet to wear a costume. If you see any sign of your dog being uncomfortable and stressed, immediately remove the clothing.
Reflective collar and lead
To make sure you and your dog are visible when you go for your early morning or evening walks, it's a good idea to get a reflective collar and/or leash that will alert passing cars. Many walkers carry torches when walking in the dark, so reflective gear can be useful even if you're not around vehicles. You can also get collars with LED lights that will make sure both you and others can spot your dog on country walks off the leash.
Controlling ticks and fleas
Don't stop giving your dog tick and flea repellent treatments just because summer is over. Fleas and ticks can still be lurking when your dog is out for a walk and can find their way into our warm homes.
Dealing with mud
Even if your dog is not a fan of jumping in puddles, running through high grass or rolling in wet leaves, walks are going to get wetter and muddier as fall approaches, so it's worth making sure that you have everything at hand to deal with a cold and dirty dog. If you're driving home from walks, it's a good idea to have a towel or a dog blanket to dry off your dog before they get in the car to make sure they don't get cold. A waterproof seat cover is another solution.
Get a dog-friendly shampoo for bath time, and a good brush to get rid of dirt and debris from the coat. If you're not meticulous about cleaning your dog, it's ideal to have a dog bed that is easy to keep clean like the Omlet Bolster dog bed. With a removable cover, it can easily be zipped off and put in the washing machine when dirty. 
Grooming your pet
Your dog will start growing their winter coat in preparation for the colder season. To make sure it's as healthy as possible, you can give your pooch a groom to get rid of dead hair and matted fur. This is especially important if your dog's coat is very long or difficult to keep clean. You can start by just brushing through the hair, but if you're able to it's always good to let a professional groom your dog.
Keep your dog safe
Fall does unfortunately also come with some pet hazards. Be aware that antifreeze is highly poisonous to dogs, and can result in acute liver failure and even death. Signs that your dog might have eaten something they shouldn't include vomiting, seizures and difficulty breathing, so call your vet immediately if you notice any of these symptoms. 
Rock salt used on the roads as grit could also be dangerous if ingested, so make sure you clean your dog's paws thoroughly after walks.
Also, be aware that all sorts of dangers can hide under leaves and on muddy paths. Broken glass, toxic food or litter can seriously harm your pet, so to keep your dog happy and healthy it's important to always keep a close eye on them when they're exploring.
Omlet and your dog's fall
If you come prepared, this time of year should be a real treat for both dogs and humans, ideal for spending quality time together walking, playing and snuggling. And with Omlet's Bolster dog bed, dog blankets and dog accessories, this fall will be the best one yet.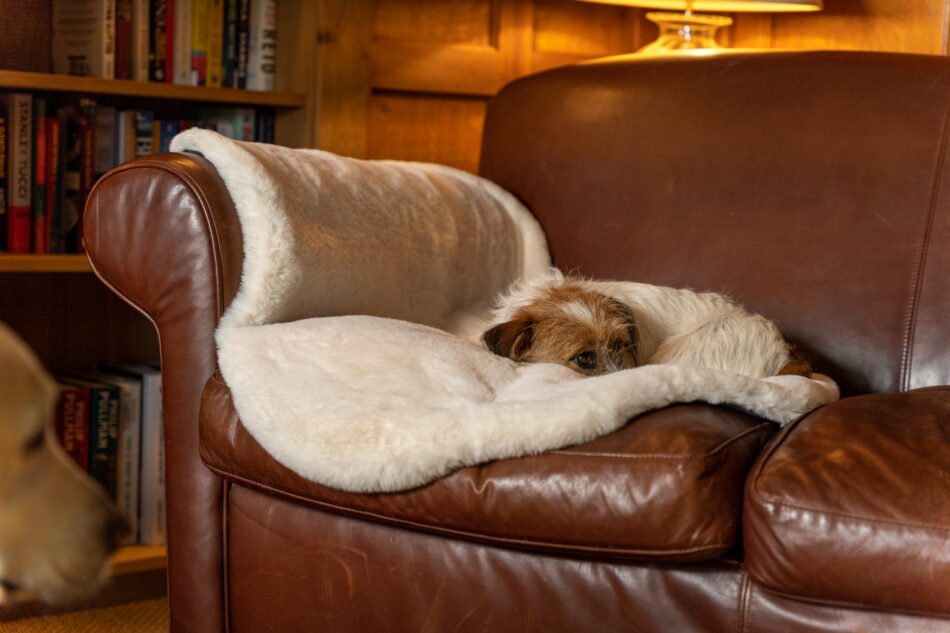 This entry was posted in Dogs
---