New Puppy Shopping List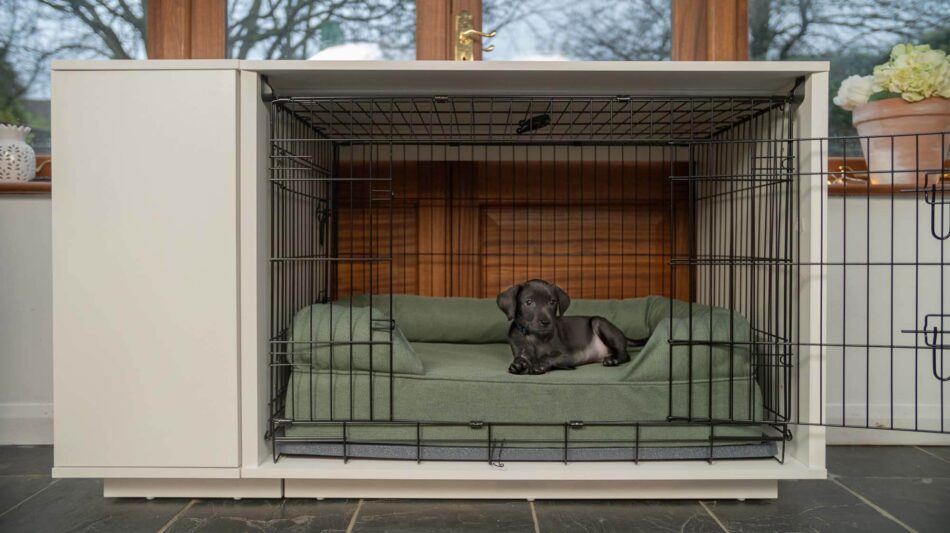 You're getting a puppy – congratulations! Bringing home a puppy is an extremely exciting experience, but it can also be pretty full on, as your new friend will require almost constant attention and care. To minimise the stress of not having the right things at hand when the dog is already in your home, make sure to tick off these puppy essentials before he or she moves in!
---
✔️
Crate
Many breeders will have crate trained the puppy from an early age, and most dog trainers recommend this method as a way of making the transition into a new home as smooth as possible.
The crate acts as an enclosed safe space for your puppy, a place they can return to when they are tired or worried, that they know is just theirs. The Fido Nook 2-in-1 Luxury Dog Crate and Bed is a great solution for this. Put the crate in the beautifully designed den, and make it nice and cosy for your dog. When the puppy is fully trained, you can decide if you want to remove the crate or keep it in. The Fido Nook is also available with a super convenient wardrobe where you can store all of your dog's things in one handy place, and it looks great in any room of the house. 
Remember that puppies grow quickly, so get a crate that will also fit your pup when they are fully grown. 
✔️
Bed & Blanket
Growing puppies spend most of their days sleeping, so they will need a comfortable bed to rest on. The Omlet Bolster Dog Beds have a memory foam mattress that will sculpt itself around the dog's body, providing support and comfort after hours of play. As an added bonus the cover can be removed and is machine washable, so you don't have to worry about puppy accidents or muddy paws.
Make sure you also provide your puppy with a super soft blanket to curl up on. Having a blanket in the crate means the puppy will associate it with home, and it can then be used as a comforter when you're out and about seeing new sights and trying new things!
✔️
Food and bowls
You will probably have been given some instructions from the breeder on what to feed your puppy the first weeks, and it's best to stick to this to avoid upsetting their delicate little tummies. After a while you can gradually start introducing the food you want to give your dog. Make sure it's a high quality feed suitable for growing pups.
Get bowls for food and water in a suitable size that are deep enough to not create lots of mess, but stable enough to not tip over. It's also a good idea to have a few travel sized bowls that you can bring on adventures.
✔️
Training treats
The key to a well behaved and well rounded dog is to encourage and enforce all good behaviours. Make sure you have plenty of small treats around to give your puppy when they are being a good boy or girl. The world can be rather intimidating for a small puppy who is learning new things, and knowing that you will provide them with praise and love – and a yummy treat – when they return to you will make the bond between you strong from the beginning. 
✔️
Chew toys
Puppies love to chew, and anyone who's been around a puppy knows that those sharp teeth can do some damage, whether it's on your sofa cushions or your favourite pair of leather boots. Give your pet some appropriate chew toys to ease the itch and blow off some steam. You might have to try a few to find one that's the right size and hardness for your dog, so make sure you have a selection at hand. 
✔️
Collar & Lead
As soon as your puppy is ready to go out into the real world they will need a stylish collar to put their ID-tag on. Match with a lead or harness, and you're ready to go!
---
These are the most important things to get before you go to pick up your puppy and bring it home. You will probably find that there are plenty of other things that are useful to have, like grooming equipment, nail clippers, cleaning products, and even a dog jacket or a jumper, but the above essentials will see you through the first weeks with your new family member, without any emergency shopping trips! 
This entry was posted in Dogs
---