New puppy shopping list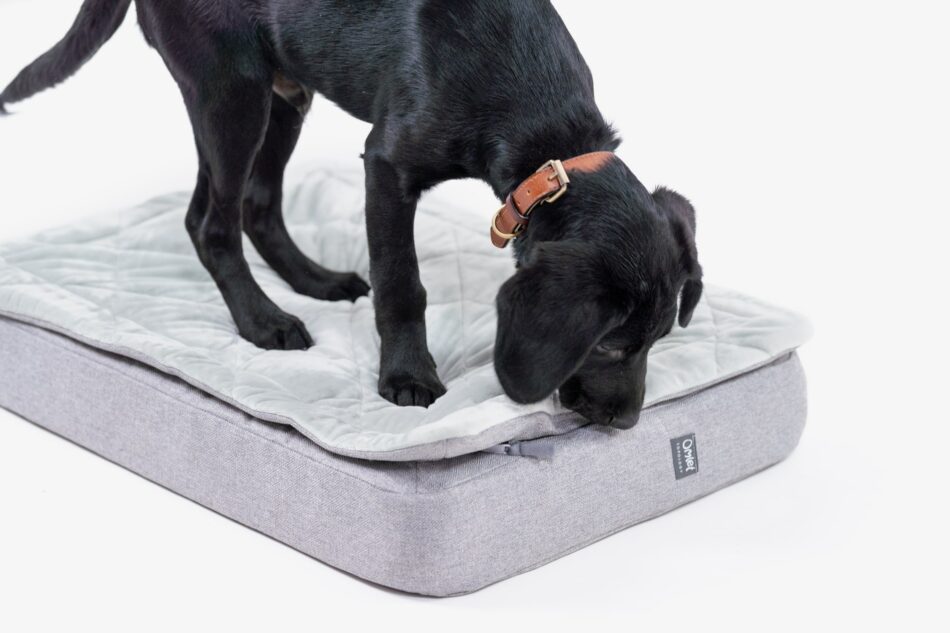 You're getting a puppy – congratulations! But before bringing your furry family member home, make sure to tick these off your new puppy shopping list. Despite all the excitement that comes with having a new pet, the experience is also pretty full-on, as they'll require almost constant attention and care. So, to minimize the stress and make the next few months as enjoyable as possible for everyone involved, having a checklist will definitely help. 
Dog bed and blanket
Growing puppies spend most of their days sleeping, so they need a comfortable dog bed to rest on. The Omlet Topology Puppy Bed has a memory foam mattress base that will sculpt itself around your puppy's body, providing support and comfort after hours of play. Additionally, the Quilted topper can easily be zipped off and placed in the washing machine, then quickly zipped back on for that fresh sheet feeling.
We know that puppies chew…And as much as we can try to redirect their razor-sharp teeth to gnawing on appropriate dog toys instead, this behavior is only natural, meaning that their dog beds can often be at the receiving end. That's why we designed the Omlet Topology Puppy Bed, with a durable, hard-wearing topper which even the sharpest teeth can't destroy. But, in the highly unlikely event that your puppy does manage to chew through their mattress to the extent that you can no longer zip it onto their mattress within 6 months, we'll replace it for free. Find out more about the Omlet 180 Day Puppy Guarantee here.
For ultimate levels of comfort, be sure to tick a super soft dog blanket off your new puppy shopping list, too. Before bringing your puppy home, you can ask your breeder to provide a blanket as well. This way, your puppy will have a familiar scent to travel with, offering them some extra comfort for their journey. Once home, you can place their blanket in their crate, on their bed, on the sofa, or in the car.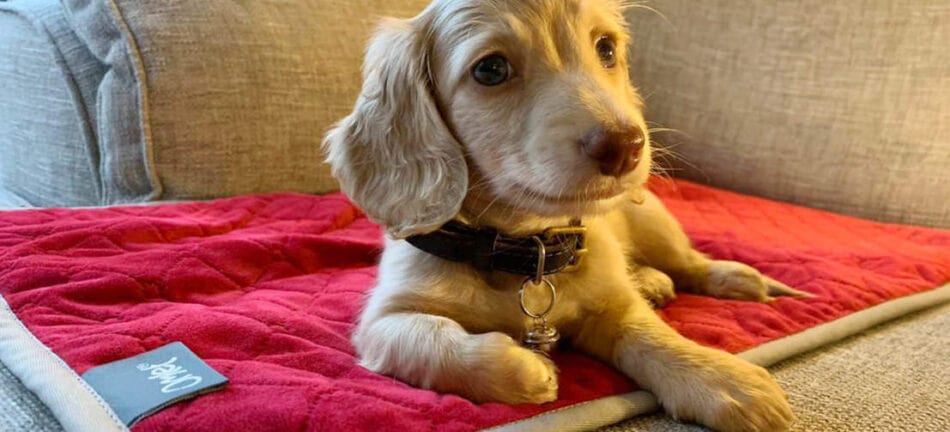 Chew toys
Although we can't promise that your new puppy won't still try their very best to chew through your favorite shoes, having a range of puppy chew toys will help to minimize the chances. Puppies explore the world with their mouths, with some dog breeds mouthier than others. 
Giving your puppy some chew toys will ease the itch and blow off some steam. You'll want to find a few that are the right size and hardness for your growing dog, so make sure you have a wide selection at hand. It's a good idea to stock up on plenty of chew toys such as a Kong before your puppy arrives, which will also keep them entertained for hours. You can find plenty of Kong recipes here, but just be sure that anything you feed your puppy is age appropriate. 
Training treats
Puppy training can start as soon as you bring your new furry friend home, usually at 8 weeks old. Make sure that you have plenty of puppy-appropriate treats to reward your dog when they're being well-behaved. This way, they'll soon learn which behaviors are desirable, and which are not. The world can be rather intimidating for a small puppy, so always offer plenty of praise when you reward them with a treat, which will also help to continue to strengthen your bond.
All dogs are different, with some dog breeds more food-motivated than others. So, as you get to know your puppy's personality type more, you might notice that yours responds better to being rewarded with dog toys, or praise. 
Food and bowls
Treats are tasty but a diet full of them definitely doesn't make for a healthy puppy. You'll need to have suitable food before bringing your puppy home, but the breeder will have likely already given you instructions on what and when to feed them. Stick to this diet for the first few weeks to avoid causing stomach upset. Should you decide on another type of food for your puppy after this, introduce the food gradually, making sure it's of high quality and suitable for growing pups.
You'll also need dog bowls for food and water. These both need to be of a suitable size – not deep enough to not create lots of mess, but stable enough to not tip over. For the dog bowl that's just right, always be sure to read the diameter so that you can pick the perfect size for your specific puppy. It's also a good idea to have a few travel-sized bowls that you can bring on your fun dog adventures once your pup is old enough.
Dog crate
Some breeders will have already started crate training the puppy from an early age, but if they haven't, it's definitely not too late to start when they arrive home. 
The crate acts as an enclosed safe space for your puppy and should be a place they can return to when they're tired or even feeling a little nervous. The Fido Nook 2-in-1 Luxury Dog Crate and Bed designed by Omlet is a great option. This beautifully designed den is a super cozy spot, with a super convenient wardrobe where you can store all of your dog's things in one handy place. Plus, it looks great in any room of the house! Remember that puppies grow quickly, so get a crate that will also fit your dog when they're fully grown. 
Collar and lead
As soon as your puppy is ready to go out into the real world, they'll need a stylish collar to put their ID tag on. Match with a lead or harness, and you're ready to go. With Omlet's Dog Walk Collection, you can even match your pup's collar and dog leash to their bed, with 8 signature prints inspired by the dog walk, to choose from. Whilst you won't be able to take your puppy on walks until they're fully vaccinated, you can get them used to wearing a collar and leash from a younger age. You'll even find that some breeders will use a very soft collar on each puppy from the litter, which not only helps potential adopters identify which puppy is which, but gets them used to this feeling.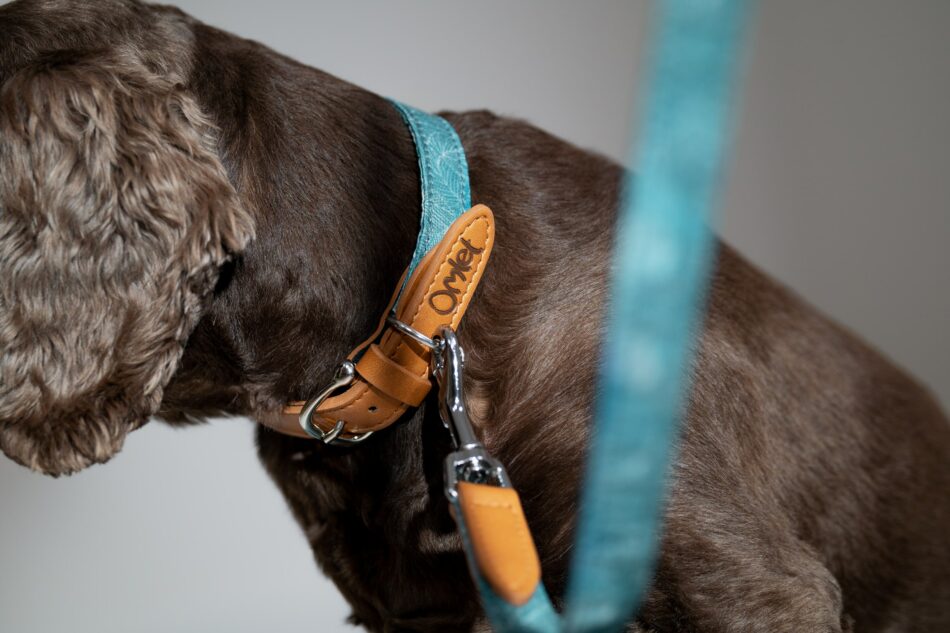 Omlet and your new puppy
These are some of the most important things to get before you go to pick up your puppy but you'll find additional items such as grooming equipment and cleaning products can be bought within the first few weeks. But, with the help of Omlet's Topology Puppy Bed, dog crate, dog blanket and the other above essentials, the puppy with be off to a great start before their arrival.
This entry was posted in Dogs
---