Which of My Hens is Laying?
It's often hard to tell if a hen is laying. Hens do not produce the same number of eggs each week throughout the year, and there may be health- and environment-related changes to egg production, too.
It's useful to know when a hen stops laying, as you can then give her a quick health check to identify the cause of the interruption. But how do you tell which chicken is not laying eggs? In a coop of six hens, in which the daily average number of eggs is five, it's not immediately obvious which hens are laying.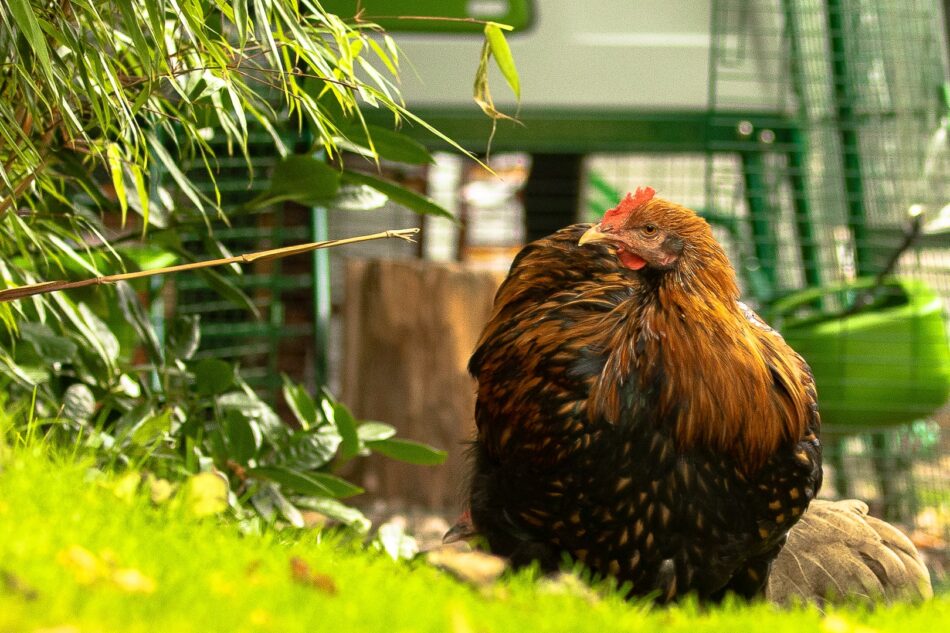 Seven signs that a hen has stopped laying
1. Age. This is the most obvious cause of a drop in egg production. Over her egg-laying years, a hen's production will tail off. This is natural, and it does not mean the chicken has reached the end of its usefulness. All hens play a part in the social order of a coup, and a bird reaching the end of its egg-laying life will still be as feisty, active and lovable as the younger birds – and she'll still lay the occasional egg.
2. Molting. This occurs every year once a hen is 18 months old (although younger birds may shed feathers, too). The signs are very clear – lots of feathers lying in the coop, and bare patches appearing on the hen. During this time, chickens need to produce lots of new feathers, which is a physically demanding process. Consequently, egg-laying is reduced, and sometimes there will be several days without an egg. The molt tends to occur in the autumn, but it depends on when the hen first started laying. Molting takes 8 to 12 weeks, occasionally longer.
3. Vent. A dry vent – the hole through which the hen lays her eggs – is a sign of no production. In a hen that is still laying, the vent will be moist.
4. Abdomen. Your chicken's abdomen area should feel soft and rounded. If the area below the breast bone is hard and swollen, this can be a sign of egg peritonitis, a bacterial infection in the chest cavity. Your chicken will still produce a yolk but is free-floating in the abdominal cavity. Affected hens will stop therefore either completely stop laying eggs or only lay soft-shelled, thin, or misshapen eggs.
5. Comb and wattles. A healthy laying hen tends to have bright red comb and wattles. These become duller when she is about to lay, but turn bright red again once she has laid the egg. If the comb and wattles are pale or dull looking all the time, it could be a sign of illness.
6. The food dye test. If you put a small dab of food coloring on a hen's vent, the color will be transferred to the egg. The color that fails to appear tells you who the non-layer is. This is only practical in smaller flocks, though, given the limited palette of food colorings…
7. No eggs. This isn't as silly as it sounds! If you only have a few hens, and they are different breeds, you will often come to recognize which eggs are produced by which hen. In this case, the sudden disappearance of one particular egg-type will tell you who's not laying.
Five reasons why hens stop laying eggs
1. Temperature and sunlight. Seasonal factors play a part in egg production. As the daylight hours lessen in autumn and winter, hens tend to lay fewer eggs. In the depths of winter, the low temperature becomes the cause, as a hen needs all her energy to produce body heat. With her resources diverted to this essential function, egg-laying is put on hold.
2. Stress. Any form of stress will tend to interrupt or stop egg production. Stress can be brought on by several things, including parasites, bullying, injuries and fear (of noisy dogs, for example).
3. Diet. Poor diet can impact egg production, too. If a hen is laying, she needs all the essential nutrients – not just calcium – to produce eggs. Top-quality layer's pellets will contain everything the hen needs. A hen that fills up on treats before filling up on pellets may become malnourished and stop laying. It's a good idea to let the chickens feed on their pellets first thing in the morning and last thing at night, and only offer corn and treats in the middle of the day.
4. Broodiness. A broody hen – that is, a hen who has decided to sit on her eggs in an attempt to hatch them – will stop laying. There are several ways of discouraging broodiness, but some hen breeds are more prone to it than others. If all attempts to dissuade her from leaving the nesting box, you have the consolation that after 21 days – the time it would take for a fertilized chicken egg to hatch – the hen's self-inflicted ordeal will be over and she will resume normal life – including egg-laying.
5. Change of routine. If you move the hen house or introduce new birds to the flock, or if one of the hens dies, the birds' routine and pecking order will be interrupted. This often causes them to stop laying for a short time, until their social lives settle down again.
Four ways to encouraging laying
1. Comfy coop. The first thing to do is to make sure the hens' environment is adequately equipped and comfortable. Check for red mites, as an infestation of these nocturnal parasites can stop egg production. Reduce drafts and make sure there is no bullying going on – often a sign of an overcrowded hen house.
2. Light. Some chicken keepers install lights in the coop to encourage laying in the colder months of the year. However, bear in mind that a chicken can only lay a finite number of eggs in its lifetime. If she's naturally programmed to lay 1,000 eggs, encouraging her to lay regularly throughout the winter will simply reduce her laying life.
3. Eggs. If an apparently healthy hen isn't laying, she can be encouraged by leaving eggs in the nesting box, or placing rubber ones, or even golf balls, in the spot where she is supposed to lay. The sight and feel of these will encourage her laying instincts.
4. Reduce stress. Discourage dogs from disturbing the hens, and make your run and coop are as predator-proof as possible. Equally important, make sure the run isn't overcrowded, and provide enough roosting space in the coop for all the hens to rest comfortably.
Disappearing eggs
If your hens are free-ranging, they will sometimes lay an egg in a quiet corner of the backyard. This can become habit-forming, and if she's doing it in secret, you may reach the incorrect conclusion that the hen isn't laying.
A healthy hen who does not appear to be laying may be the victim of egg sabotage. A predator, a human thief or an egg-eating chicken might be removing the evidence of her labors. The best way of preventing this is to encourage your hen back to the nest box for laying. In crowded coops, a hen will sometimes seek an alternative laying place if the boxes are all full when she feels the urge to lay.
As a hen ages, she will produce fewer eggs. If you are uncertain of the age of your chickens, there is a simple test you can conduct that might sometimes give you a clue. Place your hand gently on a hen's back. If she immediately squats down, it means she is still fertile and therefore producing eggs. Hens squat when they are mating, and it is an automatic response.
---
Although egg production drops as a hen ages, it will often continue throughout her life. The occasional egg from an old hen always reminds you what a wonderful friend she's been throughout your long time together!
This entry was posted in Chickens
---