Cleaning Tips For Dogs Who Love Mud!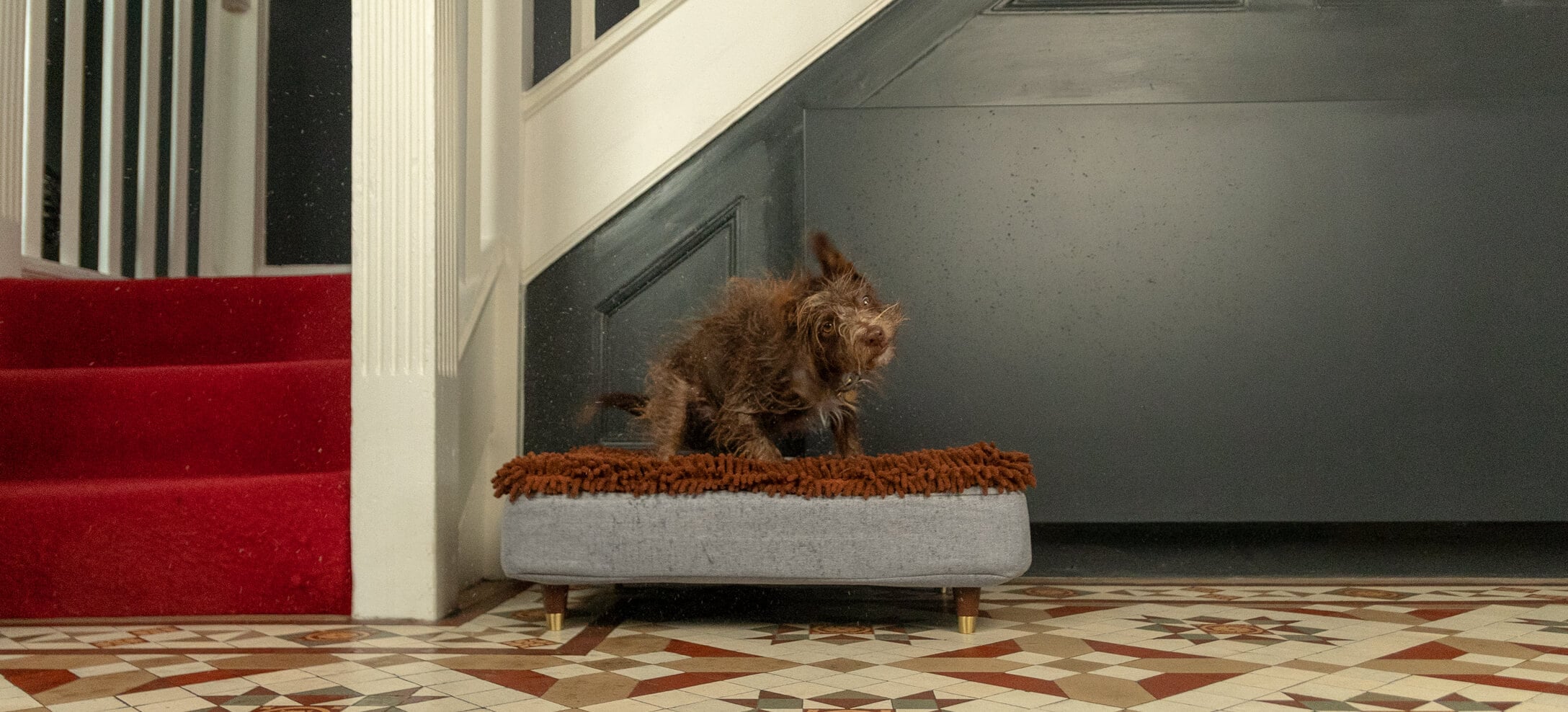 It's no secret that most dogs absolutely love getting muddy, rolling around in dirt and jumping in the biggest puddles they can find! This can unsurprisingly result in a very muddy pup and several trips to the dreaded bath! While we can try and prevent our dogs from getting too dirty by discouraging digging and diving into puddles, it's inevitable that some pups just can't help getting their paws and fur muddy. Fortunately for us though, we don't have to let our furry friends get in the way of a clean house. Here are our tips on how exactly you can keep your house clean with a dog that loves mud.
Tips For Cleaning Around Your Home
Daily Floor Cleaning
It may seem obvious but with a pet comes more cleaning around the house! It's a good idea to purchase a vacuum or floor cleaner  that has been specifically designed with our pets in mind. These are perfect for helping to remove a buildup of dirt left around the house from your dog and any hair that is stuck in difficult to reach spots. If you've got hardwood floors, you can then use a high quality, pet safe surface cleaner to mop over any leftover dirt or potential muddy paw prints.
Plenty of Throws!
Not only do throws look great around the home during this time of year, creating a cozy Fall feel, they can also help with keeping your furniture in tip top shape! Using throws or blankets on your furniture will save you a lot of time (and money), over attempting to clean your fabric sofa. Be sure to use easy to clean throws that can simply be put in the washing machine once they get smelly or accumulate any dirt or mud. You can also get your dog their own blanket like the Omlet Luxury Super Soft Dog Blanket, which can be placed on your furniture or their bed. Not only does the blanket provide ultimate comfort, it's also double sided, allowing you to choose a style to best suit your interior.
Consider Dog Bed Choice
There are several dog beds on the market and sometimes it can be overwhelming attempting to choose which will be best for your pet. Something you should consider however, is how it will affect the cleanliness of your home. Without regular washing, it's easy for your dog's bed to quickly become dirty with hair, dust, and mud as your pup returns from the backyard or a walk. Dog beds with removable covers are a good choice, making for much easier cleaning than those without. Furthermore, dog beds with feet such as the Topology bed can help with keeping your dog's bed cleaner for longer, as well as keeping the floor beneath the bed clean, minimizing a build up of debris compared to dog mattresses that sit directly on the ground.
Tips For Cleaning a Muddy Dog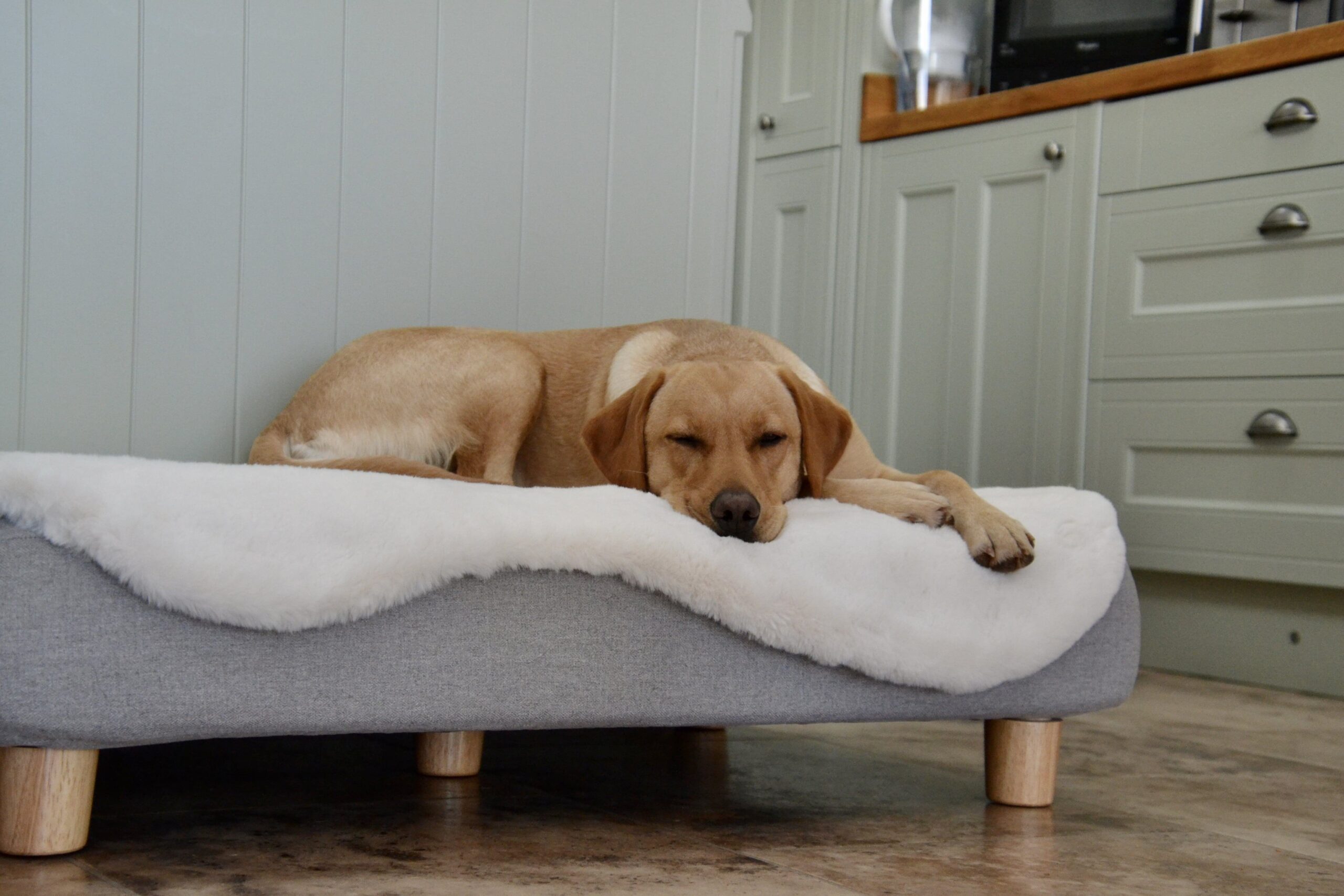 Regular Grooming
Regular grooming for your dog is essential, regardless of whether your dog has become visibly muddy or not. While some dog breeds require a lot more grooming than others and are recommended to take regular visits to a professional groomer, you can also keep on top of their regime while at home. Between baths, you can use a dry shampoo to get rid of dirt and odors. You can also maintain your dog's coat using a brush, suitable for their breed to help keep their fur healthy.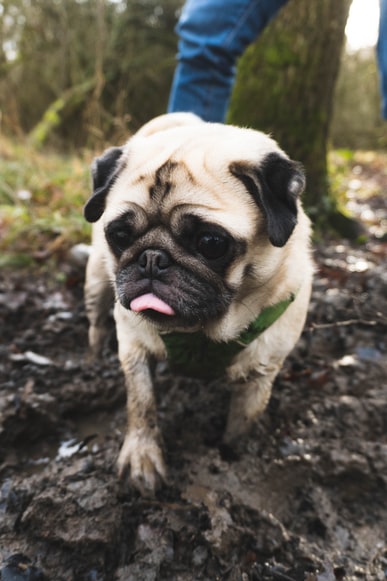 Wipe Your Dog's Paws After Walkies
Dog paws can of course bring in dirt and mud into our homes, so wiping down your dog's muddy paws after they come back from a walk is one way to prevent them from bringing this inside. To clean muddy dog paws and get the mud gone you can use paw wipes, specifically designed for dogs, gently rubbing away any dirt. Another great tip is to rub in a bit of natural coconut oil to your dog's dirty paws after paw cleaning. This will help to hydrate and soothe sore or itchy paw pads.
Leave a Towel or Mat by The Door
You can leave a towel or mat by your door as another solution to keep your dog from leaving their muddy paw prints across the home. The Wet Paws Mat for example can simply be placed at the door where your dog enters the house. The mat is highly absorbent, cleaning muddy feet by absorbing the mud from your dog's paw pads. As you would with a towel too, you can then shake off the mat outside or throw it in the washing machine.
---
Having a dog that loves the mud doesn't have to ruin your home. Hopefully after reading these tips you'll be a lot more prepared on how you continue to enjoy your dog walks without fearing for your house!
This entry was posted in Dogs
---