What's the best dog bed for your dog?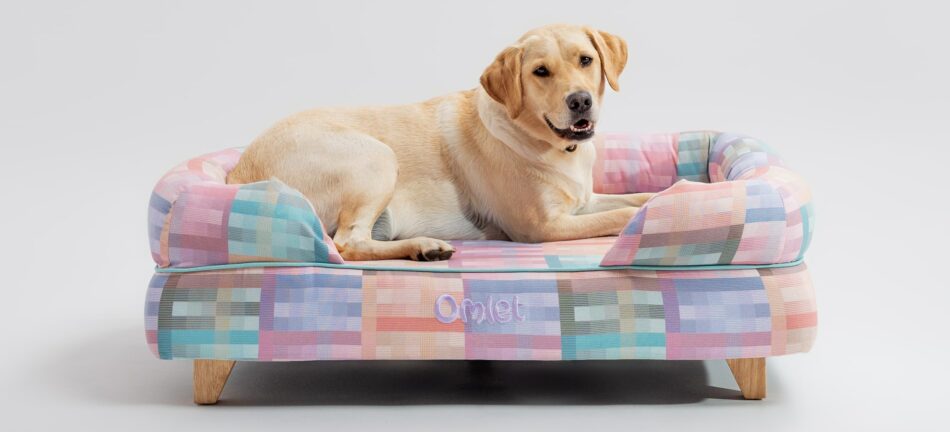 Whether it's a post-walkies siesta or a full night's recharge to power up for the next day's adventure, dogs love to sleep. And with so many hours spent snoozing, where Fido decides to get their shuteye is crucial to getting in those all-important ZZZs. Whilst your dog might enjoy a cuddle on the couch or sneak into your bed as nighttime arrives, having a bed of their very own means a space that supports their specific needs. But with no two dogs quite the same, how do you find the best dog bed for your dog? At Omlet, we've made things easy and taken out the guesswork. Here's our guide to finding your pup's perfect sleep solution. 
From puppy to prime
The standard dog bed only lasts between 6-12 months. We knew we had to do better, which is why we designed a dog mattress to last a lifetime with the Topology dog bed. But, we also understand that a dog's needs change as they age, which led us to create a range of toppers to support every life stage of your four-legged friend. The Topology toppers can simply be zipped off from the Topology mattress, placed in the washing machine, and then zipped back on for that oh-so-fresh sheets feeling. Or, for when your dog reaches a new life stage, zip on a brand new topper to meet their adjusted needs, all while the memory foam support of the Topology mattress remains the same. 
For playful pups
Recently got a puppy? We recommend the Topology dog bed with the Quilted topper, also known as the Topology puppy bed. The durable material of the Quilted topper is great for those inevitable accidents and razor-sharp pirana puppy teeth. Not convinced? We'll even replace your topper for free with the Omlet 180 Day Puppy Guarantee scheme in the unlikely event that your pup manages to chew through their topper to the extent it can no longer be zipped onto their bed within 6 months of your purchase*. 
Super for seniors
For senior canines, opt for the Topology dog bed with the Sheepskin topper. As dogs age, they struggle to regulate their temperature, meaning they need extra support to stay warm. The faux sheepskin fabric not only provides an extra layer of comfort to keep them cozy, but combined with the memory foam mattress of the Topology bed to support aging joints, creates a recipe for a dog bed of dreams.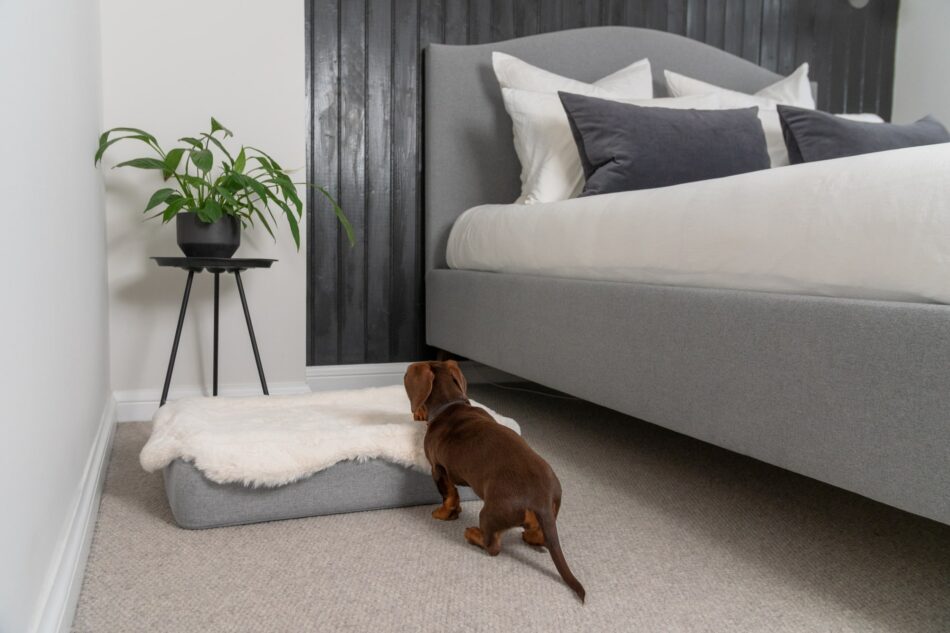 Best for your breed
It's not just age that affects choosing the right dog bed. When it comes to beds, one size definitely doesn't fit all and your dog's breed can also play a part in finding the right sleeping solution for them.
Separation support  
All dogs can struggle with canine separation anxiety, but some breeds such as the border collie, toy poodle and bichon frise are more prone to struggling when separated from their owners. Alongside seeking professional help from a behaviorist, having the right dog bed can help, though. The Bolster dog bed was expertly engineered to support the needs of anxious pups, with raised, wrap-around sides creating a pillow for your dog to rest their head and feel cocooned in for when they're feeling on edge. 
Mucky pups
It's no secret that some dog breeds create a little more mess than others. Whether it's the flying fur of a golden retriever, a slobbery trail from a bloodhound or muddy paws dotted around the home, our dogs have their own special ways of showing us their love. But, these tokens of love, can come at a cost. With a build-up of dirt, debris and hair, dog bed odors can soon spread to the rest of the home.
Fortunately, the Bolster dog bed has been designed with easy cleaning and home hygiene in mind. The covers can be removed in seconds and put in the washing machine on a gentle cycle. And when the covers are back on, your dog's bed will feel and smell brand new.  Plus, with the option to customize the dog bed with a range of designer feet, the Bolster can be elevated for easy cleaning and 360° airflow.
Suits you
Something else to consider when finding a dog bed is your lifestyle. But finding the perfect fit for you and Fido without compromising on their comfort can be a challenge. We asked ourselves, can we design dog beds that meet their needs and ours? Our answer: Yep, for sure. Whether you're an avid adventurer who loves globetrotting with your canine companion at your side or a homebody interior expert who wants to match their dog bed to their furnishings, we have a dog bed for you. 
Adventure ahoy
The Cushion dog bed is the go-anywhere dog bed. The lightweight material means taking your pup's bed on your travels is a breeze. Keep it in the car for your next adventure, and bring it out when you're ready to bed down at your destination. And filled with the just right amount of plump stuffing, the Cushion dog bed ensures your four-legged friend stays comfortable wherever they are.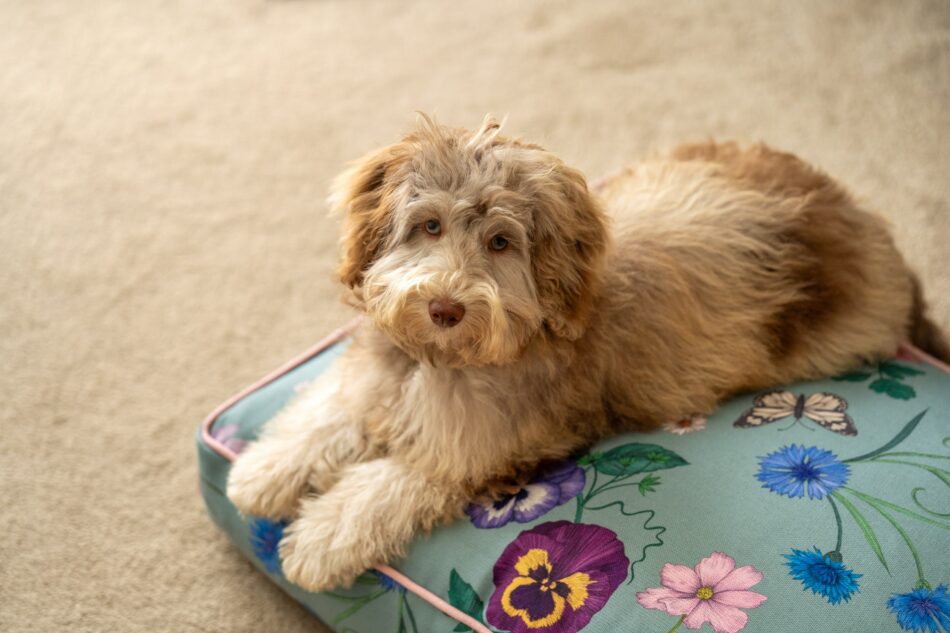 Here for the homebodies 
Perhaps a slow stroll with your dog followed by a cozy evening in your beautifully decorated home sounds more appealing than a camping trip with Fido? We've got a dog bed just for you, too. Our Nest dog bed has been designed to give your dog the ultimate night's sleep with dual-side cushion inserts, whilst looking amazing in any home as well. 
Choose from a range of sustainably sourced covers in signature prints, exclusive to Omlet. For those who want a bold pop of color, the abstract Kaleidoscope Prism or Shaded Spruce prints will work great. And to complement any minimalist interior, the subtle tones of the Corduroy Pebble and Corduroy Moss covers are ideal.
Omlet and your dog's bed
No two dogs are the same, so we don't expect them to have the same needs and desires. That's why we've designed a comprehensive collection of dog beds that meet their needs – and yours too. From the Bolster dog bed for extra support, to Topology dog beds for those all-important life stages, to the sustainable and beautifully designed Nest dog bed, or the Cushion dog bed to travel anywhere, we believe the perfect dog bed makes life with your dog that bit more magic for you both.
*180_Puppy-Gaurantee_terms | Omlet
This entry was posted in Dogs
---