How long do dog beds last?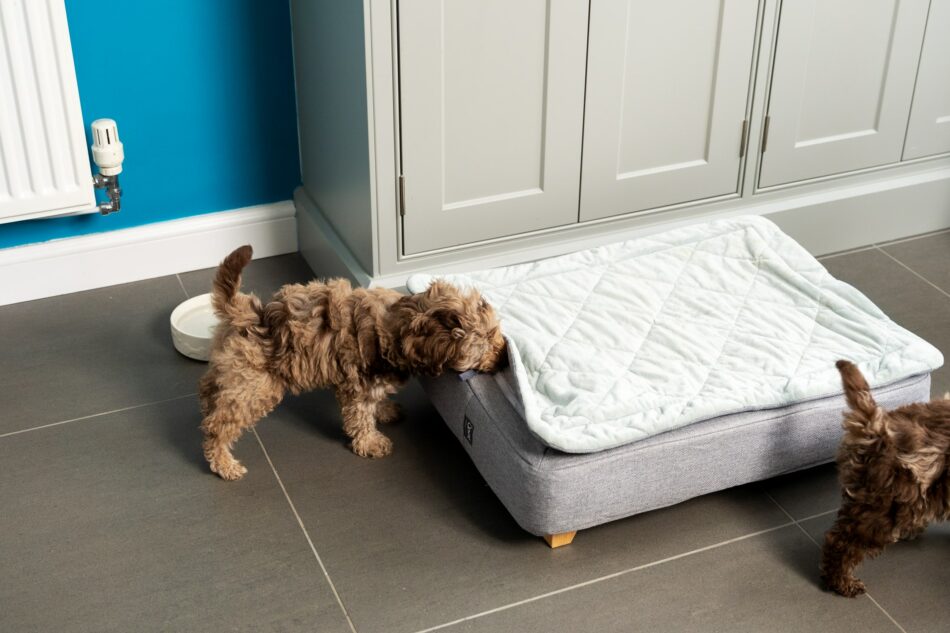 Ahh, the eternal question: how long should a dog bed last? It's a topic that's stumped pet owners for ages. As humans, we typically change out our mattresses every 6-8 years depending on brand and usage. But with dog beds, there are a lot more factors to consider. Should a dog bed last a year? Five years? Ten years? Or should it last until the end of time itself? At Omlet, we think dog beds should last forever! So let's take a closer look at your dog's bed and what you can do to keep their comfort going for life and keep their bed out of the landfill.
Why standard dog beds don't last
Let's be honest – dogs are known for many things, but being gentle with their belongings is usually not one of them. They love to chew, dig, and drool on anything they can get their paws on, including their dog beds. In addition, most dogs sleep on their beds for all naps and nighttime sleep, incurring lots of usage and extra smells. It's fair to say that dogs use their beds more than humans use their mattresses.
As a result, standard dog beds simply can't withstand the normal wear and tear of any dog breed. Most standard dog beds are constructed of non-durable and non-washable materials, making them unable to provide quality comfort for your dog for very long. So if you're expecting a standard dog bed to last forever, you're barking up the wrong tree. But rest assured – there are other dog bed options from Omlet available that will keep your canine comfortable for life.
How long should a dog bed last?
On average, most standard dog beds last anywhere from 6-12 months. If it's not the rips and tears from your dog's natural behaviors that prematurely send it to the landfill, then the build-up of odors and hair will. At Omlet, we believe that dog owners should be able to buy one dog bed that will last their furry friend from puppyhood to prime.
Our product designers set out to challenge the standard dog bed norm and create a dog bed that would not only provide the highest quality comfort to your dog, but would last their lifetime as well. Their solution – the Topology dog bed.
3 ways to know it's time for a new dog bed
How do you know when it's time to buy yourself a new mattress? More than likely, it's when you start having consecutive nights of uncomfortable sleep or can see defined lumps and dips throughout. But how do you know when it's time for your dog to have a new bed? Here are 3 ways you can determine if your dog needs new digs:
The two most common dog bed fillers are stuffing and memory foam. So in order for any standard dog bed to stay supportive of your dog's joints and comfort, the interior filling needs to be uniformly thick across. But how can you tell? By performing a quick thud test. Simply take your flat hand and hover it a few feet above your dog's bed. With a swift motion, drop your hand onto the dog bed to mimic your dog plopping onto their bed. If you hear a 'thud' when it hits, then it means the supportive filling has gone flat and it's time for a new dog bed.
No really, we mean it – smell your dog's bed. And we don't mean from the other room. We mean get down on the ground and give your dog's bed a good whiff. Any bacteria or other microbes that may have started to build up inside your dog's bed may only be fragrant up close. But guess what? That means this smell is transferring to your dog every time they snuggle up for a snooze. So if you sniff a bad whiff it's time for a new dog bed. 
Give a complete inspection
At first glance, most standard dog beds may appear to be in perfectly good shape. But give it a closer look and you may see something else. In order to really know if your dog needs a new bed, you need to give it a thorough inspection. If the cover is removable, take it off to look at the insert. Mold and mildew can hide in seams and crevices from excess drool, making your dog's bed worse for wear. And if the inside of your dog's bed looks that bad, imagine how uncomfortable it must be.
Omlet's Topology dog bed
As the pet company that does things differently, we set out on a quest to create a comfort solution that would be your dog's sleeping companion for life. We're pet owners, too, and like you, we're tired of worn-out, uncomfortable dog beds filling up our landfills. So we decided to do something about it. We decided to engineer the last dog bed you'll ever need to buy.
The Topology dog bed, designed by Omlet, is a completely customizable dog bed that will literally transform your dog's sleep. The luxurious memory foam mattress is completely encased in a water-resistant cover to give your dog high-performance sleep without the worry of bacteria build-up. And with Topology, you can also customize your dog's comfort with one of the multiple different topper options so you can give your dog the exact sleep they want.
The best part? Every single topper is easy to remove and completely machine washable. Simply pop a new topper on the bed while the other is in the wash, or if a topper gets worn out, simply replace it with a new one without having to buy a new bed. 
In fact, we know this bed is so durable and high-quality that we guarantee it can withstand the harshest of critics – puppies. Yep, that's right. With the Omlet 180 Day Puppy Guarantee, we back the Topology dog bed and Quilted topper, AKA the Omlet Topology Puppy Bed to withstand the shark-like chewing of every dog bed's worst nightmare. If within 180 days your puppy chews through the Quilted topper of the Topology bed, we'll replace it for free. How's that for the last dog bed you'll ever buy?
Omlet and your dog
At Omlet, we don't just assume we know what your dog needs in a dog bed. We use our personal experience and unparalleled understanding of the best products available to engineer dog beds that deliver quality, comfort and ease of care so your dog not only gets what they need, but also what they want. After all, our dogs deserve the best, right? With the Topology dog bed, your dog will be laying in the lap of luxury from puppyhood to prime and giving you many tail wags of thanks in return. Let us do the work, so you can reap the rewards.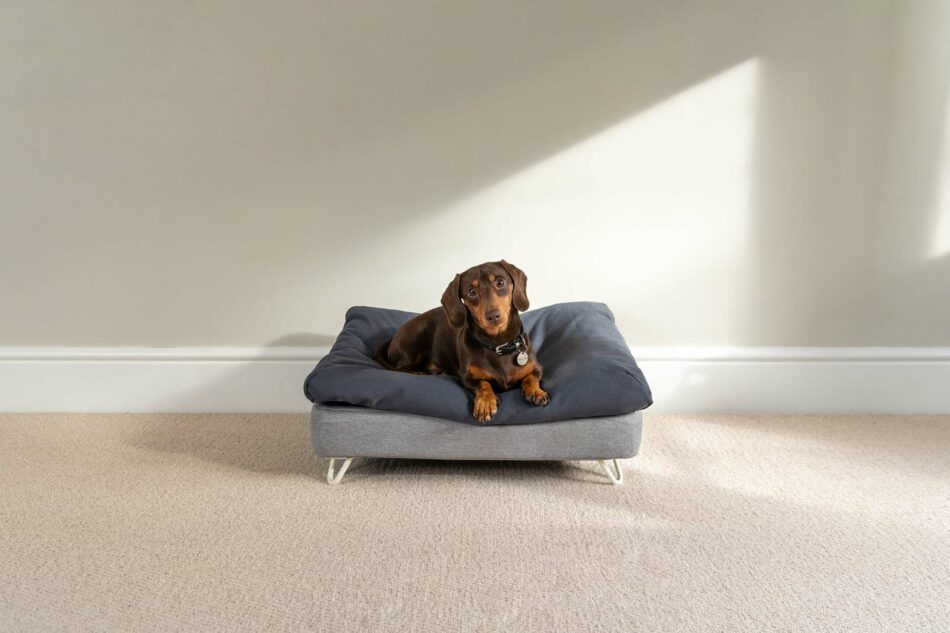 This entry was posted in Dogs
---