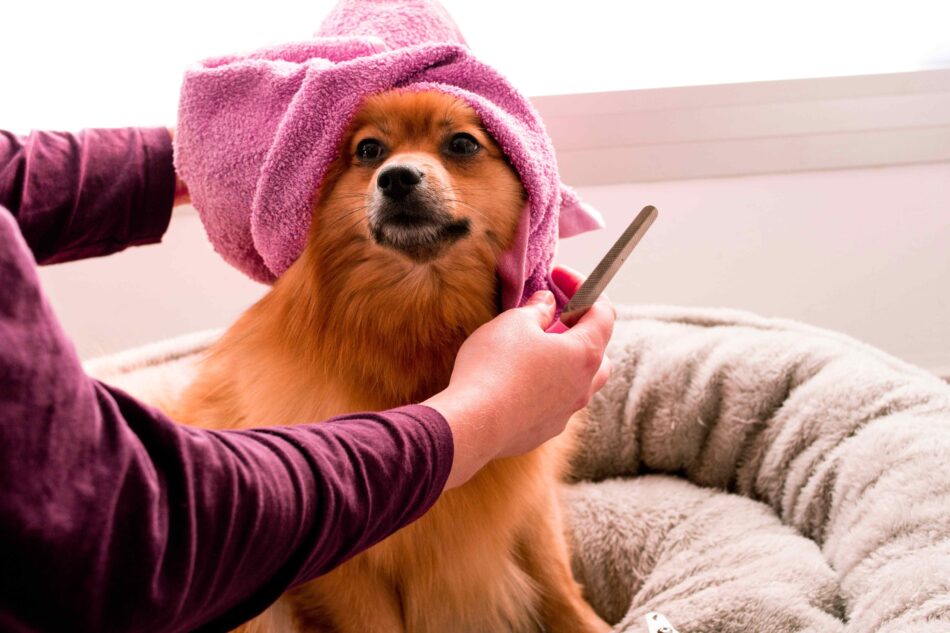 Everyone deserves a day of tranquil relaxation! When the stresses of life get hectic, treating yourself to a day at the spa can make all the difference. But do you know what's even better? Treating your best four-legged friend to a spa day! That's right – pampering your pooch not only benefits your dog with de-stressing relaxation, but the act of giving an indulging wellness experience will bring you and your pup closer together. Here's everything you need to know on how to give your dog a spa day.
Setting up the spa environment
When planning to treat your dog to the ultimate escape of calm and serenity, you first need to make sure you have the spa essentials on hand. Does your pup just need a blissful bath or will they get a massage and pawdicure as well? Decide ahead of time exactly what spa specials you want to give your pup and then gather the shampoos, nail trimmers and brushes all together so you have them in one place. 
Next, pick out the perfect place to pamper your pooch! Whether it's in a large bathtub, walk-in shower or outdoor lanai, make sure the spot you pick is quiet and calming. This will ensure the spa experience is relaxing. You can even play some soft music, such as classical or nature sounds, to add another layer of tranquility.
If this is the first time you are treating your special friend to a spa experience, it's a good idea to have one of their favorite dog blankets on hand to help them stay at ease. Some dogs are unsure about new things and having a familiar scent and snuggle will allow them to enjoy the spa day much more quickly!
Now before you begin the spa day, you want to be sure you give your dog a bit of exercise first to get them nice and tired. Help your dog ease any jittery feelings by taking a brisk walk around the block or playing a game of fetch. Giving your dog a workout beforehand will help keep you from having to workout too hard trying to keep them still during the spa! A relaxing spa day is the perfect reward after some exercise!
Doggy massage
Who doesn't love having their sore muscles massaged? Dogs carry stress and strain in their joints and muscles just like we do. So spending time gently massaging your dog can provide continuing benefits of relief and relaxation for your pup long after the spa day is over! Here are some tips on how to give your dog the ultimate spa massage:
Always start slowly and with gentle pressure when giving your dog a massage so they can get used to the experience. 

Begin the massage by using your thumbs to make small, circular motions on your dog's head. 

If your dog is maintaining a relaxed state, slowly work your way onto their shoulders and down their back by applying the same gentle pressure.

Your dog may decide to roll over and request a belly rub, which is completely normal! Feel free to scratch that tummy while also massaging through any tension points.
The massage portion of the spa day may last a few minutes or more depending on your dog's temperament and comfortability with the new experience. Pay attention to your dog's body language and adjust accordingly so the massage remains a positive experience. Before long, your dog might just be begging you for more!
Blissful bath time
For some dogs, the 'b' word can be a dreaded sound that means "run for cover under the bed"! Your dog's hygiene is vital for their health but bathtime doesn't have to be a bad time! Creating a welcoming and calm environment is the key to success with spa day baths. Follow these essential bath time tips and your dog will start running for the tub instead of the covers the next time they hear the 'b' word!
Since the bath is the spotlight of the spa day, you want to be sure you have the water temperature just right! Keep it on the warm side and add some soothing scents of lavender or chamomile oils to make it more inviting. Spa day baths should not be done with the outdoor water hose!

Slowly introduce your dog to the bath – nobody wants a spa day to feel rushed! Once you can see that your pup is relaxed and ready to be pampered, you can slowly begin wetting down their fur.

Apply generous amounts of shampoo onto your dog to create a luxurious lather. This is the part of the bath experience where you can really create that calming effect by gently massaging in the shampoo and getting them clean!

Once rinsed off, towel dry your dog completely from head to tail. When done right, your dog will look just as good as they smell!
Doggy spa day baths are the best part of the experience! Not only does your dog get a soothing and relaxing treatment, but you get a clean and fresh smelling dog!
Pawdicure and proper grooming
No doggy spa day is complete without the final touches of a pawdicure and brushing! Depending on your dog's breed and coat, you may need to spend a little or a lot of time brushing them. But even just a regular dog brush can work wonders at removing dead hair and redistributing skin oils throughout their coat. Maintaining a regular grooming schedule for your dog is essential not only for spa days but throughout the year!
When it comes to nail trimming, dogs and pet parents alike can become hesitant! But more than for just looks, keeping your dog's nails trimmed is important in making sure they can walk and run without issue. How do you know if your dog's nails need to be trimmed? The best rule of thumb is to listen as they walk on a hard floor – if you hear the click-clacking of nails, it's time for a trim!
If trimming your dog's nails on your own, be sure to start out small, only cutting away tiny tips at first. You can even use a doggy nail file to more swiftly whittle down the excess length. However, if giving your pup a pawdicure is not something you are comfortable doing, you can always seek out the assistance of a professional groomer to help! 
Your dog gives you unconditional love every day! So pampering your pup with a relaxing massage, bubbly bath and essential grooming is one of the best ways you can show them the same. A doggy spa day means spending more time with your dog and that will make the experience that more special. Your dog is a big part of your world, but to your dog, you are their whole world! So give them a spa day to show them how much you care!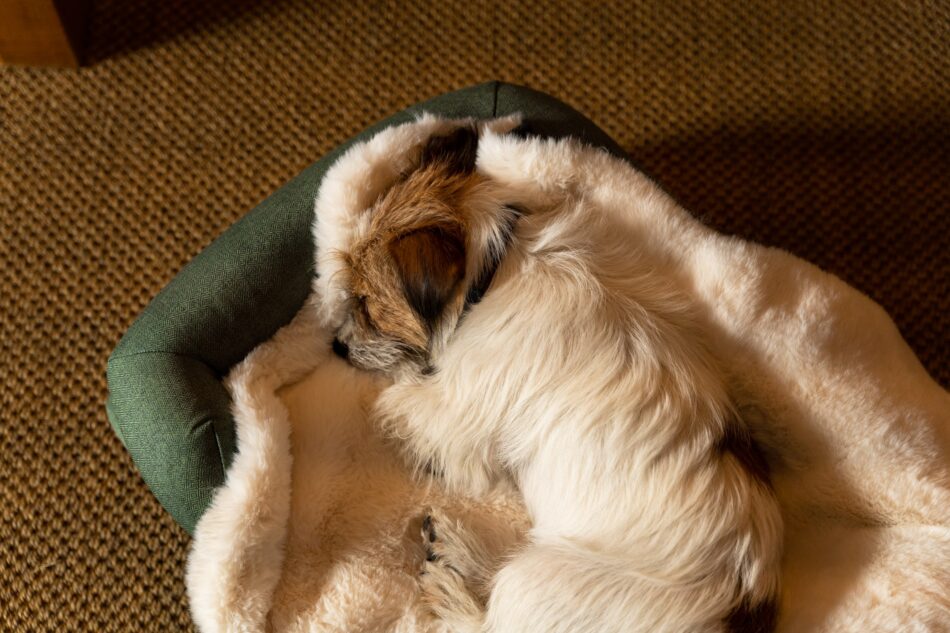 No comments yet - Leave a comment
This entry was posted in Dogs
---