The best dog bed to travel with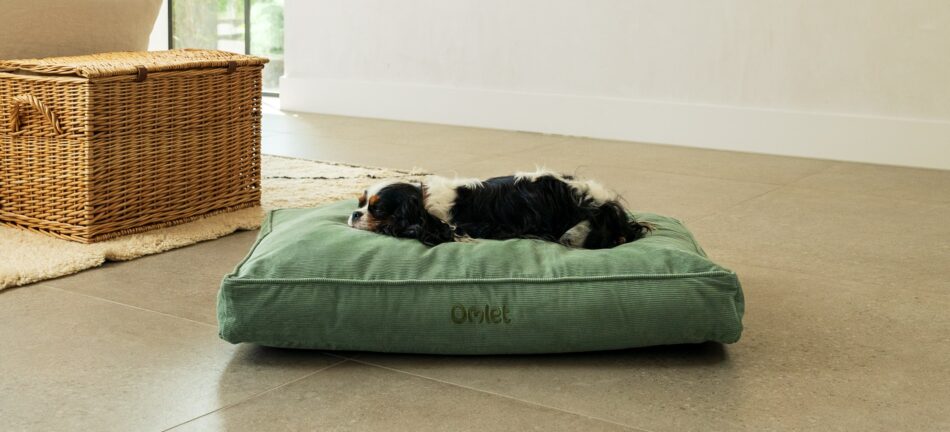 It's easy to underestimate how much you'll need to pack for a family vacation, especially if your four-legged friend is joining the adventure too. And just as you've finally jammed the trunk of your car shut, you realise something is missing! Sound familiar? But what if that something is your dog's bed? Big bulky beds aren't easy to cram into a full car, but your pup's prized possession is the last thing you want to leave behind. So, let's find out what the best dog bed to travel with is for when you're short on space. 
Why do dogs need a bed to travel?
A change in environment can be overwhelming for dogs. For one, you might be joined by additional family members and friends on vacation, which means a change in routine. Not only do dogs then have to adjust to new sights and sounds, but their heightened sense of smell also means exploring somewhere new with their nose too. Having something such as a dog bed that smells familiar provides them with an element of comfort for when they're staying away from home. In turn, this sense of familiarity will help make your trip away as enjoyable for them as it is for you.
Introducing Omlet's Cushion dog bed. The 'go-anywhere' bed has been designed to travel from place to place with no fuss. The lightweight material means the mattress can simply be packed away in the car before heading out and placed down again when you reach your destination. But what else makes this the best dog bed to travel with?
Pillowy-soft sleep support
The Cushion dog bed may be made of lightweight materials, but we'd never compromise on comfort. We know that the perfect dog bed is key to a guaranteed good night's sleep, especially for getting in those extra ZZZs after a long day of walkies on vacation. Filled with stuffing, the Cushion bed has been expertly crafted to balance pillowy-soft sleep support with just the right amount of plumpness to offer the perfect dog snoozing spot. 
Beautifully designed prints
We knew that a dog bed that felt amazing wasn't enough, which is why we created a range of designer covers to make our beds look amazing too. Choose from a selection of patterns, inspired by the beauty of nature to remind you of the outdoors when you step inside. The Morning Meadow and Gardenia Sage prints are perfect for going away on a doggy adventure, as a beautiful nod to nature. You can even find a matching dog collar and leash from our Dog Walk and Gardenia collections for your furry friend to look stylish on vacation and back home, too.  
Dog-proof fabric
Chewing, digging, scratching and mouthing can be normal canine behaviors, but can also sometimes be elevated in stressful situations, such as traveling and being away from home for some dogs. Before heading on an adventure with your dog, though, you should assess whether they're ready to do so, or if you need to work out an alternative. 
This being said, unexpected situations can arise, which can equal stress and anxiety for you and your canine companion. We wanted to create a dog mattress that could withstand any of these behaviors, and did so with the Cushion dog bed. Nearly all of our beds are made from 100% recycled bottles, making them super tough and rip-resistant from dog teeth and paws.
Easy cleaning for the messiest of pups
A few hiking adventures and beach walks later, your dog's bed is bound to be covered in at least a few muddy pawprints. But throwing your dog's bed away after every vacation isn't the answer. Fortunately, the Cushion dog bed was made to last, with removable covers that can be zipped off and thrown into the washing machine to get rid of any dirt and odor. 
Getting your dog used to their new bed
It's a good idea to have your dog used to their bed before taking it on your travels. This will give them time to adjust to not only how the new bed feels, but how it smells as well.  Regardless of how comfortable a new dog bed is, it can initially take time for Fido to get used to it. The scent of their existing bed might be super stinky to you, but this odor isn't quite so foul-smelling to them. This means it can take some time for them to love their new mattress as much as you.
To get your dog used to their new bed, you'll need to associate it with being a positive space. Use plenty of praise when they lie on their mattress, or if they're more food-motivated, offer some tasty dog treats instead. You can even add a dog blanket on top so that your pup can be assured that they've got the coziest spot in the house. For more advice on how to get your dog used to their new bed, read our previous blog.
Omlet and your dog's travels
Make traveling with your dog as stress-free as possible and your vacation great fun with the help of Omlet dog products. Our Cushion dog bed is the perfect travel bed for you to use at home and away, and paired with a super soft dog blanket, your furry friend won't be able to resist. 
This entry was posted in Dogs
---