Which Topology topper should you get for fall?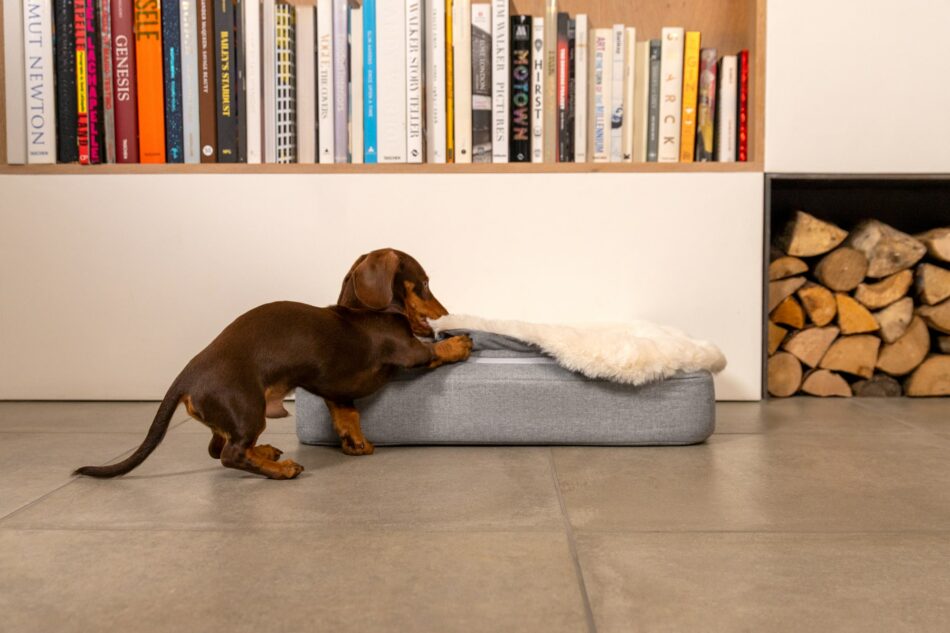 When it comes to your furry friends, we believe they deserve nothing but the best. This is why we created the Topology dog bed – a revolutionary pet bedding solution that has already changed the way pet parents care for their four-legged companion. The Topology dog bed isn't just an ordinary dog bed – it's a commitment to comfort and versatility that will last a lifetime. Crafted with precision and love, our unique interchangeable toppers allow you to tailor your dog's sleeping experience to match the ever-changing weather and seasons. So as summer is fading into a new season, let us help you decide which Topology topper you should get for fall.
How does the Topology dog bed work?
Quality and longevity are at the heart of our design philosophy with the Topology dog bed. Built to withstand the rigors of your dog's life, our exclusive memory foam mattress base provides a supportive and dreamy sleep that molds to your dog's body and creates unparalleled comfort. But our designers went even further in perfecting the ultimate dog bed. In order to perfect comfort, we created a dog bed that would look great in homes as well by not compromising on style. 
Say goodbye to constantly replacing your dog's bed as the seasons shift. With the Topology dog bed, you can effortlessly switch between our wide range of topper options all year long to give your dog, and your home, that new fresh feel. Our range of toppers provides the perfect balance of comfort, temperature regulation, and durability, ensuring your pup stays content and relaxed year-round.
We also thought beyond the confines of the ordinary dog bed to create custom options that allow you to raise your dog's comfort – literally. The exclusive Omlet dog bed feet are designed to bring new heights of style and relaxation to your dog's sleep while simultaneously increasing airflow, eliminating dust build-up, and creating a healthier sleeping environment. The Topology dog bed is more than just a place for your dog to sleep – it's a custom-created sleep environment that'll always make them feel at home.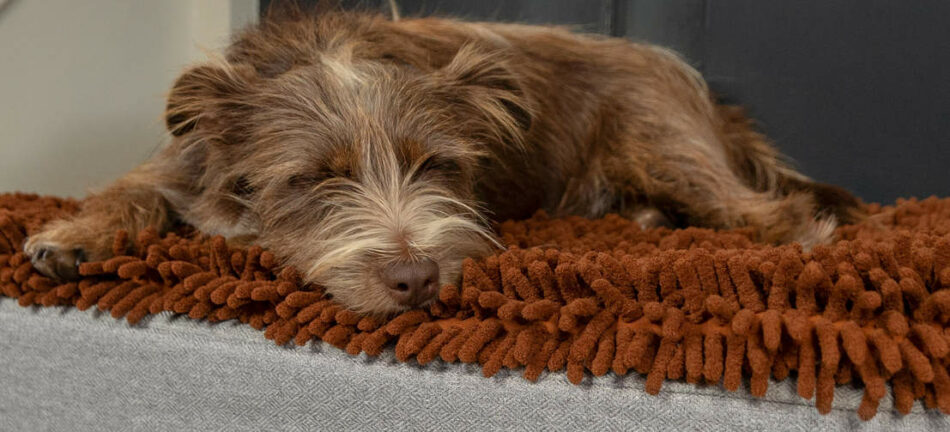 Which Topology topper is best for fall?
As the leaves begin to change colors and the warm air turns cool, we welcome the changing of weather into fall. But how do you make sure your dog feels the same comfort of this new season? The Topology dog bed is a fall essential for any dog and choosing the right topper means considering their comfort, needs, and preferences that accompany this new weather.
Beanbag Topology topper
The Topology Beanbag topper is a plush, yet hard-wearing, topper that's the perfect autumn companion for your dog as they start to spend more time indoors. Constructed with unparalleled comfort that mimics the softness and warmth of a bean bag chair, the Beanbag topper provides a nest-like feel that envelops your dog in a cocoon of coziness. Opt for the crisp yellow shade, and this color will add beauty and warmth to your interior fall decor, making this the perfect choice for a new season and new dog bed topper.
Microfiber Topology topper
When fall brings rain and dampness, your dog deserves a comfortable and dry place to rest. The Mircofiber Topology topper is the perfect option with its fast-absorbing material that easily soaks up water and mud from damp fur and paws that accompany fall walks. There's no more soggy bedding with this quick-drying topper,  that keeps your dog will keep comfortable and ready to snuggle in no time. And just like every Topology dog bed topper, the Microfiber topper is easy to remove and toss in the washing machine for hassle-free dog bed cleaning and care. 
Sheepskin Topology topper
The Sheepskin Topology topper is the ultimate choice to keep your dog cozy and comfortable this fall season with its luxurious softness and insulating warmth. Create a welcoming haven for your furry friend with this topper that allows them to curl up in a peaceful slumber. Beyond its functionality, the Sheepskin topper adds an element of sophistication to your dog's domain. Choose from three different sizes and multiple shades to complement your home decor. For the fall season, we recommend soft beige or damson purple as two colors that perfectly reflect the feelings of the outside.
Fall dog bed accessories
Creating the perfect fall retreat for your canine companion includes more than just a bed. At Omlet, we believe everything is better with accessories. So in an effort to elevate your dog's comfort during the autumn season, consider adding a luxurious, soft dog blanket to their bed for increased layers of warmth and coziness. 
Want to give your dog a domain all their own this fall? Place their dog bed and blanket inside a dog crate to create a safe space that will be their personal sanctuary for comfort and warmth all season long. The Omlet Fido Nook dog crate is the perfect option as it not only gives your dog a feeling of security, but adds style and beauty to your interior decor. 
Omlet and your dog's bed
This fall, Omlet is your one-stop destination for ensuring your dog stays warm and comfortable throughout the changing of leaves and weather. Start your dog's fall season off right with the Topology dog bed which is the heart of our collection. Next, choose a versatile Topology topper from our wide range of styles and colors to match your dog's specific level of comfort and needs. Add a Luxury dog blanket to go on top and – voila – you just created the ultimate fall-ready doggy comfort zone. All that's left to do is enjoy the new season with your favorite pup.
This entry was posted in Dogs
---