Why Do Chickens' Legs Not Get Cold in Winter?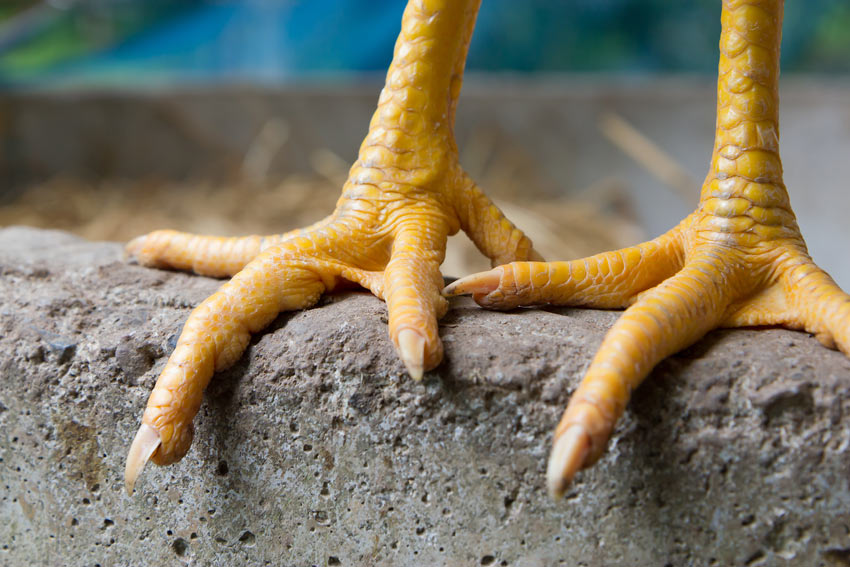 Watching chickens scratch at the frozen ground or strut through the snow, you might wonder how they manage to keep their feet and legs warm. After all, this is one part of their body with no feathers to keep it cozy (unless you happen to have a feathery-legged breed such as the Cochin, Brahma or Silkie).
Surprisingly, the simple answer to 'How do they keep their leg warm?' is 'They don't!' Those skinny, bare legs have scales, which retain heat to a certain extent, but they will still get very cold if the bird stands still for too long.
And that's the important detail. A chicken keeps its legs warm by moving, and by not keeping all its toes on the ground for too long. These parts of their body lose heat rapidly; but the solution is quite simple.
Perching is the most effective way of retaining heat. A hen hunkers down when roosting, and her legs are tucked into her warm body. If space allows, install a flat perch too. A piece of wood with a 10 cm width will enable the hens to roost without having to grip the perch, which in really cold weather will prevent their toes freezing. (The lucky ones will simply snuggle down in a nesting box, which is the chicken equivalent of a thick quilt!)
But of course, a hungry hen doesn't want to waste the whole day perching, so even in the coldest spells she will make a lot of contact with the ground.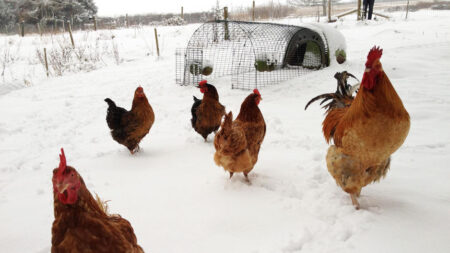 One-Legged Hens
Like many other birds, chickens often adopt the 'one leg' look, tucking one of their limbs up into the warmth of their bellies. This reduces overall heat loss and stops feet and toes from freezing on the icy ground.
An upturned pot, a log, pallet or other slightly elevated space – cleared of snow or ice – will help the hens get the circulation going again, without having to catch their breath on the frozen ground. Like all birds, chickens are warm-blooded, just like us, and their own body heat soon works its magic. Indeed, with an average body temperature of around 41°C, chickens can remain active in the coldest weather.
The leg-warming process is helped by other tricks, too. Fluffing up the feathers retains body heat, by trapping small pockets of air which are then heated up by the bird's warm body.
Some owners give their hens a supper of corn and grains, which take longer to digest than a standard pellet or other chicken food. Part of the digestion process involves producing heat – a kind of internal hot water bottle!
In general, hens will eat more food in the cold months, as more of their energy is spent keeping warm. Some owners like to supplement the birds' diets with extra protein or a little suet, to increase their fat levels for the winter. Fat retains heat, and the whole bird benefits – not just the legs (which will remain as thin as ever!)
Help With the Heating
You can help your hens keep their toes cosy by making sure the coop is clean and dry. Clear out any snow dragged in on the birds' feet and keep an insulating layer of straw on the floor. You can give the birds extra protection by insulating the coop – although there should still be some ventilation, to allow the gases released from the birds' droppings to escape.
You can install an automatic door to help keep the living quarters snug. Heaters are also available – but never use anything other than a heater designed specifically for hen houses. It's also best to use these only if the temperature gets below 40°F, otherwise hens may get used to being cosy all the time, and that could be disastrous if the heater fails, and the birds are suddenly exposed. Heat-pampered poultry can die of cold shock.
A chicken coop should be draft-free, but not completely sealed, as ventilation is important for healthy hens. During the day, a sheltered spot in the run or garden will help them take a breather and warm those long-suffering legs.
Chickens are amazingly hardy, and although not exactly warm, their legs will be able to cope with anything the average winter throws at them. As long as they can toast their toes on a nice perch every now and then…
This entry was posted in Chickens
---