How to Help Your Chickens Through a Molt

During their molt, chickens shed their old feathers and grow new ones. They usually stop laying eggs at this time, or reduce their laying rate, and this gives them time to rest and prepare themselves for the next laying season.
Molting occurs every year, sometimes twice, and it can kick in at any time; although in the US, most hens molt in late summer to early Fall. Occasionally, an early molt can be brought on by stress. The process varies in length, but is usually complete after four weeks. In some cases, it can be three months or more before the new coat of feathers is complete.
When Do Chickens Molt?
Young chickens frequently molt as they shed their baby feathers and grow adult ones. The first molt occurs before they are six weeks old, and there is a second molt before nine weeks and a third at 12–13 weeks. The last of these 'chick molts' occurs between 20 and 22 weeks, at which point the bird is an adult and is laying eggs. She will molt once or twice every year.
How Do You Know if Your Chicken is Molting?
Chickens will lose occasional feathers at any time of year, and that's nothing to worry about. These are the obvious signs of molting:
A Messy appearance, with bald spots
A dull-looking comb and wattles
Irritability
A sudden stop to egg production, or a reduction in the usual number of eggs
An increased appetite, with a hunger for protein (the hen may fight other birds away from food scraps or scratch frantically for bugs and worms)
The molt usually starts at the chicken's head, and travels via the breast and legs to the tail. By the time the tail is bare, the head feathers have started to regrow.
If a hen is losing feathers and doesn't grow new ones, there may be a problem with feather mites or some other illness. Watch out for any unusual behavior in your hens – listlessness or a hunched posture, for example, are signs of an underlying problem. If you are in any doubt about your chickens' health, speak to your vet.
Similarly, if the laying cycle is severely interrupted and the hen is not laying several days after the end of the molt, contact your vet.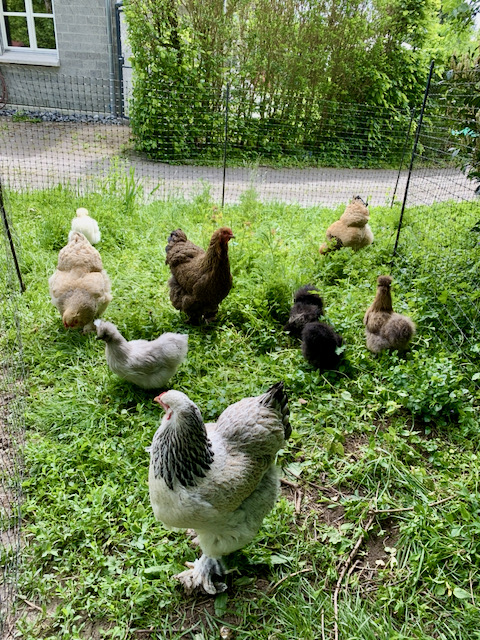 What to give chickens to help with molting
Molting is not an illness, so there is no treatment required as such. However, changes to the birds' usual diet help them through the molt. Their taste for protein will increase during this time, as new feathers need lots of it. Indeed, feather growth will eat up all the usual protein you give your hens.
To add extra protein to the chickens' diets, give them a feed that is at least 18% protein. It's best not to give them cooked meats and dairy, as these are very fatty, and all dairy is hard for chickens to digest. Cooked eggs and fish are good protein sources, and if your hens have access to bugs and worms, all the better. Many chicken keepers feed their birds mealworms during the molt, and these are perfect, being high in protein and low in fat. Cooked peas, lentils and beans are good protein sources, too.
To ensure general health and a robust immune system, add some apple cider vinegar to the hens' water to boost their digestion too. Otherwise, simply continue with the healthy feeding regime, and make sure their diet has plenty of vitamins and minerals.
What to do when your chickens are molting?
Do not handle your chickens during the molt, and resist the temptation to cover their balding bodies with chicken pullovers or jackets! The hens' skins are tender and itchy during the molt, as hundreds of pin-feathers are pushing through. Handling them or dressing them up will only add to their irritability!
To ease the hens through their annual feather makeover, make sure they are in a stress-free environment. New birds should not be introduced during the molt, and coop renovations or changes to your henhouse setup should be put on hold until the new feathers are all in place.
Wild chickens were happily molting for millions of years before we first domesticated them, so this is one of those cases where it is best to let nature take its course. With a little dietary help from their human friends!
This entry was posted in Chickens
---