Record Breaking Chickens and Eggs
World's Heaviest Chicken
The heaviest chicken breed, White Sully, was developed on a farm in California. It's a hybrid breed of large Rhode Island Reds and other heavy breeds. The largest chicken ever recorded was a rooster called Weirdo, and he weighed just over 10kg (22 lb). It is said that he was so aggressive that he killed two cats during his lifetime and seriously hurt a dog that came too close to his territory.
World's Oldest Chicken
The current world record holder is Muffy, a Red Quill Muffed American Game hen, who died at the age of 22 in Maryland, USA. One of the more famous old chickens was a Red Pyle chicken called Matilda from Alabama, USA. She was the first hen to receive the title of World's Oldest Living Chicken from Guinness World Records and lived for 16 years. Veterinarians said it was likely she lived for so long because she was kept in her owners' house as a pet, and never laid an egg in her life.
World's Heaviest Egg
The heaviest egg ever recorded was laid by a White Leghorn chicken in New Jersey, USA in 1956. It weighed 454g (16 oz) and had both a double yolk and a double shell.
World's Biggest Egg
The heaviest egg was however not the biggest egg ever found. Tony Barbouti in Eastwood, Sussex, once found an egg in his chicken coop measuring 23cm (9.1 in) in circumference. It only weighed just over 161g, but certainly gave Barbouti a shock! He later said that the hen was noticeably shocked after having produced the egg, and she walked a bit funny for a few days, but recovered completely.
World's Longest Flight
Chickens are not known for their ability to fly. In fact, many mean that they can't technically fly, but only jump high and flap their wings to stay in the air. The longest flight of a chicken that has been recorded is 13 seconds. A different record for the longest distance flown is just under 92m (301 ft). Pretty impressive for a supposedly flightless bird!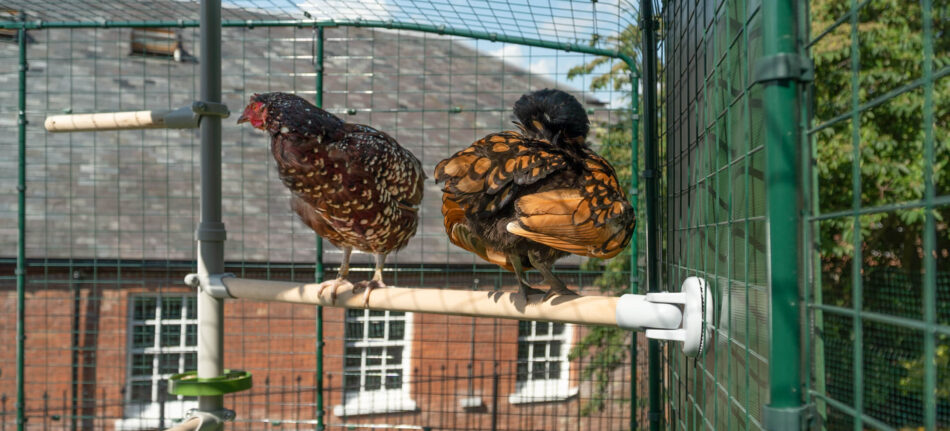 World's Most Prolific Layer
A Prof. Harold V. Bieller conducted experiments with chickens in the late 1970s at the College of Agriculture, University of Missouri. The highest rate of egg-laying he found was by a White Leghorn in 1979. She laid a whopping 371 eggs in 364 days!
World's Most Prolific Mother Hen
Northern Irish farmer John Dolan has got two hens that have made it into the Guinness Book of Records. His hen Sally entered by having two sets of chicks in just 55 days, the latest of which produced 11 live chicks from 12 eggs. Chickens normally stay with their young for at least three months, but Sally started laying again after only 21 days. John's other record-breaking chicken Marmalade made it into the Book of Records by hatching a remarkable 107 chicks in two years!
This entry was posted in Chickens
---