The accidental discovery of chickens as support animals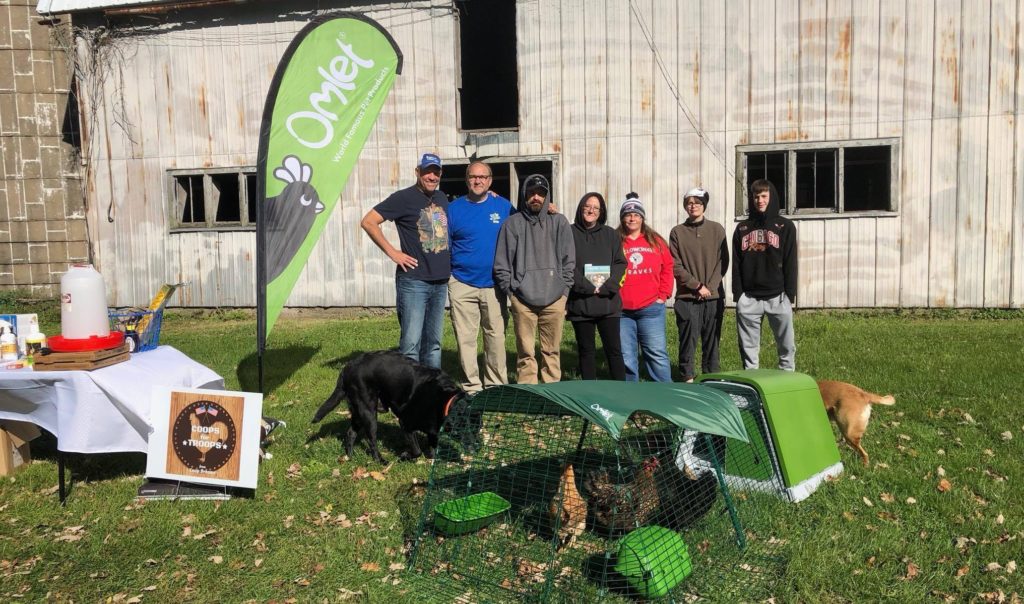 While filming a segment of our television program Coop Dreams, around Austin Texas, we were taken on a field trip to a nursing home that had a chicken coop.  Daily the residents would have 'Chicken time' where they could hold, pet and interact with the chickens.  What we witnessed was incredible.  The chickens were amazingly calm and the residents were transformed back in time to when they had raised or experienced a life with chickens.  It was super cool to see chickens and residents so comfortable that they both wound up napping while the chickens were on their laps in chairs…  And that sparked a curiosity.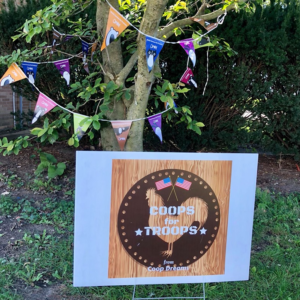 The birth of Coops For Troops
Moved by what we experienced, we couldn't stop talking about it and googling everything around chickens involving support and therapy.  We found some amazing information and stories about how chickens can help with:
Loneliness – We've all experienced and been amused by their crazy antics and personalities.
Stress Relief – Whether it's the vocalizations or the scratching and pecking there is something very calming about sitting with chickens.
Depression – A study of the UK organization Henpower shows that – people become less lonely and depressed when caring for the hens.
Loss of self-worth – There is a sense of purpose one feels when caring for and feeding chickens.
PTSD – Animals have been shown to be great in relieving the symptoms and elements associated with PTSD.
And after those Google searches we decided to launch Coops For Troops (Coopsfortroops.com) where we present veterans and military families with chickens, supplies and an Omlet chicken coop to help them start their journey into backyard chicken keeping.
Sixteen and counting!!!
Currently we've presented 16 Coops For Troops packages and are excited to continue passing on the amazing healing power of chickens.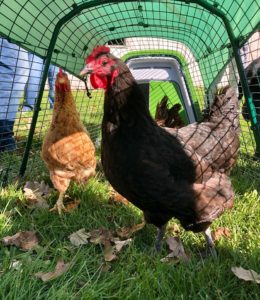 We've presented in nine states to date and are sifting through the next round of nominations.  Initially it was going to be a one and done event and a small segment in an episode of our Coop Dreams TV show but the response was so great it has spun into its own TV show.
Not only does this allow us to thank more veterans and deliver more coops but the weekly TV audience allows us to share this benefit to others who may be suffering and are in need of some help and relief.
Our viewers and partners help us to continue to pay it forward.
Coops For Troops episodes can be watched, for free, any day and anytime on our webpage by clicking the Video On Demand tab and clicking the Coops For Troops episodes.  They can also be seen on our Coop Dreams YouTube channel.
The Results
We all know how chicken math works and that doesn't change if you're a veteran, a beginner or an experienced chicken keeper and it is so great to see so many of our Coops For Troops recipients grow and add to their flocks and continue to communicate to us how the addition of chickens has helped in quieting some of the symptoms these incredible individuals now carry.
Sooooooo…  On this Veterans Day what can you do?  Spread the word and pay it forward.  If you know of someone in need maybe mention how the help may be found in these incredible, quirky and amazing animals.
This entry was posted in Chickens
---