8 Tips for Making Your Pets' Run More Fun This Fall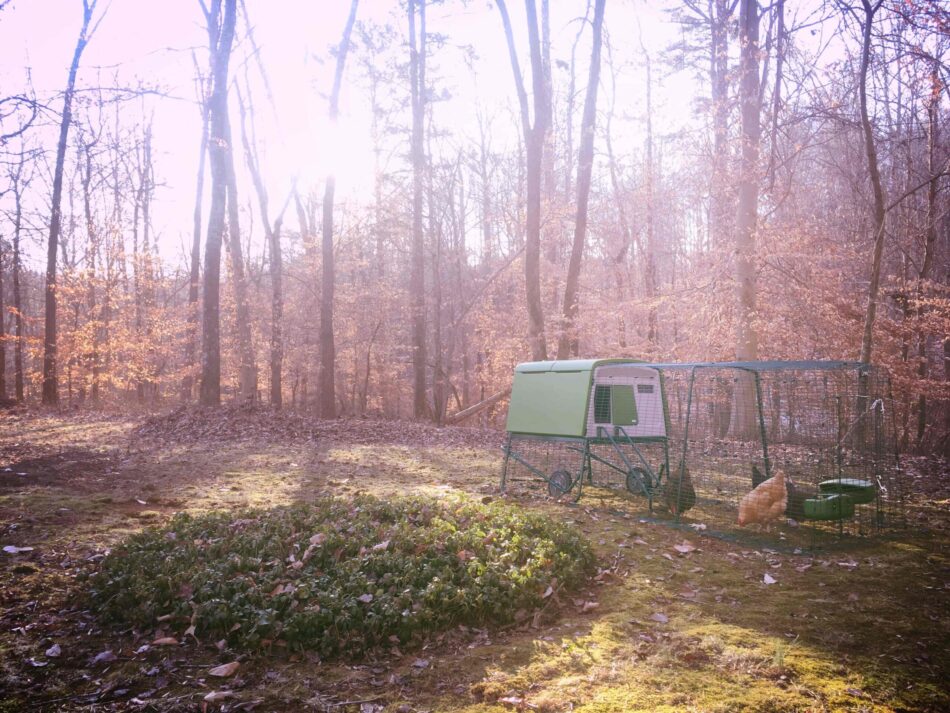 It's that time of year again when we say goodbye to summer and welcome in the cooler, shorter days of Autumn. For many pet owners, Summer is a great opportunity to spend quality time with our animals, playing outdoors and enjoying the warmer weather. However, the change in season doesn't have to mean that the fun has to stop!
It's fundamental that you continue to keep your pets exercised throughout the year, and animal runs are great for this, giving your furry friends the freedom to roam within a safe and confined environment. Omlet supply a range of runs for chickens, rabbits and guinea pigs, which are all predator resistant, so you shouldn't have any concerns about safety in their run this Fall. Although runs are fantastic for providing your animals with more space, adding a few extras over the next coming months can help to keep both you and your pet/s entertained. Here are our top tips on what you can do to make your runs more fun this Autumn.
For Guinea Pig and Rabbit Runs
Set Up a Vegetable Hunt
Cavies and rabbits love their fresh veg, so why not make a game out of it! You can try hiding their favorite pieces of veggies around the run and have them go off to find it. This game will not only be an opportunity for you to spend some quality time outside with your pet, but they get to join in with the Halloween festivities of a scavenger hunt this autumn as well!
Get a Play Tunnel
Play tunnels can be attached to your guinea pig or rabbit's run to give them a new way to exercise, designed with the natural behavior of these two animals in mind. In the wild, both guinea pigs and rabbits would live in burrows, a hole which they dig to take temporary refuge underground. Watch as your piggy or rabbit has fun bouncing around, in and out of their tunnel.
Use a Shelter
Shelters can be a great addition to your run this season. The Omlet Zippi Shelters for rabbits and guinea pigs are weatherproof, meaning that your pet will be protected from the elements of wind and rain. Both species have a natural desire to seek a hiding space in a hole, so you can be assured that they are having fun, while feeling safe. Furthermore, the Omlet play tunnels have connector rings, which mean these can easily be attached to the Zippi Shelters, creating a fun maze for your furry friends!
Guinea Pig and Rabbit Toys
Who said toys were just for cats and dogs? Try giving a new toy to your small animal, which will help to bust their boredom this season. Toys for guinea pigs and rabbits can simply be hung up in their run and will keep them active, engaged, and curious.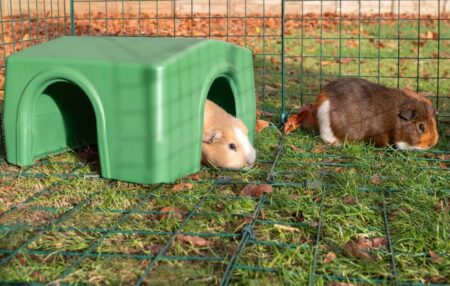 For Chicken Runs
Chicken Toys
Chickens can have toys too! A bored chicken can lead to flock bullying, so at this time of year it's even more important to keep your chickens entertained. Naturally, as the weather drops, these animals get increasingly restless, with less grass and weeds for them to forage on, as they enjoyed over summer. A chicken peck toy is one option to keep your flock happy, also providing them with mental stimulation.
Make Use of Your Autumn Leaves
The fallen leaves of autumn in your garden or backyard may not mean anything to us but they can actually be a great source of entertainment for your chickens. Build up a pile of crisp fall leaves in your chickens' run, and watch them have endless hours of fun pecking. You can even add some sunflower seeds to your pile to have your flock hunt for.
Provide Your Chickens With a Pumpkin For Their Run
It wouldn't be Fall without pumpkins! You can place half a pumpkin in your chickens' run for them to have as a special treat. Your flock will have no problems pecking at the pumpkin raw, so there's no need for any cooking; simply slice the top of the pumpkin off and then in half, to place outside in their run. Something to be cautious of here however, is to make sure that you remove any pumpkin remains from the run once finished to avoid any unwanted visitors such as rodents at night.
Get a Chicken Swing
A chicken swing is another way to make your chickens' run more fun. The Omlet Chicken Swing will have your chicken in their element, as they get to grips with their new toy. Not only will this run accessory provide them with plenty of entertainment, you'll have just as much fun watching them hop on and off and swing back and forth.
Hopefully after a bit of guidance, you'll have a few new ideas on how you can make your pets' run more enjoyable this season! As the end of the season brings colder weather, don't forget to have a read of the Omlet guides on keeping your guinea pigs, rabbits, and chickens safe and warm when they're outdoors.
This entry was posted in Chickens
---