Beginner chicken coops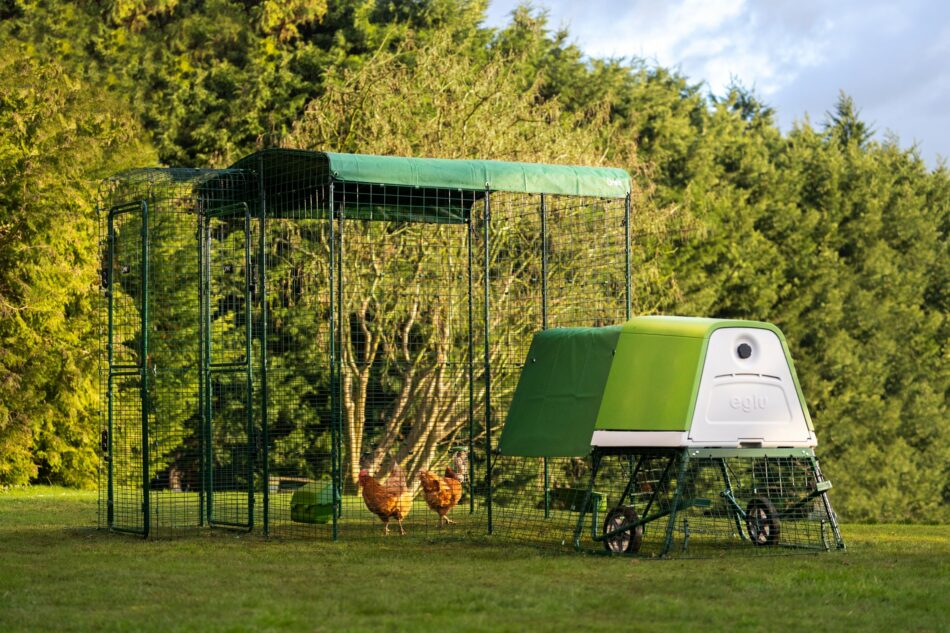 Looking for a beginner chicken coop? The best chicken coop for beginners are those that can grow along with flocks and their keepers – making it the first and last chicken coop you'll need to buy. There's a lot hinging on your hens' home: their health, safety, and comfort. You'll also want a coop that is easy and quick for you to clean, and is enjoyable to use. Omlet has the coops to check all of those boxes – and more. 
The best Omlet chicken coops for beginners
The best chicken coops grow with their flocks and keepers' level of experience. And, the best beginner chicken coops are easy to use from the start, but also functional and practical enough for even the most advanced chicken keeper. 
We've made keeping chickens easy for all ages and stages of flock-raisers. Omlet's line of Eglu chicken coops not only provide superior safety and comfort to the hens they house, but also allow owners to spend less time cleaning and worrying and more time enjoying their flock. 
All of our coops are: 
Easy to build

Simple to clean 

Predator resistant 

Have the ability to be mobile with the addition of our wheels and handles kit 

Are twin-wall insulated, keeping your flock comfortable all year round 
Choosing your chicken coop depends on your space and how big of a flock you intend to keep. Once you've got an idea of where you want to place your coop and how many hens you want to have, you're ready to find the coop that best fits your needs. 
Types of chicken coops
There are a few choices to make when it comes to buying a beginner chicken coop. Some popular options are: 
Each type of chicken coop has their own advantages, so you'll need to decide which option best fits your lifestyle and space. For example, mobile chicken coops allow you to move your flock around your yard whenever you'd like. This lets your hens peck new grass and prevents a permanent spot from being worn into your lawn. Large chicken coops can house up to 10 small breed hens comfortably, and can also be converted into chicken tractors. Ground-level coops are best for chickens that don't have a strong roosting drive, or for yards subject to height restrictions.  
Wood vs plastic chicken coops
Above all, the best chicken coop for beginners is a plastic chicken coop. There are many reasons why plastic chicken coops are better than wooden chicken coops, as plastic is: 
Easier to clean 

Mite-resistant 

Rot-proof 

Better insulated 

Draft-free 

Easier to assemble 
Purchase a plastic chicken coop at the beginning of your chicken-keeping journey, and it will serve you and your flock for years to come.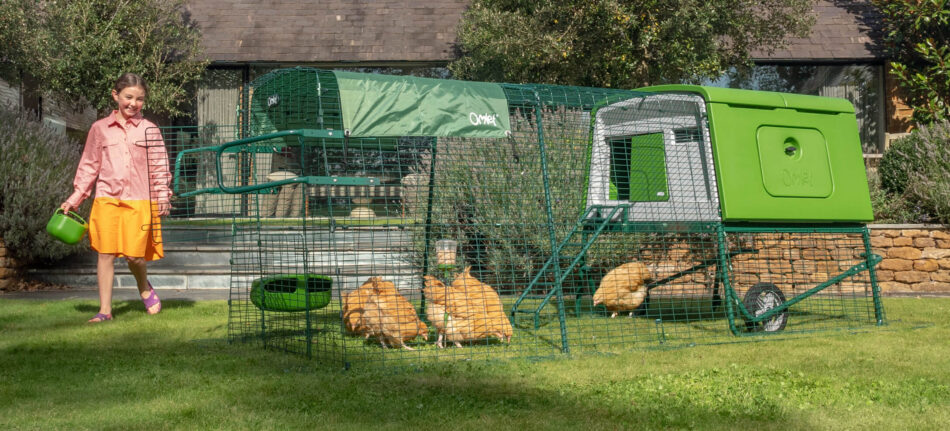 DIY vs ready-made chicken coops
Deciding whether to buy or build your first chicken coop? Building a proper chicken coop from scratch is hard – especially if you're new to chickens. Hens have essentials when it comes to their home, and it's hard for DIY plans to get them right. Most DIY plans look aesthetically pleasing, but leave much to be desired in functionality, safety, and practicality. 
Omlet coops come as a kit to be assembled and have everything you need to get started with your flock right away. Our designs have been keeping hens healthy and happy for over a decade – so there's no guesswork for you. 
Choosing the perfect size coop for your flock
There's a term that all chicken keepers will experience at some point: chicken math.
It's used to describe the phenomenon of bringing home more chickens than you originally intended. This can occur right off the bat, or take a few months to set in, but at some point, most (if not all) chicken keepers crave more chickens. 
That being said, it's always best to get the biggest coop you can for your space and budget. Chickens thrive when as much space as possible is available to them, and extra space allows room for the inevitable chicken math conundrum. 
What needs to be in your new chicken coop
A good chicken coop keeps hens comfortable, safe, and shielded from the elements – but a great chicken coop offers entertainment and enrichment as well. Chickens get bored if they don't have enough stimulation, which can lead to behavioral and health issues. Be sure to offer a variety of things to keep your flock busy when they're in their coop's attached run. To bust boredom, try offering: 
The more space and activities your hens have, the happier and healthier they'll be. Some other ideas to keep boredom at bay include: serving fresh veggies in a Caddi Chicken Treat Holder, socializing with your flock, or moving a mobile chicken coop to fresh pecking grounds. 
Top chicken coop care tips for new keepers
New chicken keepers should keep the following in mind when taking care of their chicken coops: 
Clean out your chickens' coop daily to keep it fresh and to keep your hens' in good health 

Use an odor-absorbing bedding such as pine pellets or shavings 

At least once a week, remove the roosting rack and droppings tray from your coop to pressure wash, or scrub with soap and water 

Collect eggs daily to help prevent broody hens and visits from predators 
Keeping your chicken coop clean is one of the best ways to ensure that your hens are in a healthy atmosphere. Like most birds, chickens keep themselves clean through preening and dust bathing – but it's up to their owners to keep up with their housekeeping. 
Choosing a run your flock will love
Companion pieces to most chicken coops are chicken runs. Even if you want your hens to have access to most of your yard, there will inevitably be times that you'll want to keep them penned up in a run. Large chicken runs give flocks that free-range feeling, without the hazards. 
The best option for large spaces is a walk in chicken run. Not only does it maximize your chickens' space, but it allows you to walk with your flock and get closer than ever to your hens. Omlet's walk in chicken runs can also be extended at any time to accommodate a growing flock. Covers for walk in chicken runs can be added to give your flock shade from the sun or a barrier from snow, rain, and wind. 
Other considerations when choosing your coop
Once you've researched and chosen the type of coop that best fits your lifestyle, you'll also need to consider: chicken predators, the changing seasons, and zoning laws that may be applicable to you. 
Predators
Omlet coops are designed to protect against chicken predators. The types of predators vary depending on your location, and you can bet that at some point they will come after your hens. Common chicken predators include: 
Raccoons 

Hawks 

Coyotes 

Foxes

Snakes

Neighborhood cats and dogs 
Adding an automatic chicken coop door to your chickens' coop adds an extra layer of protection against predators. The Autodoor ensures that your flock is safely closed into their coop each night, and the horizontal opening mechanism makes it extremely difficult for predators to pry open. 
Seasons 
Chickens are amazingly resilient, being built for life outdoors. However, not all breeds fare well in extreme temperatures. That's why it's so important to choose breeds that are suited to your location's climate. Cold hardy breeds typically don't fare well in the heat, while heat-tolerant breeds may struggle in the bitter cold. Aging hens may also not weather the changing seasons as they once did, and some minor coop modifications can go a long way in helping them through the extreme temperatures. 
For areas that experience prolonged sub-freezing temperatures, an extreme temperature jacket can be added to your chickens' coop as an extra layer of insulation. Weather protection for attached chicken runs in the form of tarps and covers can also be added to keep snow, rain, and wind off of your hens.
The same tarps and covers can also be used for hot weather conditions by providing shade on scorching days. Hens often do well in warm weather as long as they have adequate shade and water. You can also offer your hens frozen treats such as corn to help cool them off. 
Zoning laws 
Most states allow individual cities to decide if they will allow its citizens to keep chickens in their backyards. Many urban areas allow chickens, but you'll need to contact your city's zoning office to make sure before taking the plunge into poultry ownership. Homeowners associations (HOAs) may also have additional rules and regulations regarding chickens. 
Zoning laws regarding chickens will often pertain to: 
How many chickens you can keep 

The size, type, and location of your chickens' coop 

Roosters 
HOA bylaws may differ from the city you live in. So, if you're subject to an HOA, make sure you check with both the city and the HOA you reside in before purchasing your chicken coop. 
Keeping chickens for the first time
Getting chickens for the first time is an exciting experience. But don't forget that preparation goes a long way when getting ready to bring your flock home. Make sure you have the time, space, and supplies for your hens before committing to being a flock's forever home. Some additional things to consider when keeping chickens: 
A safe, comfortable chicken coop 

Chicken run 

Perches 

Food 

Feeders and waterers 
Make sure all of your equipment is assembled, and familiarize yourself with it before introducing your flock. You may find yourself wanting to make minor adjustments such as moving feeders and waterers or perches around, but the majority of your chickens' set up should be well established by the time your hens come home. 
Your first and last chicken coop with Omlet 
Choosing your chicken coop is a commitment, but when the creators of the coop are as committed to chickens and their keepers as Omlet, you're sure to have the best experience possible. And, don't forget to have fun with your flock. Accessories for your chickens take flock-keeping to the next level, and chicken treats help you quickly bond with your hens.  
When you choose Omlet for your chickens' coop and accessories, you're not just purchasing your first coop – it's the only coop you'll ever have to buy. Unless of course you fall victim to chicken math and need more chicken coops. Don't say we didn't warn you! 
This entry was posted in Chickens
---