8 Things Chicken Keepers Love About the Autodoor
Omlet's innovative Omlet chicken Autodoor is the must have accessory for any chicken keeper! The automatic chicken coop door has been designed to make letting chickens in and out of the coop safe and convenient for both pet and owner. Here's 8 things chicken keepers love about the Autodoor!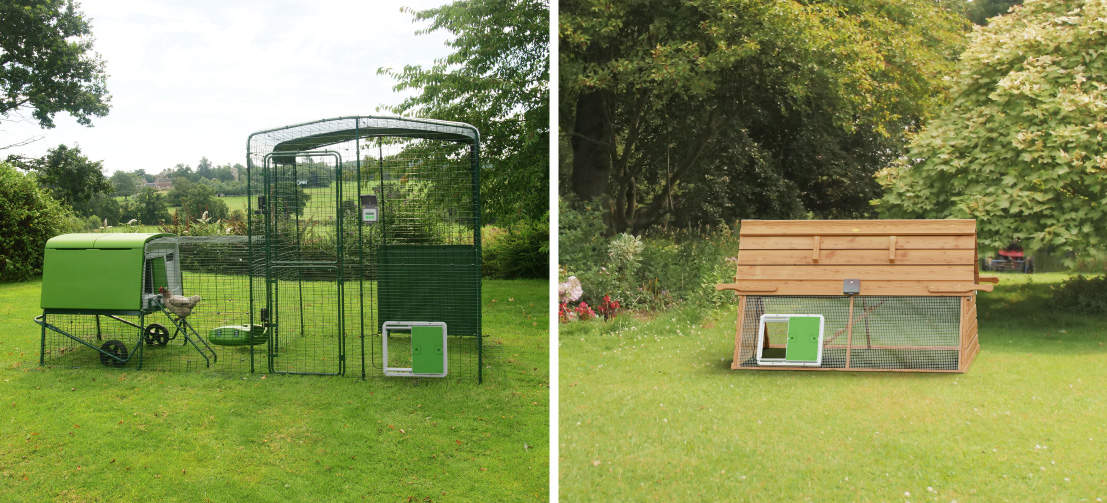 1. Lets chickens out and closes to secure them in
The Omlet Autodoor is battery powered, using a light sensor or timer to give chicken keepers full control over when their chickens should be in and out of the coop or run. The door offers maximum security when chickens are being kept inside, and simply lets them out as you decide. This means that there is no need to rush out of bed on early summer mornings to let the chickens out, and on dark winter evenings, chicken keepers can be sure their flock is safely tucked in the coop if they have to stay late at work.
2. Choose from three settings
Chicken keepers can use the Omlet chicken Autodoor to fit around their lifestyle with three unique settings. By choosing the light setting, your Autodoor can be automated to close at dusk and open at dawn. The feature naturally follows the seasons, so that chicken keepers don't have to worry about adjusting this setting throughout the year. The time setting allows users to choose an exact time for the door to open and close, while the manual setting gives chicken keepers the option to control the door however they wish.
3. Easy to use!
Another thing that chicken keepers love about the Omlet Autodoor is how easy it is to use, regardless of how good (or bad!) your DIY skills are! The Omlet Autodoor comes with everything chicken keepers need in one place, making assembling your door as simple as can be. Who said chicken keeping had to be complicated?!
4. Built-in safety sensors
Because of the Omlet Autodoor's built-in safety sensors, there's no potential risk of the door accidentally shutting on any chickens or obstructions. Should a chicken or any other obstruction be in the way of the door as it goes to close, then the sensors will simply open the Omlet Autodoor again, allowing your chicken to move before it tries to close again.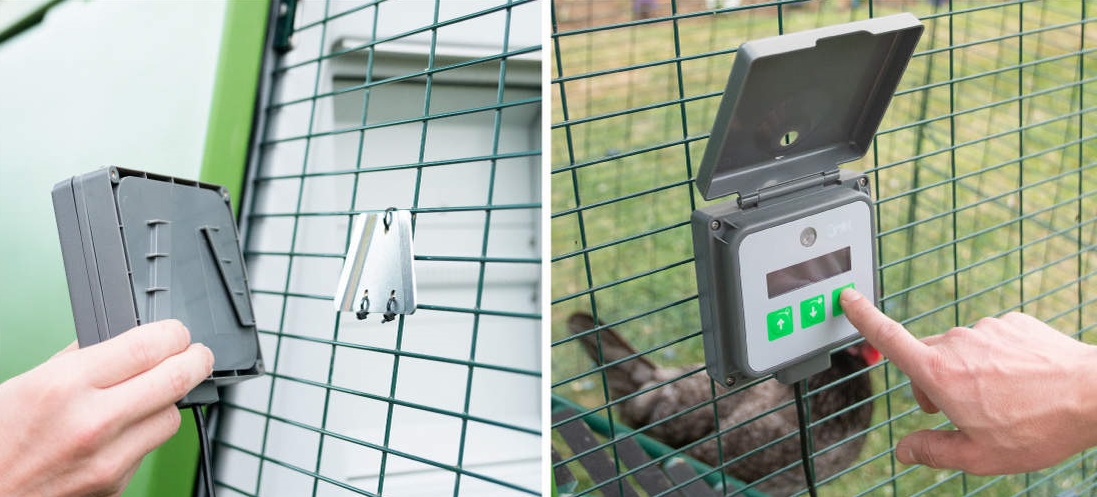 5. Works in all weather conditions
Having been put through exhaustive testing, the Omlet Autodoor can withstand even the most extreme weather conditions from as low as -4°F! Furthermore, the Omlet Autodoor LCD control panel has been designed with triple weather-proof casing, making the Omlet Autodoor an incredibly durable product.
6. Improves insulation
Chicken keepers know the importance of insulation when it comes to their chickens' coop. This is why the Omlet Autodoor has been engineered to improve this. Since the automatic door can be used to upgrade virtually any chicken coop, even wooden chicken coops that are traditionally more difficult to keep well insulated over Eglu Chicken Coops, can still benefit from having the Omlet Autodoor.
7. Closes horizontally
Traditional chicken coop door models often use a string or a pulley system that lifts vertically, giving cunning predators the opportunity to access your chickens' coop or run using strength. Something that makes the Omlet Autodoor so different and a reason why chicken keepers love the product, is that it closes horizontally, meaning that you can be assured that your flock will remain safe and sound!
8. Battery powered or the option to be plugged in
Another one of the 8 things chicken keepers love about the Omlet Autodoor is that it can either be powered by battery or plugged into a power strip/outlet using the 12V Power Adaptor for the Automatic Chicken Coop Door, giving chicken keepers flexibility to set up their Omlet Autodoor as they would like!
This entry was posted in Chickens
---