Why Is Vitamin C So Important for Guinea Pigs?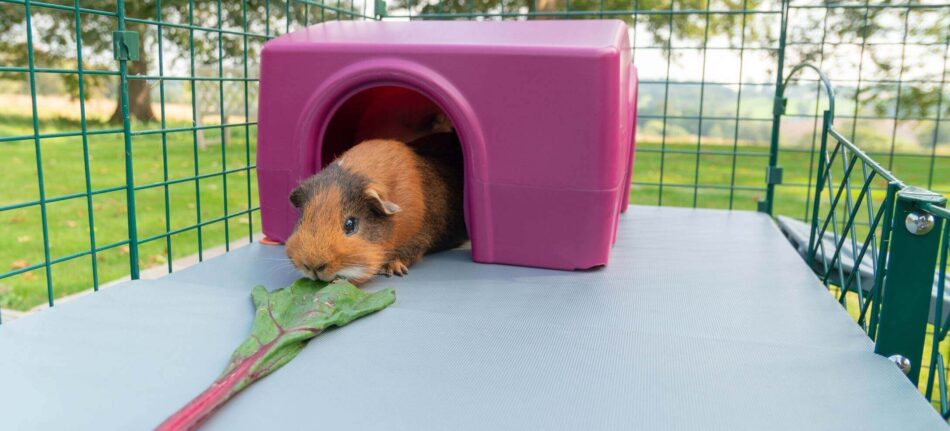 What is vitamin C, and why is it so important?
Vitamin C, also known as ascorbic acid, is an essential nutrient used to repair tissue, form collagen and keep the immune system working as it should. Something that us humans and guinea pigs have in common, which is pretty unique in the animal world, is our inability to synthesize and store vitamin C. This means that guinea pigs, just like humans, must get vitamin C from food in order to stay happy and healthy.
Luckily lots of common guinea pig food is high in vitamin C, but it's important that you as an owner make sure that you keep track of your guinea pig's diet so that they definitely get enough.
Is vitamin C good for guinea pigs?
Not only is it good, but it's also essential for pet guinea pigs. If your pet doesn't get enough vitamin c, they can get really ill and develop the extremely serious condition scurvy.
Signs that your pet is not getting enough vitamin c in their food includes:

Painful joints, resulting in a change in movement or an unwillingness to move

General lethargy and loss of appetite

Dental and fur issues

Hemorrhaging, which shows up as bruises on the body



If you think your guinea pig is ill, be it from lack of vitamin c or any other issue, it's important to speak to your vet as soon as you notice any changes. Read our blog about guinea pig body language to learn more about what your pets' behavior could be telling you.
How much vitamin C should I give my guinea pig?
It's generally advised to give your guinea pig between 10 and 30mg every day, however, how much vitamin C guinea pigs need varies somewhat depending on age, weight and other circumstances. Young guinea pigs who are still growing need more than the average adult cavy, and pregnant or nursing guinea pigs, or those with an underlying health condition, should get about 30 mg or in some cases more.

Most guinea pigs will get what they need from a healthy and balanced diet, but it's good for you as an owner to know which foods to definitely include to reach the right levels.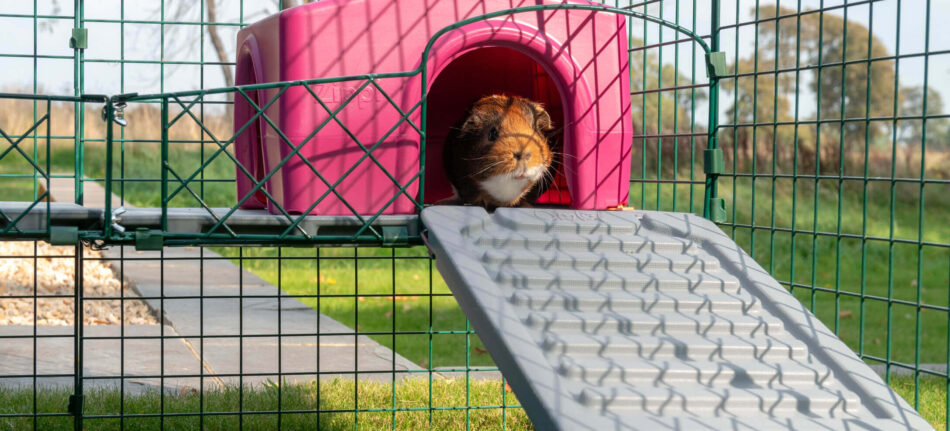 What is the best source of vitamin C for guinea pigs?
Guinea pig pellets from good quality pet shops are normally enriched with vitamin c, so a large part of your pets' vitamin c will come from that.

Apart from the pellets, you should give your pets about a handful or two of fresh greens every day. Fresh vegetables, and leafy greens in particular, are a great source of vitamin C, and by providing them with a varied diet you can be sure that they are getting enough nutrients and vitamins.

Humans often opt for citrus when we want to boost our own vitamin C intake, but that's not a good alternative for guinea pigs, and fruit in general is often too sweet to give on a daily basis. In fact, lots of vegetables have just as high, or even higher vitamin C content than for example oranges, including:

Peppers

Tomatoes

Spinach, kale and parsley

Broccoli and asparagus



While a good quality feed, some fresh greens and a constant supply of hay should keep your guinea pigs happy and healthy, there are other ways to boost their vitamin intake. This is particularly helpful if you've got a pet who is ill and struggling to eat, or if you for one reason or another don't have access to fresh vegetables. Some of these include:

A supplement vitamin C tablet

Liquid vitamin C

Vitamin C enriched treats
Make sure what you're giving your pet is specifically designed for guinea pigs, and always read the label to make sure you're giving the right dose. You might even want to ask your vet before you start giving supplements regularly.
Avoid water-based vitamin C drops. Once in the drinking water, the concentration is very low, so your pet will have to drink a lot to get any benefits. What's more is that it can make the water taste different, which can instead turn your pet off their water, which is even more of a worry.
What happens if a guinea pig gets too much vitamin C?
If your pet occasionally consumes more vitamin C than the recommended daily dose, that's nothing to worry about, as any excess vitamin C the body doesn't need will come out with the urine. In general, it's difficult for a guinea pig to overdose on vitamins, but if they regularly get more than 30mg it can result in serious health issues, for example a condition called pseudo-scurvy, a reduced sensitivity to the vitamin.

Too much vitamin over a long period can cause bladder and kidney stones and can hinder healthy development for growing guinea pigs.

If you're feeding your guinea pig a balanced diet with good quality guinea pig pellets you generally don't have to worry about this, it's more of a problem if you're providing additional vitamin C in the form of supplements.
Other important vitamin C information
It's good to know that even if you're doing what you can to provide your guinea pig with everything they need, they can still get a vitamin c deficiency. Often this has got to do with out of date or badly stored food. Vitamin C has a sell-by date, and the nutritional content decreases as the food gets older.
This applies to fresh fruit and veg, as well as store bought pellets and vitamin C supplements, so make sure you always keep your guinea pigs food fresh and stored in the right way. Get rid of anything that is out of date, and never give your pets moldy or otherwise gone over greens.
This entry was posted in Guinea Pigs
---