Create More Space With Your Eglu Cube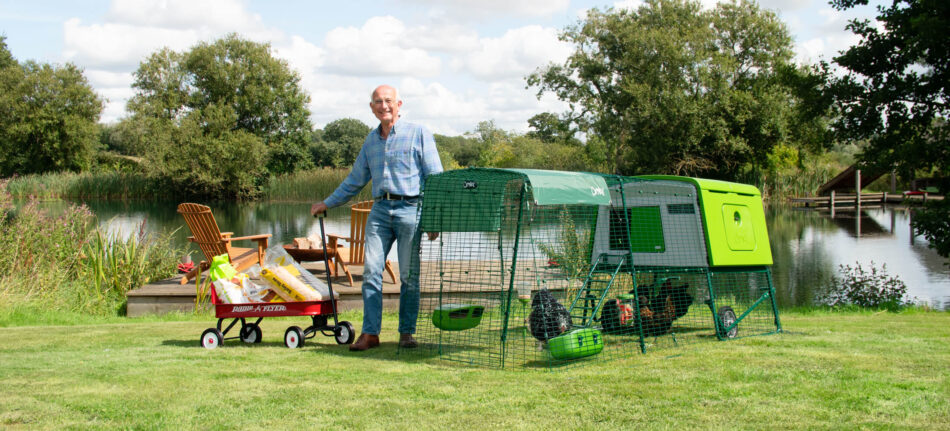 The Omlet Eglu Cube Chicken Coop helps make your chicken keeping lifestyle simple and fun! The double insulated walls ensure your chickens are always warm in the winter and cool in the summer, and the easy to clean surfaces make maintenance a breeze! But perhaps one of the best features that the Eglu Cube offers is its versatility!
Designed to fit flocks of all sizes, the Eglu Cube is the perfect coop for both the novice and seasoned chicken keepers alike. And if you are looking to create more space with your existing Cube, we've got everything you need to know!
Do my chickens need more space?
Whether you have 2 or 10 hens, you want your chickens to enjoy as much free range space as possible. Chickens aren't that much different from us when it comes to space, and the more places we can explore, the happier we are! And the same is true for chickens! And we all know that happy hens = yummy eggs!
The Eglu Cube is the perfect hen house for all chicken keepers as it can house a wide variety of flocks:
Up to 10 bantams OR

8 medium size hens OR

6 large breed hens
While the Cube itself is a perfect size space, allowing for even more room to roam is super beneficial to your feathered friends! Why? Because chickens like to have "personal space" just as much as any other animal! And at Omlet, who are we to stand in the way of a chicken and their space?
Versatility of Eglu Cube vs. traditional wooden coop
Our product designers carefully constructed the Cube with very unique features that allow for an easy housing system for both you and your hens! We know chickens and our mission with our designs is simple – provide a safe and easy to manage product that brings you and your animals closer and happier together.
So let's take a look at just how versatile the Eglu Cube really is! We created the rear door panel to give you seamless access to the inside where you will find everything that you and your chickens will need. The separate nesting box creates a private space for the hens to feel comfortable and safe and also allows for chicken "alone time".
Unlike traditional wooden coops that need to be painted and treated regularly, the Eglu Cube is completely maintenance free! A quick spray down with the hose to clean the messes and you will start to wonder why you haven't been chicken keeping longer.
Walk In Runs and extensions
Are you looking to expand your flock? Or perhaps just add more space for your existing chickens to peck and play? Either way, we are here to help. Thanks to the modular and versatile design of the Eglu Cube, you can very simply create a henertaining playground for your chickens!
Walk In Chicken Run: The Omlet Walk In Run is truly customizable to fit any flock! Made from a strong and sturdy steel mesh, you can confidently place the Eglu Cube in the Walk In and let your chickens roam free without worry of any predator intrusion. The Walk In Run also provides a perfect way for you to actively engage with your feathered friends! Yes, even your 6ft tall friend can comfortably hug your hen as the run is designed for chickens – and humans! – of all sizes!
Chicken Run Extensions: Need even more space? No problem! The Omlet Chicken extensions were designed for exactly that purpose! With options of 3ft or 6ft widths and 3ft to 24ft lengths, you can literally customize your run to your specific needs. But what about when it rains? No need to worry! We have you, and your chickens, covered with the weather protection run covers! Rain or shine, your chickens will be just fine in the Walk In Run and Extensions!
Autodoor
The advancement of technology has made life easier for us, as well as our animals! And chickens are no exception. If you're looking for the safest and most convenient way to let your chickens in and out of the coop, look no further than the Omlet Automatic Chicken Coop Door – the best hands-free chicken door on the market!
Chicken keepers everywhere love this door for its ease of operation and the added security it provides. Designed to fit both the Eglu Cube as well as a traditional wooden coop, the Autodoor can be operated by a light sensor or a timer. No longer do you have to jump out of bed in the morning or rush home at night to manually handle the coop door! Enjoy your life more freely knowing that your flock is perfectly safe with the Autodoor feature!
Wheels
A chicken coop on wheels? What more could any hen ask for?! By adding wheels to your Cube, you are able to find the perfect pecking spot in your backyard by moving your hen house anywhere!
And when the temperatures start to get colder, simply move the Cube closer to your house! Not only will your hens get the extra protection from your dwelling, but you also won't have to walk too far in the cold to check on your chickens. 
We know that you have many options when it comes to choosing a coop home for your chickens. That's why we created the Eglu Cube to be everything a chicken keeper on any level could ever want or need. And with all of the extra accessories and options, your backyard beckons to be a spacious playground for your feathered friends!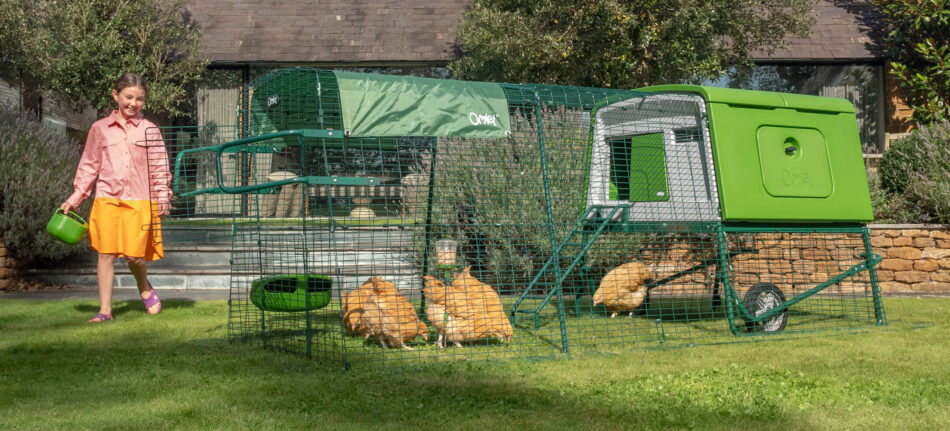 This entry was posted in Chickens
---