Catio Ideas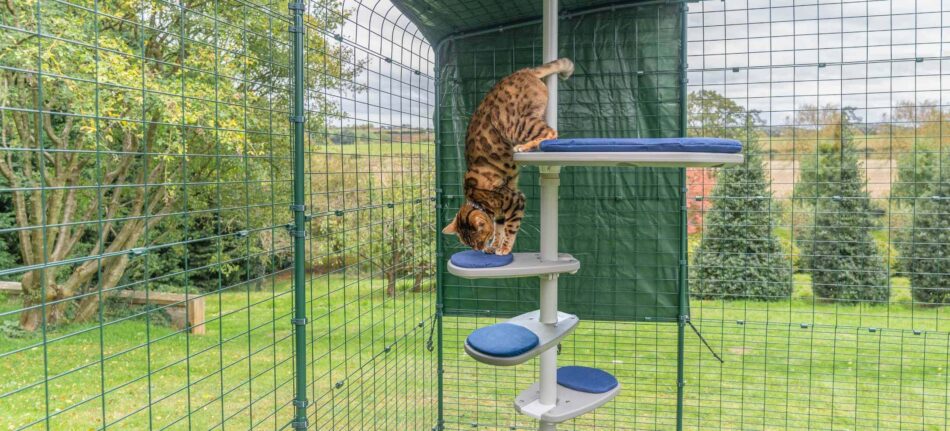 Catios have become increasingly popular among feline owners! These enclosed outdoor spaces are the perfect way to let your cat enjoy the benefits of fresh air but with the safety and protection from outside dangers or predators.
Whether you have a small apartment in the city or a large backyard in the country, you can create a catio of any size to suit your furry feline friend! And we have all the outdoor catio ideas you need to get started!
So, what exactly is a catio?
The word "catio" came from the idea of a patio for cats (cat + patio = catio). In basic terms, a catio is a safely enclosed outdoor space where cats can enjoy the sunshine and fresh air without you worrying about them getting hurt. But why are they important for cats?
Protection of your cat:

Cats are curious by nature. The number one reason cat owners have a catio is to let their cats be outside safely, allowing their curiosity to shine!
Protection of wildlife:

A catio protects other wildlife, like birds and chipmunks, from your cat! Remember that cats are predators themselves by nature, so when given the chance to roam outside, their instincts will kick in! So be sure to have an enclosed space for them to enjoy!
Healthy lifestyle:

There's no denying that everyone feels better when outside and in sunshine! Cats feel the same way, too! And when they are exposed to fresh air and movement on a regular basis, they live a longer and healthier life as a result.
Reduction of indoor smells:

Is your

indoor litter box

starting to smell too much? A great benefit of outdoor catios is that they provide another spot for your litter box. This way, the smells can stay outside!

Keeps neighbors happy:

Stop kitty trespassing! The catio is the perfect solution to let your cat enjoy the outdoors without roaming into your neighbor's yard!
Catio ideas for backyards
You don't need a huge backyard to create a wonderful catio space – even just a small area will do! Outdoor catios can be as small or as big as you like and can even be customized to provide one-on-one outdoor bonding time with your cat! Let's take a look at all the catio ideas for backyard spaces:
Freestanding catio: At Omlet, we didn't create the Catio, we purrfected it! With our customizable cat run we designed a safely enclosed outdoor space that both you and your cat can enjoy! Place a cat tree inside for your cat to climb and a bench swing for you to sit and enjoy watching! Outdoor bonding with your cat has never felt so good! This sturdy and spacious enclosure has been rigorously tested and is the safest and most easy to use catio on the market! 
Catio attached to house: What if you are stuck working inside when your cat wants to go outside to play? Don't you want to enjoy that fresh air, too? Well, you can! There are several DIY solutions to attach the Omlet Catio to your home, allowing you to leave a space open so your cat can move freely between the inside and outside. Some options include building a mesh tunnel from a window into the catio or just simply move the Omlet Catio up against the house so your door opens directly into the enclosure. The options are endless when creating backyard catio ideas!
Catio ideas for apartment balcony
Don't let where you live dictate where your cat can go! The Cat Balcony Enclosure designed by Omlet provides a simple, yet elegant solution to outdoor cat living. This fully secure and escape proof catio fits on almost any size balcony and can be customized to suit your exact needs. 
Attach a hammock to a cat tree so your cat can lounge around and add a bean bag chair in the corner so you can take an outdoor cat nap, too! And if you are worried your cat might try and escape when you open the door, just add a porch to have an additional layer of security!
The Cat Balcony gives your cat the freedom to explore the outdoors without the compromise of space!
Catio decorating ideas
Decorating your catio is part of the fun of owning one! Let's take a look at these feline friendly decorating ideas!
Outdoor cat tree
The Freestyle Outdoor Cat Tree designed by Omlet is a great addition to any outdoor cat enclosure. Completely customizable with all things that cats love, this outdoor cat tree will allow your feline friend to explore so many new heights and sights. From platforms to scratching posts, the options are endless with what you can create!
Partitions
The Catio Outdoor Partition designed by Omlet is made from the same strong steel mesh as the catio enclosure. This secure and lockable door gives you the ability to create sections for multiple cats. Whether you are introducing a new cat to the crew or just wanting to create separate eating spaces, this partition provides the necessary separation with ease!
Weather covers
Cats like to be outdoors, but they hate getting wet! Adding a heavy duty tarp to the top of the catio gives your cat the best of both worlds! The Omlet product designers created this cover to specifically fit the catio and made it incredibly easy to install and maintain. Not only will it keep your cat dry when it rains, but it will also provide much needed shade when the sunny days are too hot!
The added stimulation and benefits that cats receive from being in an outdoor enclosure are numerous. And as a pet owner, you can create a custom outdoor cat paradise with all of these catio ideas!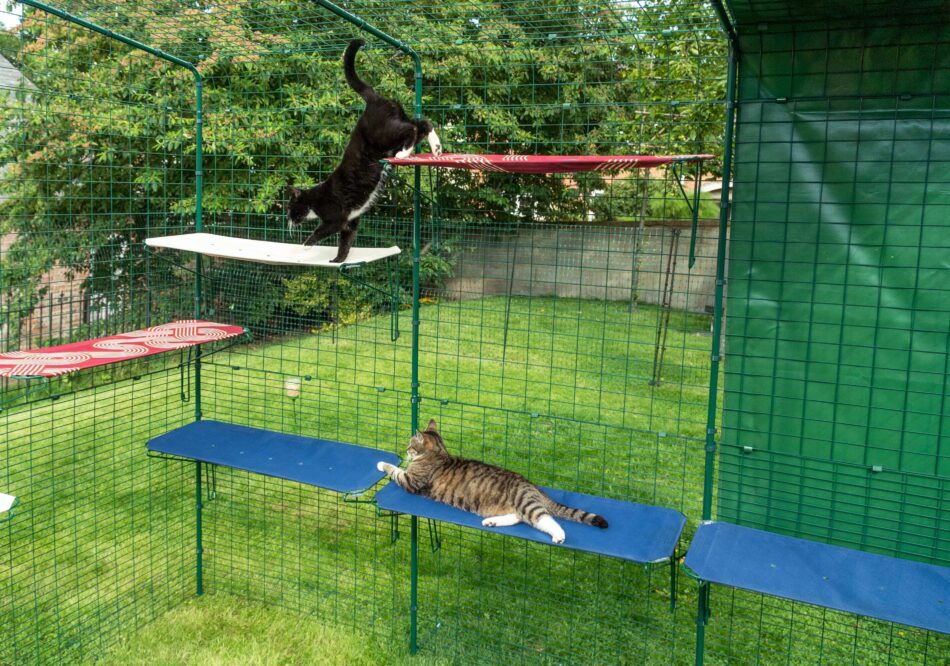 This entry was posted in Cats
---