Best automatic chicken coop door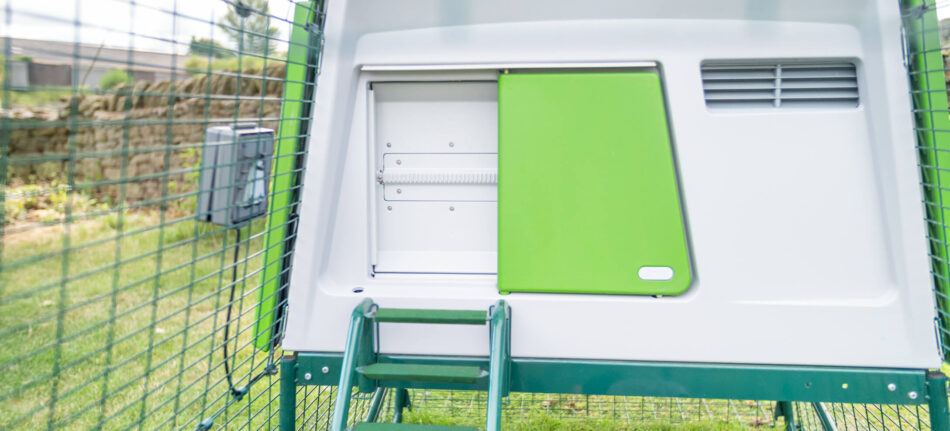 The best automatic chicken coop door is one that serves multiple purposes. One that is programmable to fit your schedule, provides a layer of protection from predators, and opens horizontally with built-in safety sensors. Read on to see how an Autodoor can revolutionize your chicken-keeping routine. 
Why your chicken coop needs an automatic door
An automatic chicken coop door turns your ordinary coop into a technologically advanced smart hen house. Like a personal chicken coop concierge, the best automatic chicken coop door keeps your hens on schedule and protected while they roost. The addition of an Autodoor will: 
There are many different types of automatic chicken coop doors, but there's a clear choice for the best option when it comes to flock comfort and safety. 
The Automatic Chicken Coop Door from Omlet
The Autodoor by Omlet has been thoughtfully designed. Made of heavy-duty, rot and rust-free materials, it's easy to clean and will last a lifetime. The ingenious horizontally opening screw-style gearing makes it incredibly difficult for predators to pry open. Omlet's Autodoor also increases the insulating effects of our Eglu Cube chicken coop, and is designed to integrate into it seamlessly without having to remove the existing door. The Autodoor can also be installed on an existing wooden chicken coop, Omlet chicken runs, or on traditional chicken wire runs.  
Light sensors for dawn/dusk automation
Want to sleep in or stay out late, but still have your flock tended to? The Autodoor can keep your hens on schedule based on the sun. And, since chickens seek out their roosting space based on the amount of daylight, you'll never need to worry about changing the Autodoor's settings when winter comes around. The various hours of sunlight during the year will prompt the Autodoor to close at the desired light level – no matter the season. And, the sophisticated Autodoor takes into account storms or overcast conditions, ensuring the door doesn't close during brief fluctuations in lighting. 
Set your own schedule
Some flocks roost at the same time each day rather than waiting for the sun to go down. If you have hens that prefer to turn in early, the clock setting may be the best option. Simply choose the designated time to open and close each day, and the Autodoor will see that your chickens keep to their schedule. 
Install on both wooden & plastic coops
Additional fixings packs can be purchased to install the Autodoor on our chicken runs, or traditional chicken wire, making the Autodoor universal in fit. Install it on any existing traditional wooden chicken coop or Omlet chicken coop attached run –  which makes it easy to transfer from a wooden coop to an Eglu Cube when you upgrade. 
Predator resistant
The best automatic chicken coop door keeps your flock safe from predators. By securing the coop door each night, your hens will be protected during the most active time for chicken predators, like raccoons or coyotes. 
Protecting your flock from raccoons poses a particularly difficult challenge, as they are very adept at prying doors open. However, the horizontal opening of the Autodoor is much more difficult to pry than other automatic chicken coop doors that open vertically. And, with the spiral gear mechanism instead of a pulley system, the Autodoor will stump even the most persistent of predators. 
Reliable in heat & cold alike
Worried about the weather? The Autodoor withstands all weather conditions and temperatures. The door will still function in sub-freezing temperatures, effectively keeping your flock warm in the winter. With fewer daylight hours, your flock will stay toasty in their coop until the desired daylight levels or scheduled time is reached. 
In the summer, the Autodoor will let your hens out during the cooler morning temperatures to help your flock through the warmer months. The longer daylight hours mean your flock will be able to enjoy a breeze and shade outside of the coop for as long as possible, while still being protected and kept comfortable at night. 
Built-in safety sensors 
Sophisticated safety sensors ensure your hens aren't accidentally caught in the closing Autodoor. If any part of a hen is obstructing the Autodoor, it will re-open and attempt to close again a few minutes later. The gentle bump from the Autodoor is usually enough to get your hens moving if they're resting on the threshold, and soon they'll learn their schedule so they don't dawdle at the door. 
Pair your Autodoor with a coop your flock adores
The Eglu Cube chicken coop and the Autodoor are made for each other. The Autodoor installs quickly and easily on the Eglu Cube, without requiring any additional attachment kits. And, due to the integrated design, there's no need to remove the existing swivel Eglu Cube coop door. In fact, the standard coop door can still be opened and closed separately from the Autodoor. 
When you pair the best chicken coop with the best automatic chicken coop door, you'll ensure your flock has the absolute best setup. Omlet's chicken coops are predator-resistant, dual-insulated, and provide optimum ventilation for your flock's comfort. 
The best chicken care with Omlet 
Omlet creates the best chicken products available. Designed for a lifetime of ease and comfort, our chicken runs, chicken tractors, and hen houses set you up for success from the beginning and all throughout your chicken-keeping journey. Choose the best automatic chicken coop door and other poultry products from Omlet, and help your hens live their best lives.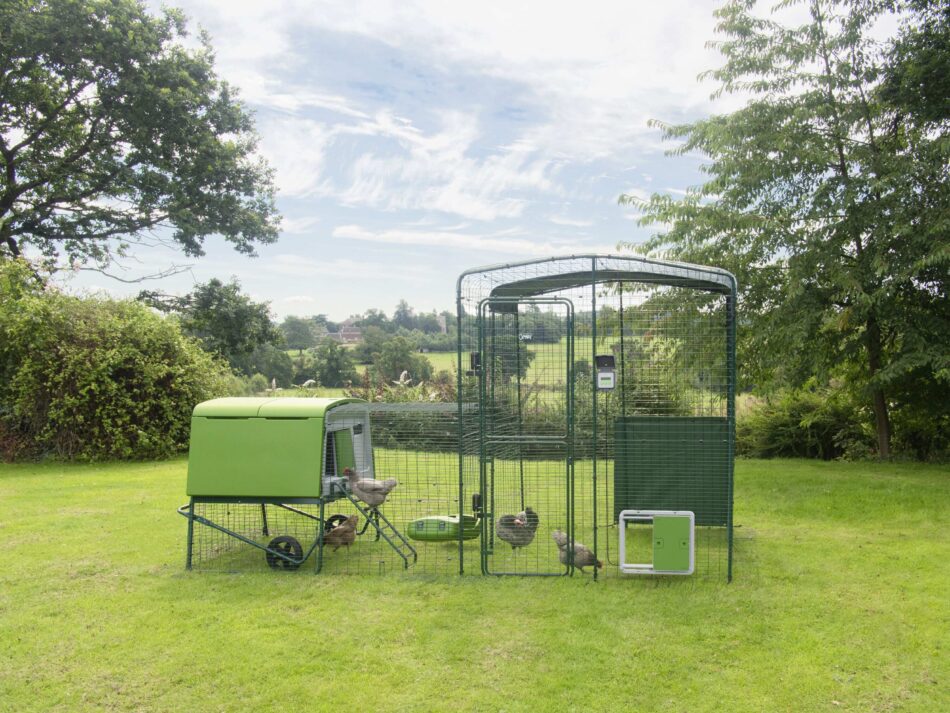 This entry was posted in Chickens
---