How The Autodoor Makes Winter Easier For You And Your Chickens
We can learn a lot from chickens. They go to bed early, and once indoors they snuggle up together to keep warm. No messing about after hours. As a result, they're ready for a fresh start as soon as the sun comes up.
The problem is, there's often no early-rising human around at dawn to open the door of the coop and let the hens get on with a busy day's scratching, foraging and laying. Equally, you might not be able to be there to lock the door behind them after they've headed for bed early in the bleak midwinter.
An open door in the chicken shed lets in the cold, and unless your coop and run are secure, some very unwelcome night visitors of the four-footed kind might come calling…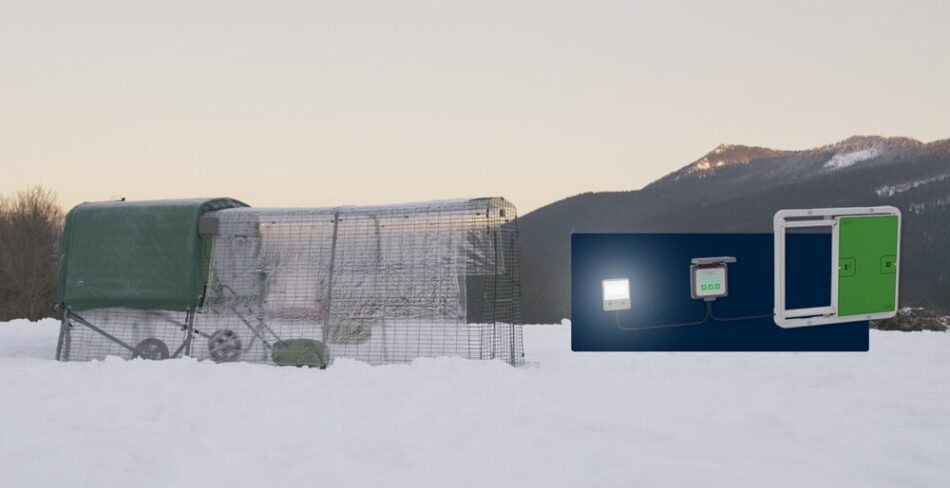 "Someone Should Invent An Autodoor For Chicken Sheds…"
Fortunately, the necessary security-cum-draft-excluder has already been invented. Omlet's Autodoor attaches directly to the Eglu Cube Mk1 and Mk2 chicken houses. But it's not exclusively for those models – the Autodoor works with any chicken coop, with a unique and clever design that enables it to be attached to whatever des res your chickens are living in.
Like many ingenious inventions – wind-up radios and wind-up torches come to mind, or solar powered garden lights – Omlet's automatic chicken coop door opener is very simple. It's battery powered, with both a timer and a light sensor for maximum flexibility and control. The Autodoor won't instantly seize up when the temperature plunges, either. It's been tested to work down to -4 degrees Fahrenheit (-20 degrees Celsius).
The Autodoor is also very easy to install. Its LCD control panel is separate from the door itself, so it can be placed in the best position for the built-in light sensor to do its work.
The door, once closed, is also very secure. It doesn't use a string and pulley system, so it can't be lifted up by hungry creatures hoping for a midnight chicken snack. Nor will they be able to squeeze through the tight seal once the door is shut.
Attaching The Autodoor
If your hens live in an Omlet Eglu Mk2 Cube or a chicken coop made of wood, the Autodoor comes with all the fittings you need. You'll need a few extra attachments if you want to fit the door to a Mk1 Eglu Cube, an Omlet Run or a set up involving traditional chicken wire.
The control panel and light sensor attach via a robust cable, so you can choose the best spot for registering the daylight. The sensor doesn't mean your hens have to be home before the sun hits the horizon, though. You can set it to close an hour after sunset, to suit your birds' routine. Equally, it can be set to open an hour after first light, if your chickens are used to having a bit of a lazy start to the day. This makes sense when the days are particularly cold – the hens might want to take advantage of their cosy place on the perch for as long as possible before venturing out into the cold frosty morning.
The door will not open in the night, even if passing headlights, a security light or a torch beam shine on the coop. It has been designed to ignore these temporary bursts of light, and only open when there has been consistent light for an amount of time fixed by you via the control panel.
So basically, that's your chickens' winter worries sorted.
It's possible that you have a stoical family member who is willing to be on guard at dawn and dusk every day throughout the cold winter months to open and close the coop door. Lucky you –that's real chicken dedication! 
For everyone else, the Autodoor does all the work for you when you're not around. Or, let's face it, it gives you the excuse and peace of mind to enjoy a weekend lie-in without having to brave the elements on morning chicken duty!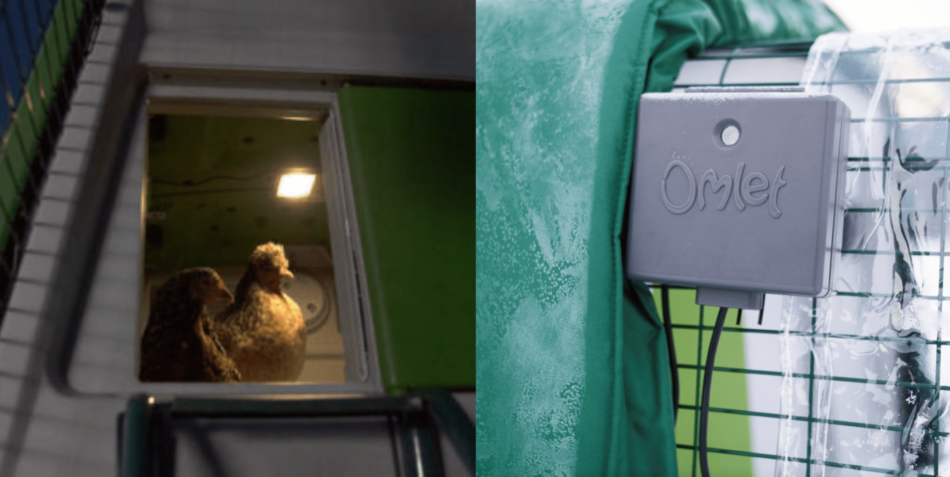 This entry was posted in Chickens
---