How to transition your chicks into their Eglu chicken coop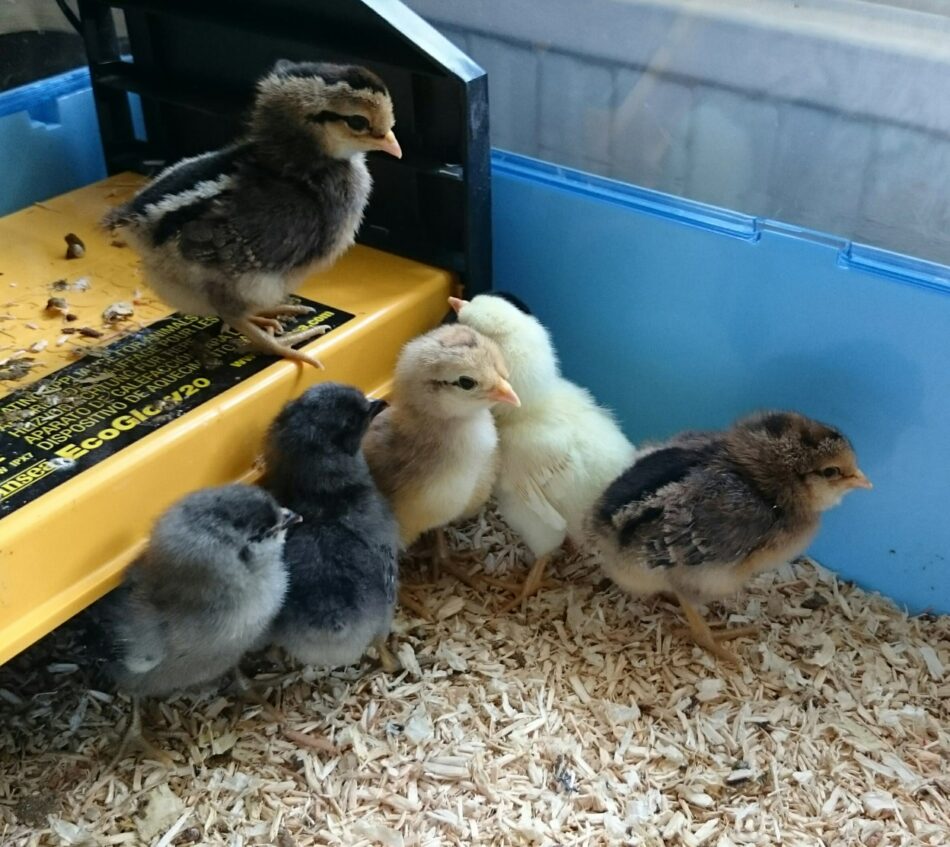 Chicks grow up quickly and soon it will be time to transition your chicks into their Eglu chicken coop. Their brooder will start to feel crowded after a few weeks, and your fully feathered pullets will be ready to strut out in a coop of their own. We're here to help you make moving day an easy and stress-free experience. 
What age can chicks move into their Eglu chicken coop?
Chicks are usually fully feathered by the time they're 6 weeks old, but not all chicks are ready to venture beyond their brooder at this age. Even though they've traded their fluffy down for mature feathers, they're still very young. At Omlet, we recommend transitioning your chicks from their brooder to their Eglu chicken coop at 12 weeks of age. 
Waiting until your chicks are 12 weeks old will give them time to become more coordinated and build the strength they need to navigate ladders, and give them plenty of time to become familiar with their rise-to-roost schedule. 
From brooder to coop
These 12 weeks will go by in a blink of an eye, so be sure to prepare for (and enjoy) your chicks' time in the brooder. Caring for newly hatched chicks is exciting, and will set the tone for the rest of your relationship with them. Handling your chicks daily will help build a bond and before long your chicks will trust you, and there's no better time than when they're in their brooder to kickstart this relationship. Once your little flock trusts you, it will make their transition to their coop even easier. 
In the meantime, you can set up your flock's walk in chicken run to take your chicks outside once they're fully feathered. Keep these excursions short to make sure they don't get chilled or draw the attention of other animals (including your other pets). If you plan to use an automatic chicken coop door, you can open and close it while your chicks are on their outing to get them used to the noise. Show your small flock where their chicken feeders and waterers are so that they'll know where to find them once they move in. 
Once your chicks are 12 weeks old and are all healthy and happy, it's time to make the move to the coop. The big moving day should be based on the weather rather than a specific date. You want to look for a sunny day with moderate temperatures – ideally between 65-80℉. Avoid moving your chicks on windy or wet days, and try to move them as early as possible so that they can experience a full day and be ready to head to bed when night falls. 
Tips for your chicks' first night
If your brooder utilizes a brooding plate rather than a heat lamp, your chicks may already have the hang of going to bed at nightfall. But, being in a brooder is much different than being out in the big world, so even chicks that have an established sleep cycle may be caught off guard during their first night out. 
First and foremost, you'll want to keep your chicks safe from predators. The attached runs of the Eglu chicken coops are predator-resistant, but they will be much safer and more comfortable overnight in the roosting area inside of the coop. You may need to manually tuck your chicks in on their first night (or two) and close the door until they learn when bedtime is. 
If you have an Autodoor, the coop light acts like a nightlight to guide sleepy heads to the roost. This is particularly helpful for chicks that were raised with a coop light – they'll associate light with warmth and will seek it out when darkness falls. 
New chicks and the existing pecking order
If you're introducing your chicks to an existing flock, your older hens will help them learn the tips and tricks of the coop. But, older hens will also let newcomers know who's in charge. Every flock of chickens has a hierarchy, and by understanding the pecking order in chickens you'll be able to recognize what is normal hen behavior, or what constitutes bullying and the need to remove your chicks for their safety. 
Most chicks fall into line quickly, just as most hens at the top of the pecking order aren't ruthless tyrants. There are exceptions to the rule though, so be on the lookout for concerning behavior like: 
Hens keeping chicks away from food or out of the coop 

Scuffles severe enough to draw blood or cause excessive feather loss 

Pinning chicks down 
If you notice your hens not accepting your chicks into the flock, try setting up an adjacent run or add walk in chicken run partitions to your setup to allow them to get to know each other through a safety barrier. It's rare for hens to forever hold a grudge against new additions, so be patient, but also conscientious of the safety of your chicks.  
Omlet and your chicks
Our products are designed to keep your flock safe – no matter their age, and to make caring for your chickens less of a chore and more of an enjoyable activity. The Eglu Cube chicken coop is perfect for growing flocks, especially when paired with our walk in chicken run. And, by installing an Autodoor, you'll have peace of mind from the start. Make moving day an enjoyable and memorable experience for you and your chicks, and set the tone for a lifetime of adventures together. 
This entry was posted in Chickens
---