When can chicks go outside?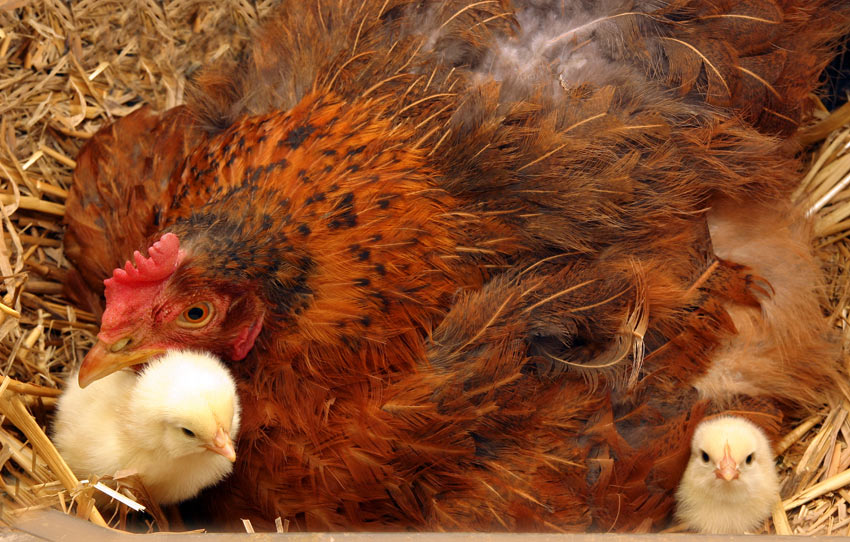 Wondering when your brooder-raised chicks can go outside? Raising hens from chicks is an exciting endeavor, but deciding when it's safe to transition them to the outside world can seem daunting. As with most plans, timing is key! We've taken the guesswork out of transitioning chicks from a brooder and into their forever coop and run. With the help of a comfortable chicken coop and the knowledge to follow, you'll gain the confidence to know when and how to safely move your chicks outside. 
At what age is it safe for chicks to go outside?
If you've had your chicks since they hatched, or got them shortly after, you'll recall how soft and fluffy (and adorable) they looked. The "downy" feathers that give a chick their fuzzy appearance don't stick around for long. You'll soon notice your once fluffy chicks start to look a bit bedraggled. This perfectly normal (while unsightly) phenomenon is simply the process of your chicks' adult feathers growing in. In general, you should see these adult feathers start to peek through sometime between 7 and 14 days old. There are multiple factors that will determine how quickly a chick grows their adult feathers such as: 
Once you've noticed these adult feathers mottling your chicks' fluff, it's time to start slowly decreasing the temperature of the brooder. Aim to reduce their heat by 5℉ each week until the brooder and the ambient temperature are the same. This gradual decrease in temperature will further aid in their transition to life outside. 
By the time your chicks reach 5 weeks of age, they've officially entered their "teenage stage." They may sport a convincing set of adult feathers, but like most teenagers, are not quite mature enough for the outside world! Once your "teenage" chicks reach 6-8 weeks of age, it's time to consider letting them fly the brooder in favor of some supervised outdoor excursions.
3 essential factors to consider when taking chicks outside
To help you determine if your chicks are ready to spend any amount of time outdoors, ask yourself: 
Do my chicks have all of their adult feathers? 

Is the weather above 60℉? 

Will they have a fully enclosed space? 
When your chicks are fully clothed in their adult feathers, they can withstand temperatures as low as 60℉. Sunny days are always best for outings with your chicks, and it's important that they stay dry in order to help them regulate their temperatures. A fully enclosed chicken run is essential for outdoor visits – especially if you're unable to stay with them the entire time. 
Temperature and climate considerations 
Timing is key when moving your chicks from their brooder to their coop and run, but if your chicks are at least 6-8 weeks old, they'll be able to tolerate cooler temperature dips. If you have a chicken tractor, you may want to move it around to follow the sun to help your chicks transition from artificial heat to natural heat. And, if your area experiences frequent weather fluctuations in the colder months, you can add extreme weather protection to your chicks' coop to ensure they stay cozy overnight when they are most vulnerable.
If you're letting your chicks out during warmer months, a raised chicken coop offers additional shelter and shade. Like adult chickens, chicks can become overheated in warm climates. Be sure to have plenty of fresh water available, and use chicken run covers to provide ample shaded areas. 
Predator protection for chicks 
Once your chicks are spending large stretches of time outside, it's not always feasible to monitor them. A safe chicken coop and predator-resistant walk in chicken run are essential not only for housing hens, but for introducing chicks to the outdoors as well. Chicken predators are mainly active at night, but there are those that would not pass up an opportunity for chicks during daylight hours. 
It should be noted that chicks are particularly vulnerable to predators such as snakes and raccoons that can fit themselves or their paws through the openings of wire runs. For extra security, wrap the bottom 4 feet of your chicks' outdoor run in hardware cloth to help protect against these predators. 
Consider giving your chicks plenty of places to "hide" if they get overstimulated. Simple structures such as upturned cardboard boxes with entrances cut into them, or other DIY hides are sufficient. And while your chicks might not be big enough to fully utilize chicken perches, Omlet's Freestanding Chicken Perch has easy height adjustable perches to give your chicks an opportunity to practice their climbing skills. 
Mother hens
Some chicks are hatched and raised naturally under their mothers. Hens can go "broody" (sitting on a clutch of eggs to hatch) any time of the year, but will usually attempt to hatch eggs in the spring. If your hen is broody in the winter, it's best to discourage her by collecting eggs daily, as chicks hatched in the winter will have a harder time than those hatched in the warmer months. If your location experiences mild winters, hens can successfully keep chicks warm in below-freezing temperatures, but will need to be monitored to ensure that the chicks aren't being left unattended for too long when the hen goes to eat or drink.
Nature will take its course when chicks are left to be raised by a hen. Hens will provide warmth to their chicks even after they hatch, making them the "brooder." Good mother hens instinctively know how long their chicks can withstand the absence of heat, and will help their young adjust to the ambient temperature. 
If your hen hatched chicks in an elevated chicken coop, consider moving both the hen and chicks to a ground-level chicken coop to avoid chicks accidentally falling while following their mother. Alternatively, you can remove the hatched chicks from the hen once they are dry and place them in a brooder. 
Taking chicks outside during the day 
If you've been decreasing the temperature of the brooder, your chicks should be comfortable outside in temperatures as low as 60℉ by the time they are 6-8 weeks old. For successful outdoor excursions with your chicks, choose days that are sunny and warm. Start with short visits to your chicken pen and let them hop and scratch around.
Every chick is different, but expect to see hesitation or uncertainty from your chicks at first. The feeling of grass under their feet is much different from the straw, shavings, or flooring of their brooder. The outdoors hold many sights, sounds and smells that are foreign to brooder-raised chicks, so start with short visits to avoid overstimulating them. Aim for 10-15 minutes once or twice a day to help build your chicks' confidence. Be sure to stay with your chicks during these first few visits to see how they react to their surroundings. 
After several days of short visits, increase outside time by 10-15 minutes every couple of days, keeping the weather in mind.  Before long, your chicks will be spending many daylight hours getting used to their permanent home. If you haven't already, now is the perfect time to start letting your chicks out in their coop and run during their outdoor time.
Checklist for permanently moving chicks outside 
Your chicks are fully feathered, have successfully completed outdoor trips to their new home, and are thriving. It's time to make the move permanent! Make sure the following are met before moving your chicks outside full-time: 
A

safe chicken coop

that your chicks are comfortable accessing

An

attached chicken run

reinforced with additional predator-resistant measures

Feeders and waterers

placed at appropriate heights for your chicks 

Outdoor temperatures of 60℉ or higher, even overnight  

Your chicks are at least 6-8 weeks old 
If you are moving your chicks to an Eglu chicken coop, the recommended age is 12 weeks old. This gives them ample time to grow into a size that is appropriate for the design of Omlet coops. Roosting racks and coop ladders may pose a challenge to chicks under 12 weeks of age, and the wire spacing of the run was designed with larger chicks in mind. 
Can chicks be outside with other hens?
If your chicks will be joining other hens, follow the same steps as you would when introducing new chickens to your flock. Quarantine periods need not apply to chicks you've raised yourself in a brooder, as you would see signs of illness during that time. However, you'll want to introduce chicks to their future flock-mates slowly to minimize the risk of injuries. A chicken pen placed inside or next to your existing flock will allow your chicks to visit your other hens safely. 
As always, hens have to establish a pecking order, regardless of how many times they've seen each other through a barrier. Always monitor the first encounter when introducing new members to a flock. Quickly remove any chicks that hens appear to pick on, and consider housing them or any aggressive hens separately until your chicks are bigger. 
Winter considerations for letting chicks outside 
Most chicken keepers will agree that spring and early summer are the best months to move their chicks outside. However, with some climates experiencing dreadful cold for over half of the year, it can make spring chick-raising slightly more difficult. In these situations, it's best to keep your chicks in their brooder for as long as possible – ideally, until they are 12-16 weeks old. If your chicks are too large to stay in the brooder for that long, be sure to take extra precautions against the cold. Prepare your chicks' coop and run for the winter as you normally would for adult hens, trusting that your Eglu keeps your chickens warm. Additional weather protection for your chicken coop can be added to provide extra insulation. 
Are my chicks too cold? 
The same signs of chickens being too cold apply to chicks. Check-in on your chicks routinely and monitor for any signs of them getting too chilly, such as: 
Lethargy 

Huddling together 

Standing with one foot off of the ground 

Discoloration of combs, wattles, or feet
If you notice any of these in your chicks during cold weather, bring them inside promptly. Do not warm them up too quickly, as this can cause them to go into shock. Only use a heat lamp if their inside area is in a drafty space such as a garage or barn. Indoor temperatures above 65℉ will be adequate to slowly warm up any overly-chilled chicks. Keep them inside until they are eating and drinking normally, and plan to let them back out when the outdoor temperatures stabilize. 
When chicks should not go outside
There are some circumstances where chicks should not be transitioned outdoors. These include: 
If your chicks are less than 6 weeks old 

Sustained temperatures below freezing if your chicks are less than 12 weeks old 

During heavy rains or extreme weather 

If your chicks cannot easily access their coop 
Always check your weather forecast to get an idea of temperatures and precipitation for the week you plan to permanently transition your chicks outdoors. If heavy rains are expected, or any other significant weather events are, postpone until conditions improve. Wet chicks, just like their adult counterparts, have a hard time regulating their body temperatures when they're wet. 
Some chicks get the hang of a chicken coop ladder quickly, while others may struggle to perfect this technique. If you notice that some of your chicks are unable to use a ladder, create a ramp to lay on top of the ladder rungs. Once they've gotten the hang of using their growing feet, you can remove the ramp. 
Lastly, consider avian flu and its prevalence in your area. Chicks are just as much at risk for contracting avian flu as adult hens, but by using waterproof chicken run tarps to prevent droppings from wild birds, you can greatly minimize that risk.  
Omlet's award-winning chicken care products 
Omlet aims to help you succeed in all of your chicken-keeping endeavors, including supporting you in your journey of raising hens from chicks. Large chicken coops help accommodate your growing flock, and mobile chicken coops help move your chicks even closer to you for supervision, or to get them closer to their future flock-mates. Our hen houses make excellent first-time homes for chicks, keeping them safe and comfortable in all climates.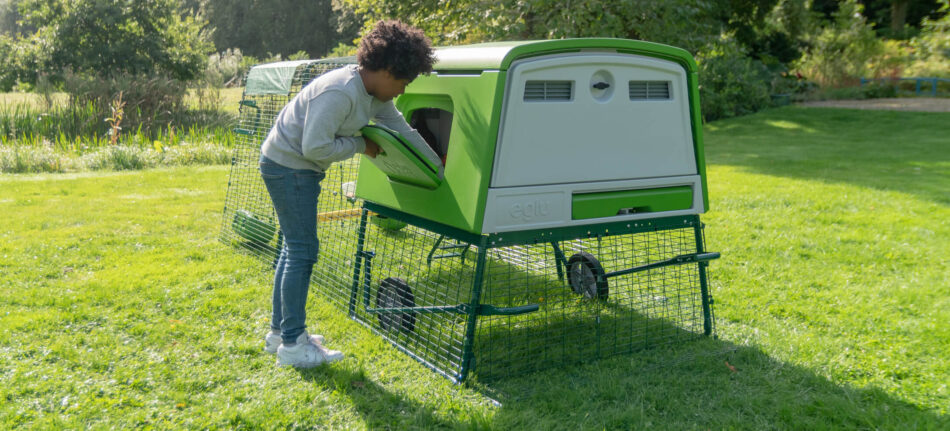 This entry was posted in Chickens
---