Introducing Omlet's signature dog bed collection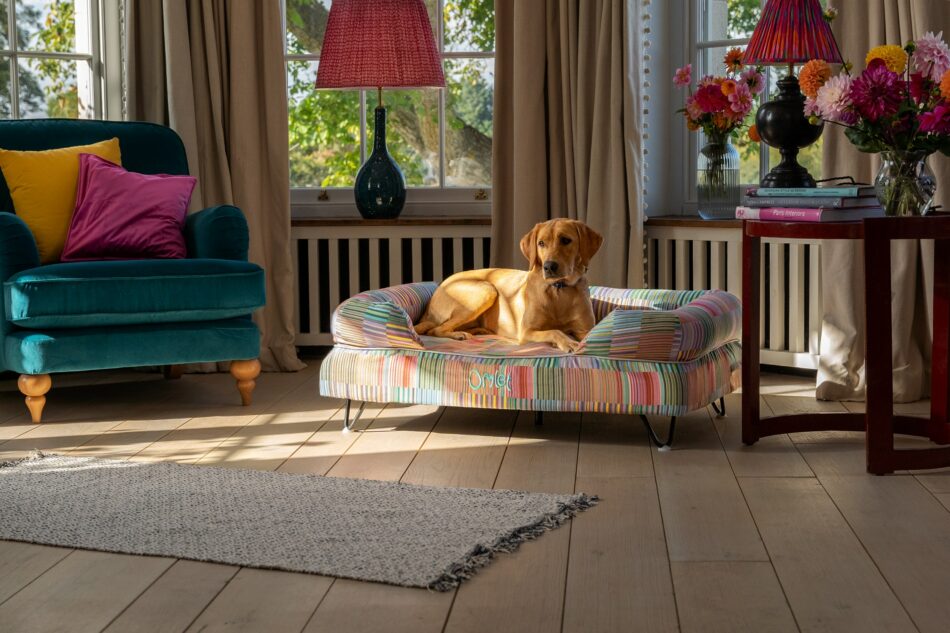 Every dog owner has their own version of their favorite dog walk. Through dense green forests or busy city streets, across pebble paths or rocky trails, every day we walk in step with our loyal, canine companions. This was the inspiration behind Omlet's first limited edition collection of designer dog beds and signature prints. The Dog Walk Collection reflects the places we travel with our beloved dogs, to be remembered long after the walk is over. 
Step into our world of walking wonder and unearth the journey of our first limited edition dog bed collection, designed by Omlet. 
Meet the designer
Omlet's in-house textiles designer, Victoria, is the ideator behind our first, limited edition collection of signature prints. As a dog owner herself, Victoria drew inspiration from the connection and companionship between dogs and their owners. Dog walks unite us in a shared experience, as we all travel in different paths but with collective joy. It was from this inspiration that the signature prints of the Dog Walk Collection were first sketched.  
In this exclusive behind-the-scenes video, Victoria guides you through the origins of the designs and the step-by-step process of how she came up with each print. Follow along and uncover more about these unique and signature designs – which print suits your dog and their favorite walk best?
Inspiration for the patterns
Does your favorite dog walk reflect where you live, who you interact with and what makes your dog's tail wag? We know everyone walks different paths and sees different sights, but ultimately, we all experience the same joy of spending quality time with our dog. Learn more about the walks illustrated in our 8 signature designs of the Dog Walk Collection and which connects with you most.
Meet the Pawsteps
The unique patterns of the Pawsteps Electric and Pawsteps Natural prints are inspired by the movement of two and four legs in unison together. Some dog walks are fast, some are slow, some walks are with big dogs and others with small. But all dog walks are a time well spent with the ones you love most. And that was the vision behind these signature designs.
A juxtaposition of prints and places, the Electric print showcases fast walks in big cities and urban jungles where vibrant colors envelop the scenery. And the Natural print reveals the same movement of steps but in a more quiet place like small, quaint villages where time feels to go by slower. 
Both of these prints are available in our new bed designs, the Cushion Dog Bed and the Nest Dog Bed, as well as Omlet's best-selling, memory foam Bolster Dog Bed. 
Walk in the Meadows
One look at the Meadows patterns will leave you feeling like you were lost in a field of wildflowers. These floral designs give you a sense of total immersion within a countryside where pastures, hedgerows and flowers all bloom with fragrant beauty. 
While both designs reflect an almost scratch and sniff sense of wonder, they are uniquely created to illustrate the day and night paths that may be walked. In Morning Meadow, the vibrant colors of dog-roses and winter berries pop all over the print. And Midnight Meadow gives way to the feeling of sundown on the same bountiful countryside where a full day of adventure peacefully comes to a close.
Choose from three styles of bed, cushion, nest or bolster, for your dog's rest in the meadows.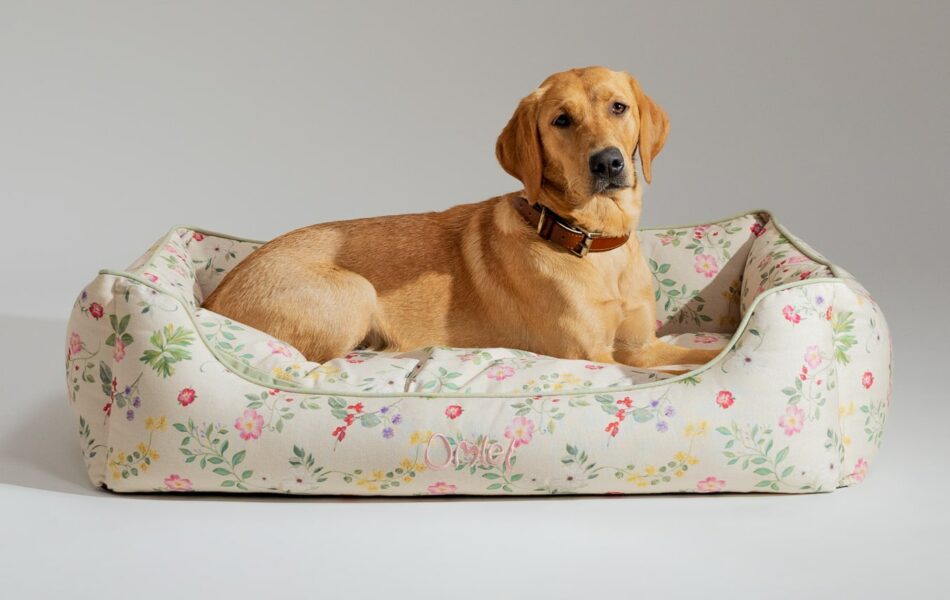 Fall for nature
If a walk amongst the trees and rich colors of the forest are what you and your canine companion love most, then the vibrant tones and patterns of Nature Trail, Contour, Forest Fall and Shaded Spruce will match you best. Designed from the feeling of being immersed in the natural essence of nature, each print is created to reflect the beauty of walks through tall trees and soft hues.
Both Nature Trail and Forest Fall create the feeling of a favorite path meandering through lush, green trees where the wind gently embraces your skin and fur. By contrast, the Contour print elevates the height of wonder with the same tree-lined path that now twists and turns on the hillside. And all of the rich teal tones that are seen stroked through your walk are captured in the only singular color print of the Collection, Shaded Spruce.
Discover your favorite path to walk in one of these prints available in our three styles of bed, cushion, nest or bolster.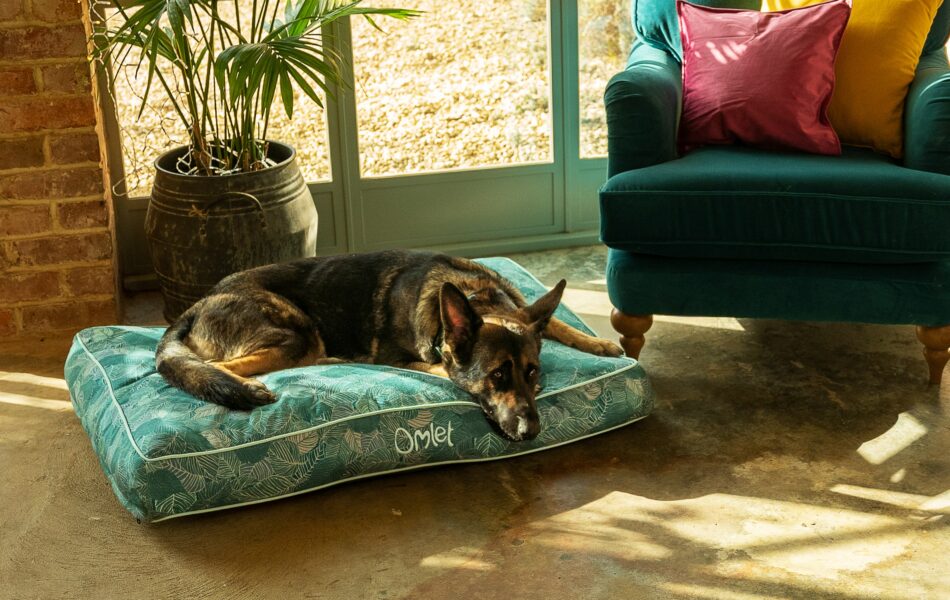 Let's talk sustainability
At Omlet, we are committed to designing innovative products that are both durable and comfortable. Creating products that can be repaired, recycled and easily cared for are part of our mission to improve sustainability in the pet industry. 
With our new signature print collection, we have made significant steps to a more sustainable dog bed, without compromising the quality of comfort. The dog bed covers in the Dog Walk Collection are made from 100% recycled bottle fabric. These bottles are turned into a yarn and woven into our luxurious and hard-wearing canvas fabric that is comfortable for your dog to rest on.
We meticulously researched and tested the use of recycled polyester for our dog bed stuffing but found the quality of the end product to be unsatisfactory for your dog. The stuffing flattens and loses its bounce quickly, compromising your dog's comfort and reducing the longevity of the bed. This is why we decided to use virgin polyester to produce a high-quality, long-wearing and comfortable bed for your dog to use for many, many years to come. 
We strive to make continued sustainable swaps to help you and your pet leave a smaller carbon pawprint on the world, and we're proud to be making conscious and planet-friendly decisions every day.
Explore the Omlet Dog Walk Collection
A dog walk is more than just a stroll with your pet. A dog walk is a celebration of canine and companion as they share a joyful experience within the unique beauty that surrounds them. We invite you to explore the 8 limited edition, signature designs of the Omlet Dog Walk Collection and find a pattern that best celebrates your favorite walk with your dog. After all, the paths we walk may be different, but your dog's path home to their bed is the one they look forward to the most. 
This entry was posted in Dogs
---