Understanding the Pecking Order in Chickens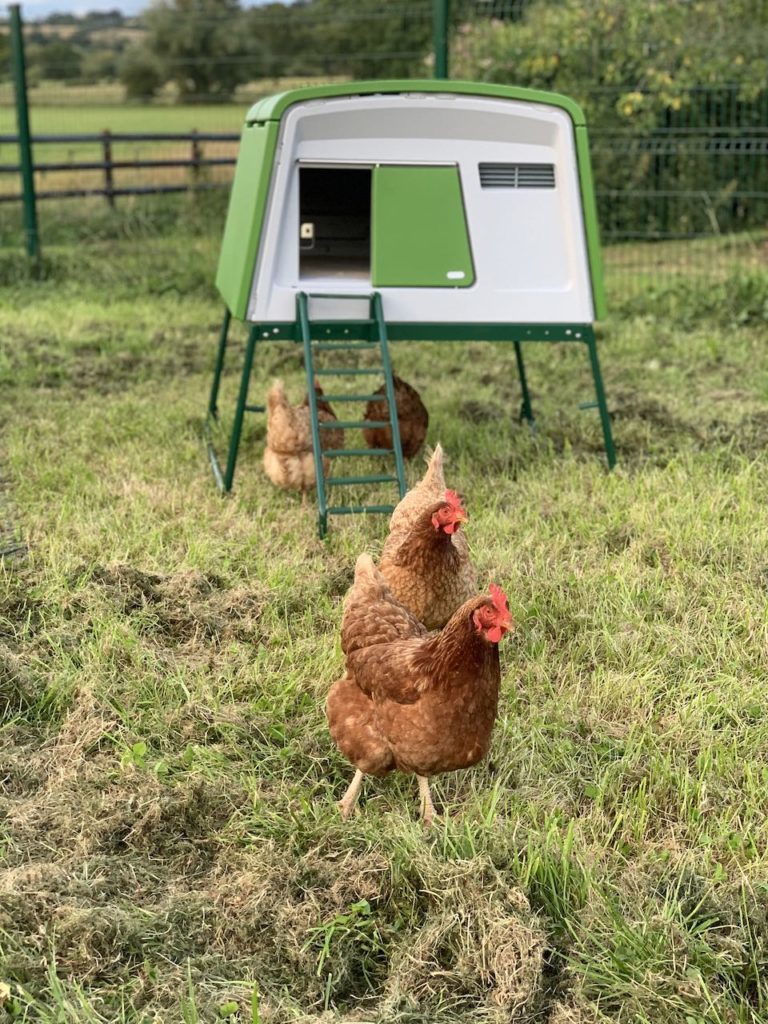 A flock of chickens can easily give the impression of peace and equality. But it's not like that at all!
Every flock of hens, whether it consists of two birds or 200, has a pecking order. This decides who's top of the chooks, and who's bottom of the bantams!
The pecking order generally sorts itself out. The more dominant birds will assert themselves, and the others will fall into line. Hens brought up together in the same coop or barn sort this out with minimal fuss; but if two dominant birds are brought together, they will fight for dominance. This involves lots of flapping and pecking, but rarely results in serious physical harm. Any hens who spar in this way should be left to it for a minute or two, unless you fear that one of them is going to be seriously hurt. If you intervene too soon, the battle will commence again as soon as your back is turned.
The point is, once the feathery fisticuffs are over, the pecking order is settled and you won't have to intervene. It's very rare for a hen to be so aggressive that she goes out looking for a fight when the hierarchy has already been established.
If you're worried about the safety of the tussling hens, you can separate them by clapping your hands to scare them apart, and then physically removing one from the battlefield. Some Vaseline on the comb and wattles will also minimise damage, if you suspect that there may be more scuffles before things settle down again.
Hens need plenty of space. If they are too cooped up during the day, they may start to peck each other (an issue that afflicts large flocks kept for mass egg or meat production). To prevent this, you need to make sure your run isn't overcrowded.
If a dominant hen begins guarding the food and water supply, install a second feeding and drinking station to defuse the tension. Distraction is an effective method of diffusing problems, too. Some corn cobs or cabbages, some CDs or even a peck toy hanging at pecking height, will deflect aggressive birds' beaks to other things.
A Change in the Pecking Order
It is generally agreed that the most aggressive hens are the ones at the top of the pecking order. But sometimes a chicken seems to rise to the top with very few pecks involved. There is, indeed, circumstantial evidence that the birds' combs may play a part in the war of the wattles. Hens with large, erect combs tend to be higher in the pecking order than birds with less impressive combs.
If a dominant hen is no longer around, the pecking order enters a state of flux, and there may be new outbreaks of feathered feuding before the new order establishes itself. A previously meek hen may find herself in charge, and this is particularly common if she is one of the 'old guard' who suddenly finds herself keeping a new influx of point-of-lay hens in line.
When introducing new hens to a flock, the newcomers should be penned away from the old guard for a week or so, to let everyone get used to each other. Throwing new birds in at the deep end can result in tragedy, as the older birds sometimes gang up on the newcomers and peck them. Once a hen draws blood, the other birds have a tendency to join in the pecking, and death can result.
The pecking order can also change if a dominant hen becomes ill, or becomes broody and spends her time sitting on eggs. If she's allowed to live a full life and die of natural causes, she may lose her top place in the pecking order towards the end, and in these circumstances you need to keep a gentle eye on the flock, to make sure the old bird doesn't become hen-pecked.
Being top of the pecking order isn't all about bullying and the rule of terror, though! Top hens protect the flock by keeping an eye open for danger, and also lead the other birds to exciting new sources of food and scratching.
The hen-based pecking order doesn't entirely disappear if cockerels are part of the flock, but the male bird will nearly always be at the top of the order, unless he's unusually timid and the top hen is unusually assertive. The hens will still have a pecking order amongst themselves, though. It also needs underlining that there should never be more than one cockerel to every 15 hens, otherwise things become very unbalanced, the males fight, and the hens might be physically abused.
Living in a flock takes a bit or organizing. But as long as you give the hens enough space and keep an eye on things to make sure the pecking doesn't spill over into open warfare, nature has a wonderful way of taking care of things.
This entry was posted in Chickens
---