5 dog-friendly interior tips for your home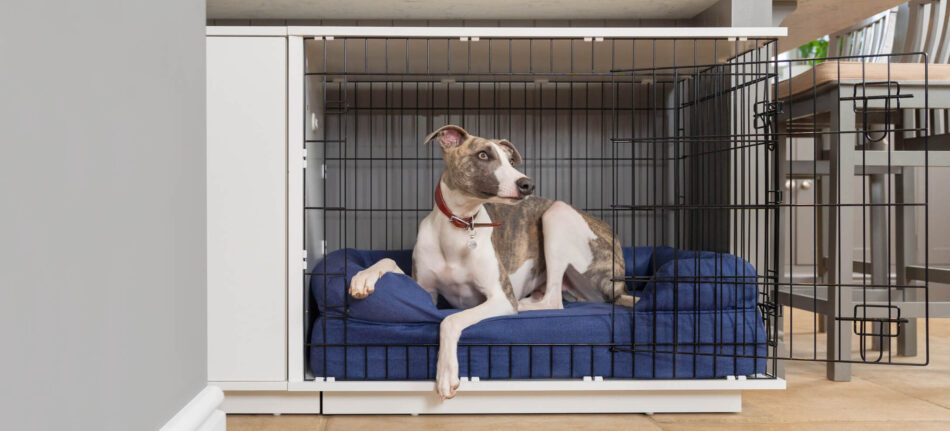 If you share your home with a dog, it's important to make sure the space is just as comfortable, hygienic and safe for them as it is for you. With these 5 dog-friendly interior tips for your home, you can be assured they're staying safe, whilst your home stays in tip-top condition.
1. Materials matter
This is a simple idea but one that will save you a lot of cleaning time and expense in the long run. Opt for washable sofa covers wherever possible and steer clear of materials that can easily be scratched or will likely attract loose fur. Removing pet hair from your home can be done but it can also be a hassle, especially when it's partially preventable. Some dogs will need grooming more than others, but brushing your dog regularly will help keep fur off furniture as well.
The same goes for flooring – choose something easy to mop or wipe, especially after a muddy dog walk. A machine-washable dog mattress like our Bolster dog bed will also help to minimize dirt and fur in your home. Simply unzip the cover and machine wash to maintain home hygiene and fresh sheets for Fido.
2. Styling your dog's bed to your home
Your dog's bed no longer has to stand out awkwardly in your home. Omlet's Bolster dog beds are available in 15 bold colours, with a selection of limited edition prints from the Dog Walk and Gardenia collections to suit your interior style. Matching the color of the dog bed to an accent color in any room can be a great way to integrate their bed with your interior style, and really make it part of the home. 
Plus, you can even raise your dog's bed from the ground for an impressive touch with our range of designer dog bed feet. With the choice of 9 different styles of feet, there's a dog mattress and feet combination for every home and dog. Curious for more interior styling tips? Find out whether your dog's bed matches your decor.
3. Dog crate or stylish furniture?
A stylish dog bed needs a stylish dog crate to match. Dog crates are recommended by dog trainers and veterinarians for their many benefits. Not only do they offer a relaxing space for your dog to call their own, but they can also provide comfort and security, especially for puppies and anxious dogs when feeling overwhelmed. 
Standard dog crates can be an eyesore in a beautifully decorated home, but we worked to curate a product that doubled as a doggy den and piece of furniture. Introducing the modern Fido Studio dog crate…Available in a Walnut or White design, you can even also an optional wardrobe with a handy storage unit for your dog's toys and treats (or maybe clothes!). To finish the look, you can seamlessly slide in your Bolster dog bed to create the ultimate hideaway for your four-legged friend and a chic corner in your home. 
4. Remove temptation
Most owners of excitable dog breeds will be well-practiced in drink-saving reactions to prevent a whipping tail from causing carnage. It's important to keep breakable or potentially harmful items like candles and glasses up high, not just for your sake but also for your dog's safety. It's wise to opt for higher side tables rather than lower-sitting coffee tables for tea and snacks to move the temptation of tasty human treats out of sight. 
Dogs that are physically and mentally stimulated are less likely to be destructive in the home as well. Ensure that regardless of your dog's breed, they're provided with enriching activities in addition to their daily walks. You can exercise your dog indoors by playing games such as hide and seek, teaching your pup new tricks or even creating an obstacle course using materials you can find around the house. 
5. Plants and pets
You can still enjoy house plants and a beautiful backyard when you have a dog but it goes without saying that you should first check they're not toxic. This isn't an exhaustive list but the following plants can be dangerous to dogs:
Aloe vera

Onion and garlic plants

Ivy

Bluebells

Daffodils

Grapevine fruits

Mistletoe

Holly
There are plenty of plant species that are also dog-friendly, though. These include but are not limited to:
Magnolia bushes

Rosemary

Fennel

Pansies

Wheatgrass

Sunflowers

Lavender
It's also worth noting that if your dog loves mud, you might also prefer to keep houseplants up out of reach of digging paws!
Omlet and your dog's home
With Omlet's range of dog products such as our easy-to-clean dog beds, stylish dog crates and dog toys, you can continue to build a wondrous connection between you and Fido, all while your and your dog's home remains a safe haven and looks great too.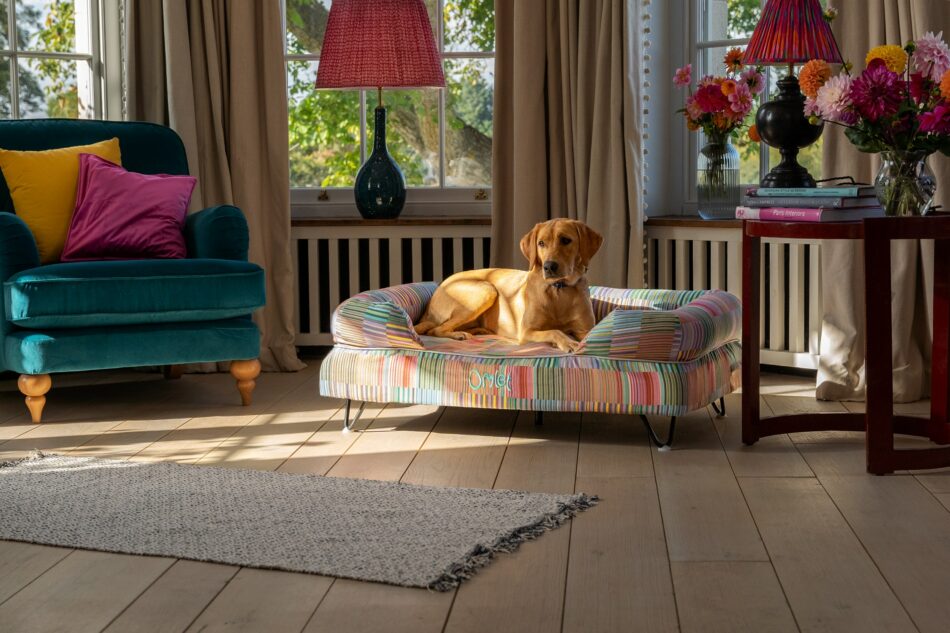 This entry was posted in Dogs
---