Does your dog bed match your decor?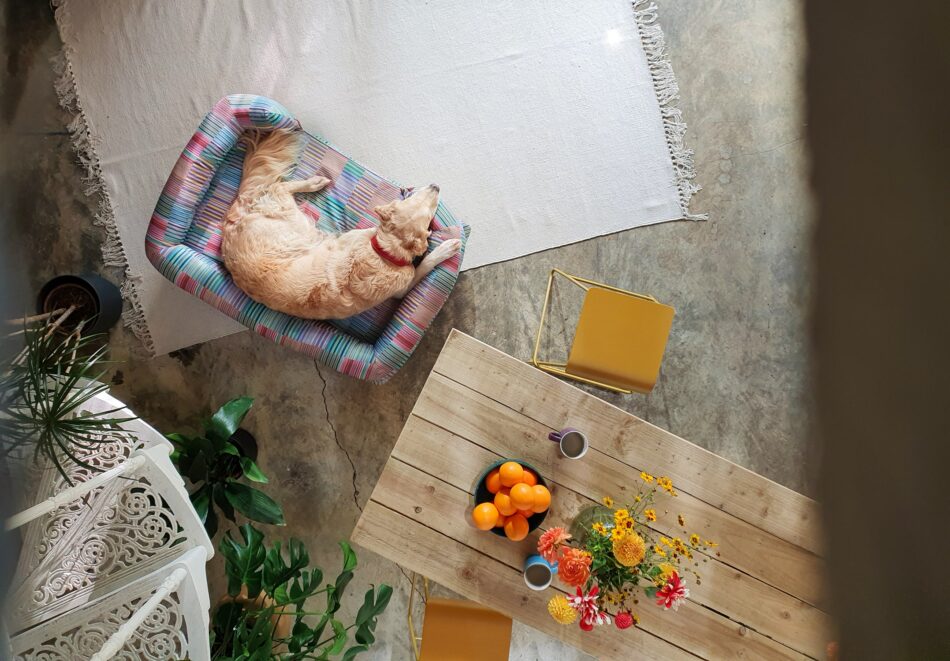 As a dog parent, you know what it's like to try and keep a tidy house when you have a furry friend. With leashes, dog toys, and dog beds, your house can get cluttered quickly. And while you can hide the dog accessories in a basket or storage bin, concealing the dog bed can present more of a challenge.
How do you make sure your dog bed matches your decor? Thankfully, the task of incorporating your dog's living space into your own has become much easier with ingenious products and designs. So before you go hiding another dog bed away in the corner, read these tips on how to make your dog's bed a style staple in your home. 
What are the best bed options for your dog? 
After getting home from a long day at work, we all want a cozy and comfortable spot to relax and unwind. Your dog feels the same way. The bed your dog sleeps on is often not only their sleep sanctuary but their place of escape as well. So positioning a dog bed near a walkway or in a frequently traveled path of your home is not a good idea. 
What if a dog bed could be enclosed like a personal doggy home? What if instead of a worn-out pillow lying on the floor, your dog's bed could be showcased like a piece of furniture? We asked ourselves these very questions and then challenged our product designers to create a solution. After all, giving your dog a space of their own is not only beneficial to their health and well-being, but it will also make your decor space look good while doing it.
Match your dog's bed to your furnishings
If it's not the space, but the look of your dog's bed that is putting you off, it might be time to upgrade to a more stylish bed that matches your own sofa, bed sheets and cushions. Finding a dog bed that complements your decor is like finding the perfect throw pillow to complement your sofa. Just remember – style's important, but comfort is king when it comes to dog beds.
Is your interior decor a neutral palette with warm and soft tones? Then perhaps a soft gray or neutral color dog bed printed in Pawsteps Natural will fit right in. But if your home decor is filled with bold and bright colors, opt for a dog bed to match your fun style! Try the Pawsteps Electric dog beds from our latest Dog Walk collection for the ultimate standout piece of doggy furniture. And even better, you can find a matching Dog Walk Collection collar and leash to complement your printed paradise.
A home within a home
Meet the Fido Nook Dog House, designed by Omlet. Engineered as an elegantly modern piece of furniture to complement your home while also providing a cozy space for your dog's bed. Now you can create a space your dog can call their own while also using it as a functional spot to place plants, pictures or even your basket for keys. Any dog bed can fit inside the Nook but our Bolster dog bed fits in even more seamlessly! And by elevating your dog's bed, you'll raise their comfort and hygiene and protect them from dust balls, drafts and disturbances.
Having an enclosed dog den is a great way to add style and functionality to your interior. The Fido Nook comes with an optional doggy wardrobe storage where you can place all of your dog's personal items. If it weren't for the dog bed inside, you might just think the Nook is another sleek end table to enjoy.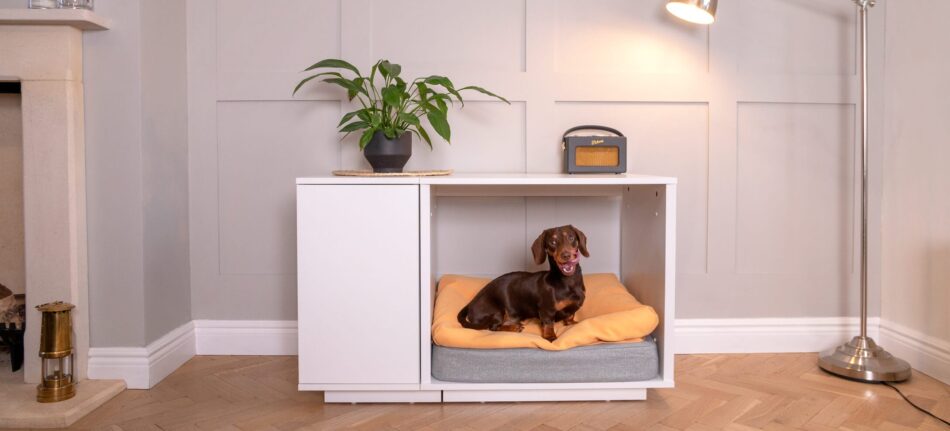 A stylish upgrade
To truly incorporate your dog's bed into your interior, you can look to upgrade with accessories. Just like the blankets and pillows that adorn your couch and chairs, you can give your dog the same feeling of opulence with their own items. 
A super soft dog blanket is the perfect way to upgrade your dog's naps and your decor. Whether you drape it on their bed or over the sofa, adding a dog blanket brings texture and depth to your interior while also providing endless hours of additional comfort for your dog. It's a win, win situation.
For the standalone dog beds, you can heighten the luxury look and your dog's health by simply adding feet to the base of the bed. With the Omlet line of dog bed feet, you can choose from a variety of different looks and styles including wood, gold hairpin and modern metal rails. Match the feet to the tones and textures of your decor to enhance the look and feel of your space. And your dog will appreciate an elevated level of comfort and hygiene in the process.
The Omlet design options
At Omlet, we believe dogs are family members, too. So where they sleep and spend their time should be reflected in your home. Incorporating your dog's bed into your decor doesn't have to be difficult. And once you've decided if you want a dog den or just a dog bed, you can start customizing to match your interior design needs and the needs of your dog. With countless options and products, we make matching your dog bed to your decor a breeze.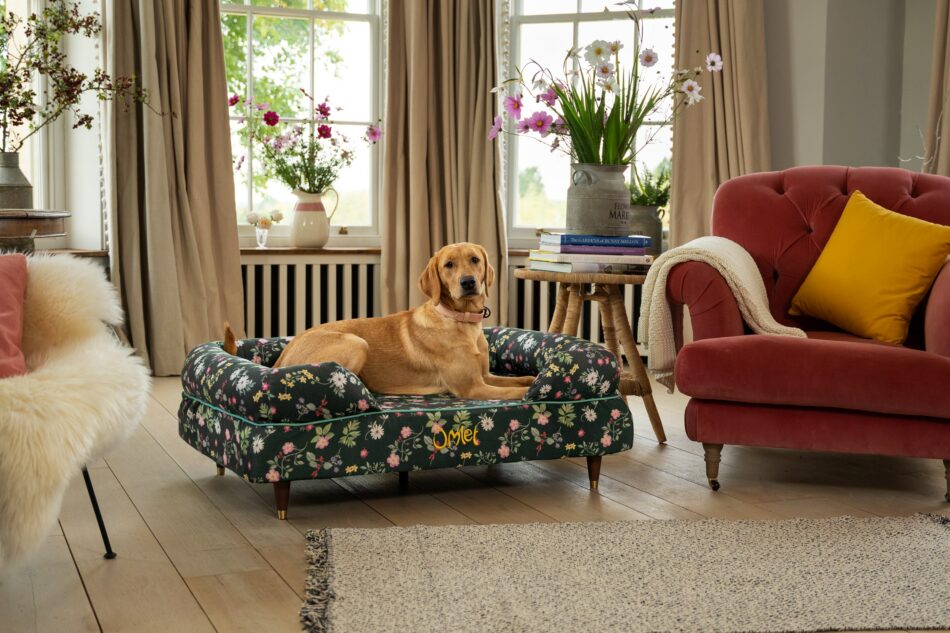 This entry was posted in Dogs
---