How to keep your house clean if you live with a cat

Let's face it – all cats shed, and keeping your home free from loose fur and other messes isn't always easy. But keeping on top of a fuss-free hygiene routine and having the right products for your purry pal will have your house clean in no time! Keep reading for feline-approved top tips.
Grooming goes a long way
Grooming does way more than just make your cat look great. It's also important for getting rid of loose fur from their coats and your home. If you've got a bit of a fussy feline on your hands, try placing down cat grooming mats on the table and chair legs in your home. This way, kitty can avoid the brush but it still means getting a groom. These mats cling to the loose fur so that it doesn't float through your home. Plus, you can easily pull hair out from the mats and clean it as necessary. Still in need of some cat fur-collecting techniques? Read our complete guide on removing pet hair from your home.
Say goodbye to litter box mess!
Another source of mess in our homes with cats is their litter box. Not only because of the odors and unsightly mess that comes with it, but cats will also carry out the litter on their paws, also known as 'tracking'. 
Thanks to Omlet, there is a solution to all of the above! The Maya Jump On Top Entry Cat Litter Box features an anti-tracking platform which, once they've done their 1s and 2s, cats will step out onto before jumping down from the box. The platform has tiny holes which allow the loose litter to fall through and back into the litter box as your cat jumps out! This significantly reduces the amount of litter they carry out with them, meaning you won't step on tiny grains of litter.
If that wasn't clever enough, the anti-tracking platform also has an active carbon filter. This effectively absorbs and controls bad odors before they emit from the litter box. Plus, the litter box has a wipe-clean, waterproof liner which makes it super easy to maintain a clean, odor free and hygienic environment all in a discreet, furniture-style box that will give kitty the privacy they desire.
Air-purifying, cat-friendly plants
Air-purifying plants in the home help to improve air quality and contribute to a fresher, hygienic feeling for everyone. There are lots of cat-friendly plants, such as the Boston Fern and Lavender, which will have your home smelling great! If your cat likes to play with plants, claw at the soil or chew on the leaves, you might want to consider smaller plants out of reach, or more robust plants. 
Cat sheets need changing too
It's much easier to maintain a fur-free, clean and hygienic home when living with a cat if their favorite sleep spots are easy to wash. That's why we designed a cat bed with a removable, machine-washable cover…
The Maya Donut Cat Bed offers an easy clean solution! All you have to do is unzip the cover and pop it in the washing machine on a gentle cycle with a mild detergent. Leave to air dry and pop the cover back on – it's super simple! 
You can also raise the bed with stylish feet, which not only look great but also improve airflow beneath the bed to prevent a build-up of fur, dust and moisture and protect your carpet. The Maya Donut Cat Bed is a great hygiene solution, and is super cosy and soft for cats who desire the best! 
Protect your furniture with easy-to-clean blankets
If your feline friend prefers to curl up on the sofa, you can encourage your cat to sleep in their own bed to protect your furniture from fur, dirt and sharp claws! But if you're still working on convincing them, a dedicated cat blanket, or two, is a simple solution to creating a barrier between your nice clean sofa and your cat's fur and mucky paws. The Luxury Faux Sheepskin Cat Blankets are super duper soft, and they're available in three sizes! Your cat simply won't be able to resist snuggling down on these dual-sided, quilted throws!
Have a pet-safe cleaning kit on hand
A strong vacuum cleaner is an obvious choice to keep pet fur at bay, but there are other essentials you should have in your pet-safe cleaning kit. Lint rollers are super handy for running over clothes, cushions and blankets to quickly lift any clumps of loose fur. Fabric freshener sprays are also a must for eliminating any bad odors which cling to curtains and sofas. A pet-safe carpet cleaner is bound to come in useful when you're faced with muddy paw prints or other accidents!
Wipe clean feed bowls
Regularly cleaning your cat's feed bowls is also an important step in reducing odors and maintaining hygiene in the home. Make sure they're sturdy, can be wiped clean and in a quiet spot with little footfall. This way, your cat can have privacy while they eat, and the food smell won't upset visitors or attract other pets and children! Putting the feed bowls on a wipe-clean mat will also protect your floor, especially carpets, from food mess or spilt water. 
Keeping a clean cat home with Omlet 
Keeping your home clean when you live with a cat doesn't have to be a chore! Omlet has designed solutions to all of your cat's needs, so take a look at our expertly designed Cat Beds, Cat Blankets, Cat Bowls and more to discover how Omlet can help you to keep your home clean, and your cat, happy!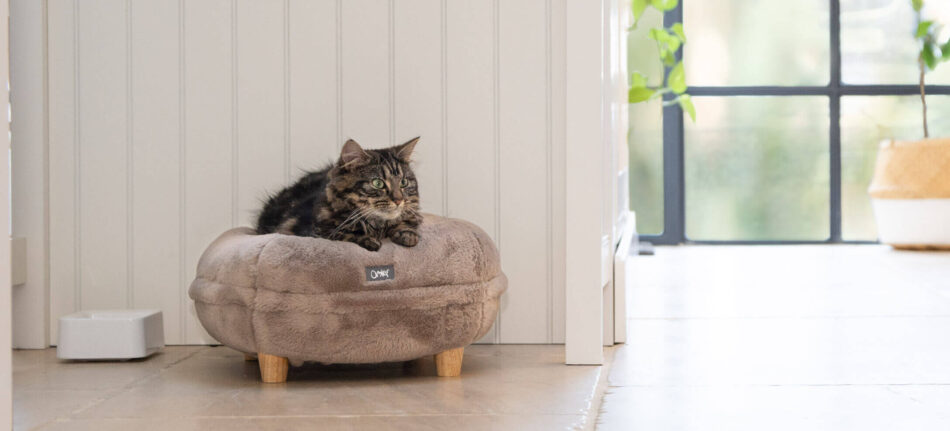 This entry was posted in Cats
---