Why Won't My Hens Lay in Their Nest Box?

It's frustrating when a hen decides to ignore the comfy nesting boxes and lay eggs on the floor of the coop or run instead. Chickens love routine, and once they get into the habit of laying eggs on the ground, it can be hard to change their routine.
The main disadvantage to laying an egg on the ground is that it can be damaged. It can also be pecked, as chickens tend to peck at anything they find. If hens acquire the taste for fresh eggs, they tend to peck at every egg they can find, which is disastrous.
Luckily, there are a few ways of persuading a hen that nesting boxes are the best place to lay eggs.
---
1. Make sure you have enough nest boxes
You will need space for all the hens to lay, which generally means one box for every four hens. Note: if there are too many nest boxes, some of them will be 'vacant', and one of the hens might decide to move in permanently, using it as her sleeping box, and it will soon become fouled with droppings.
2. Make the nest boxes clean and comfy
The nest box should have lots of soft bedding, changed regularly to make sure it remains unsoiled and free of red mites. You also need to collect the eggs regularly, as a hen faced with a pile of eggs might not want to sit there and lay one of her own. A nesting box with just one egg or none is more appealing to a hen.
3. Provide enough roosting bar space
This might not seem linked to nest boxes and eggs, but it's actually vital to the process. Chickens need space to perch when roosting. If there isn't enough of it, some hens will be forced to look for space elsewhere, and that means they'll occupy a nesting box. Being stubborn creatures of habit, once they're installed, it will be hard to evict them.
4. Tempt the hens in with an egg
Young hens might not know instinctively where to lay their eggs. If you place a ceramic or rubber egg in the nesting box, it will give them a visual clue, and once they've laid their first egg or two in the nest box, the habit will be ingrained.
5. Keep hens in the coop first thing in the morning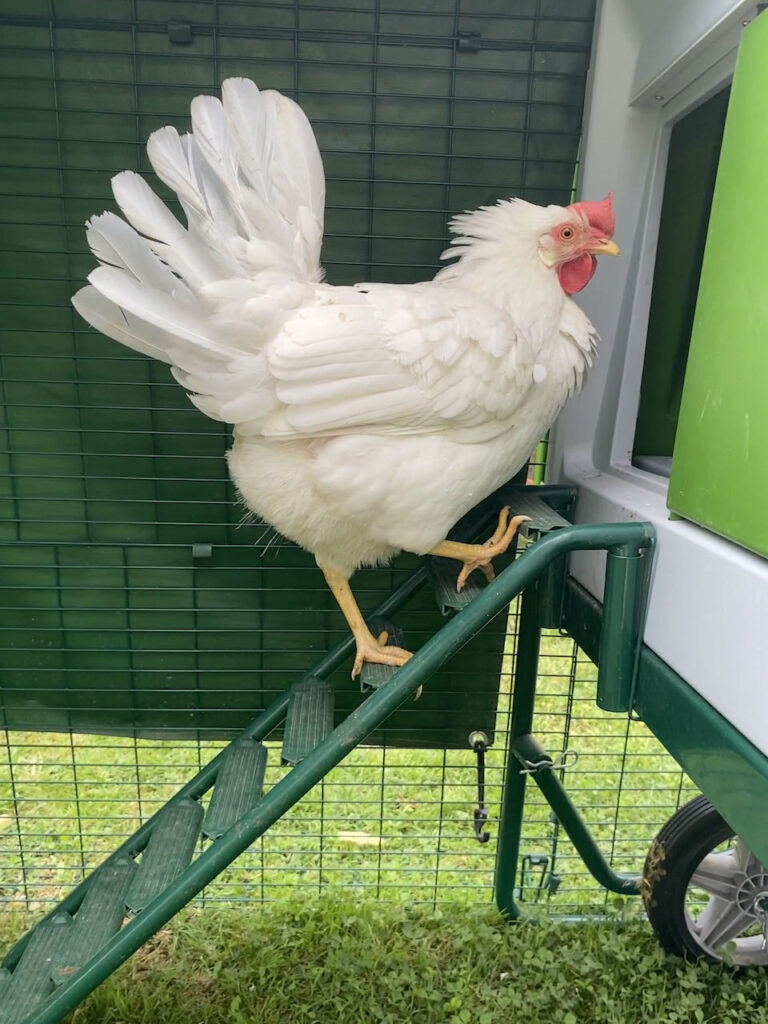 Most hens lay their eggs early in the morning, so confining them to the coop until the sun has been up for a bit will prevent them from wandering away and laying eggs in inappropriate places.
6. Make it harder for the hen to lay in the wrong place
As creatures of habit, hens tend to lay in the same 'wrong' spot each time. If this is on the ground, you can put a rock there, or some sticks or plastic bottles.
7. Move the hen before she lays
You will start to notice when a hen is ready to lay on the ground. She will stop her usual foraging and clucking and snuggle down. Move her to the nesting box when she does this, and she will soon – in theory – get the message and go to the box when she needs to lay.
8. Stop hens from sleeping in the nesting boxes
A hen who sleeps in a nest box will mess it up overnight and not want to lay her eggs in the same place. Shoo any hens from the boxes in the evening as they are settling down to discourage the nest-sleeping habit. If the problem is more to do with the roosting bars being hard to access, address that issue instead.
9. Make sure the hens feel safe in the box
If the nesting box is too close to the ground, or if bright light leaks in, or if noisy pets or children play next to it at the crucial laying time, hens will be discouraged from laying eggs there. Make the habitat as hen-friendly as possible. Raising the boxes a few inches from the ground is a good start (but not so high that young birds can't access the box).
10. Make sure your hens can easily access the nesting box
This may sound obvious, but it is sometimes overlooked. A poorly designed coop might make it difficult for hens to access the boxes and lay eggs in the nest, in which case they will take the path of least resistance and lay elsewhere. The nest boxes may be too low or too high, making it difficult for smaller chickens to access, or the roosting bars might block easy access to the boxes.
---
You can bypass all these issues by installing your hens in a well-designed coop such as the

Eglu

. All hens prefer to lay in a quiet, dark, comfy spot, so a nesting box will nearly always be their first choice. It's a simple case of ensuring they have the space and easy access to a clean, appealing egg-laying space.
This entry was posted in Chickens
---