How To Stop Your Chickens From Eating Their Eggs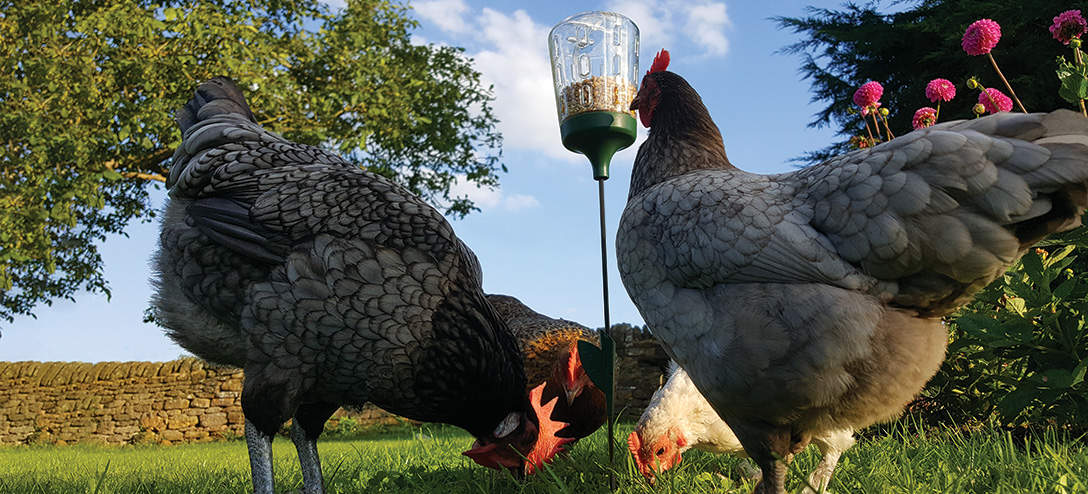 Chickens are not only great companions, but also a great way of being more resourceful, providing you with a frequent supply of fresh eggs. However, you could have a problem on your hands if you begin to notice that a few eggs are going missing. Sometimes chickens develop a bad habit of eating their own eggs, which although is not detrimental to their health, is a sure sign that something is not right.
Your Chickens are Bored
Your poor chickens may simply be suffering from boredom! Boredom in chickens can occur when they either don't have enough space to roam, or they're lacking facilities to keep them entertained.
For a happy hen, they need a bare minimum of 1 square meter each in their run, however 2 square meters plus (per hen) is always preferable. Chicken toys are also a fantastic way to keep your chickens entertained. How about trying out the Omlet Pendant Peck Toy, an interactive and engaging feed toy that not only improves flock behavior but will provide your hens with the mental stimulation they desire.
Dehydration
Chickens that eat their eggs may be dehydrated. Since eggs contain a large amount of water, your chickens may be resorting to eating them simply to keep themselves hydrated.
To stop egg eating behavior, make sure that your hens are supplied with a clean water bowl/feeder at all times. During the warmer summer months, chickens need a lot more of it, so add some ice to their bowl or feeder to make sure they stay on top of hydration.
Vitamin Deficiency
A vitamin deficiency can be another reason as to why your hens have turned to egg eating. Your chicken's diet is fundamental to their wellbeing, and a poor one could be depriving them of their nutritional requirements. Along with eating eggs, broken eggs can be another indication that your chicken is vitamin deficient, more specifically suffering with a calcium deficiency.
It's important to provide your chickens with a balanced diet of enough protein, carbohydrates, vitamins, and minerals, so although they naturally forage, you should supply your chickens with a good quality feed. For added calcium, it's recommended to add grit, a ground hard substance, to your chicken's diet, which aids with digestion. Surprisingly, you can feed your hens crushed eggshells, or alternatively, you can use crushed oyster shells – a high calcium, soluble grit.
Inadequate Nesting Facilities
Your nesting box needs to be a secure and safe space for your hens. Egg eating can occur when your hens are uncomfortable with the nesting box, most commonly due to the bedding itself or exposing your chickens to too much light.
First of all, make sure that their nesting area has adequate bedding and is made of a comfortable nesting material. There are a number of choices of bedding to choose for your hens so if you notice that they are not getting on with what you're currently using, try changing their bedding to see what works best for them. You'll also want to keep on top of cleaning their bedding by replacing it weekly, also removing any droppings. The Eglu chicken coops make for easy cleaning, with integrated and private nesting boxes, whilst offering plenty of space that your hens will love.
An Anxious or Stressed Chicken
Chickens found to be eating eggs can also be suffering from stress or anxiety, which your hens can be experiencing for a number of reasons. Stress-inducing scenarios can be related to either handling, a new environment, the introduction of new chickens, extreme heat, or regular visits from predators.
Having an anxious hen isn't pleasant for either you or them but fear not, as there are steps you can take to help minimize stress to help your egg eaters. Some stressful situations are easier to tackle than others, such as introducing new chickens or handling if these are two stressors. Take a look at Omlet's guide on introducing new chickens for some more help.
Still Struggling?
If you've tried all of the above, ruled out anything medical, and yet your flock remain stubborn with their egg eating habit, here's what else you can do to try and tackle the problem: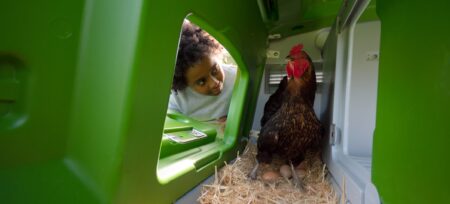 Quickly Collecting Eggs
Quickly collecting eggs once they have been laid will give your chickens, or particular offender if it is just the one hen, less opportunity to eat the eggs. If possible, check the next box four times a day to start with. Hopefully after a few days, this will break the habit, and you can go back to collecting the eggs once a day.
Fake Eggs
Fake eggs can be made of wood, rubber, or ceramics and will leave your chicken pecking but will eventually become frustrated so that they'll stop attempting to peck at real eggs.
Using Mustard
Create a small hole in your egg, empty the contents and fill with mustard. Mustard is a flavor that (most!) hens can't stand so after a few attempts, they'll likely stop attempting to eat eggs.
If you do have an egg eater on your hands, don't panic! It may seem a bit odd, or the behavior might confuse you but with a few tips you can get the habit well under control. Hopefully next time you go to collect eggs, you'll have happy laying hens, with your eggs still intact!
This entry was posted in Chickens
---