10 Things Not to Do in Winter if You're a Chicken Keeper

1. Don't shut your chickens in their coop
Chickens are built to be outside, and they are known to withstand some pretty extreme temperatures. Under the visible plumage birds like chickens have a layer of downy feathers that can be puffed up to create an extra layer of insulation that will keep them warm. 
Cooped up chickens will soon get bored and agitated, and even though you might be surprised that they choose to go out in freezing temperatures, you should definitely always give your chickens the opportunity to stretch their legs. 
Ensure chickens have a dry and sheltered spot in a secure run or in an area of the garden where they can spend time outside. We have plenty of different covers that makes this an easy job. Clear covers are ideal for winter as they will protect your chickens from wind and rain while still letting the light in. Put straw on the ground to prevent a build-up of mud and install a perch or two for the chickens to rest on during the day. 
Close the door to the coop when all chickens have gone inside to roost for the night or let your Automatic Chicken Coop Door do it for you. 
2. Don't compensate for bad insulation by blocking up the coop
Well insulated coops, like the Eglus, will keep the chickens warm in winter by capturing the heat from the chickens' bodies while not letting any cold air travel through the walls. They are also designed to let air flow through the coop to prevent a buildup of moisture, without any nasty drafts.
Drafts and moisture are the two biggest winter enemies for chickens, as they make it difficult for them to stay warm and dry. If the coop is too tightly insulated the moisture evaporating from the chickens' breaths and droppings will have nowhere to go. This humid environment – and the possible buildup of ammonia – is really bad for chickens and can lead to unpleasant respiratory illnesses.
Make sure that your coop is well ventilated, with vents that directs the air somewhere other than straight onto your chickens. 
3. Don't heat the coop
Chickens are hardy creatures that will gradually adapt to lower temperatures and heating the coop will mean that your chickens never get used to the cold. This will also make them less likely to actually leave the coop and get that exercise, fresh air and entertainment that they require to stay happy and healthy. 
Apart from the fact that heaters in the coop will always be a potential fire hazard, you also run the risk of your ill-adapted chickens getting a shock at a sudden drop in temperature if the power was to go off for some reason. This is much worse for them than having a slightly chillier coop. 
If you're worried you can always add a bit of extra bedding to the nest box or put an extreme temperature cover on your Eglu. 

4. Don't leave eggs too long
Although the Eglu will keep your eggs warm and toasty, there is a risk that eggs laid elsewhere in the run or the garden will freeze in winter. Frozen eggs are not automatically dangerous to eat, but when the content of the egg freezes and expands, there's a higher risk of bacteria entering through the cracks in the shell. 
Collect the eggs every time you visit your chickens to minimize the risk of a frozen yolk.
5. Don't ignore the water
As goes for all animals, you will want to give your chickens constant access to fresh water, even in winter. They won't drink as much during the colder months, but here that's actually a disadvantage, as the water is more likely to freeze if not touched regularly. 
Bring the drinker inside overnight and take it out when you go to check on your girls in the morning. If the temperature goes below zero during the day, check the water as often as you can, and break the ice or change the water if it has frozen. 
There are several water heating solutions available on the market. There are heaters that you can easily plug into an outdoor power source, but there are also battery powered heaters you can put in the water. Just make sure the chickens are not able to peck their way through the heater.
If the temperature stays around zero, you can put something floating in the water, like a tennis ball. As the floating object moves, it will break up surface ice as it forms on the water, which will stop, or at least slow down the freezing process.
6. Don't put off cleaning the coop
Hanging out in the garden is not as tempting in winter, but you will still need to make sure the chickens' house is nice and clean. It is likely that your chickens will spend more time in the coop in winter and produce more droppings there, so keep an eye out and change your routine accordingly. 
7. Don't limit the fun
The chickens might not venture as far out in the garden as they normally do, and the opportunity to forage for bugs and other treats will be limited when the ground is frozen or covered with snow. This can lead to chickens getting bored, which might result in aggressive feather pecking and egg eating.
You will need to make sure that they have plenty of fun things to do in their run. We have lots of boredom busting accessories in our shop. Put up perches the chickens can sit on and try the super fun Peck Toys or the Caddi treat holder for gradual treat-dispensing hentertainment. Or, if you feel your chickens might be the adventurous kind, why not put up a Chicken Swing they can enjoy together?
8. Don't stick to the same feeding schedule
Your chickens will most likely eat more in winter, as they need the energy to keep warm. Give them some extra food, and make sure it doesn't freeze in the feeder. For an extra snack, sprinkle some corn on the run in the afternoon to add both calories and some foraging fun. Or why not try this yummy chicken porridge that will warm their tummies on cold winter mornings.
Also make sure that you provide plenty of grit. As chickens don't have teeth they need it do digest their food. The rest of the year they find and swallows little stones and pebbles as they peck around the garden, but if the ground is frozen this will be much harder.
9. Don't ignore combs and wattles
All chickens, but particularly breeds with large combs and wattles, run the risk of frostbite on these sensitive body parts during winter. It's not necessarily dangerous as it's normally just the tips that get affected, but can be a bit uncomfortable. To prevent this, apply petroleum jelly to the combs and wattles during cold spells. 
10. Don't take covers off when the sun is shining
If you're in the habit of taking the covers off the chickens' run when it's sunny, it might be a good idea to stop doing this in winter. Clear covers in particular will create a lovely sunroom feeling on the run when the sun is out, and your girls will love having a warmer spot to retreat to. Covers will also stop cold winds, so we would suggest keeping them on permanently in winter.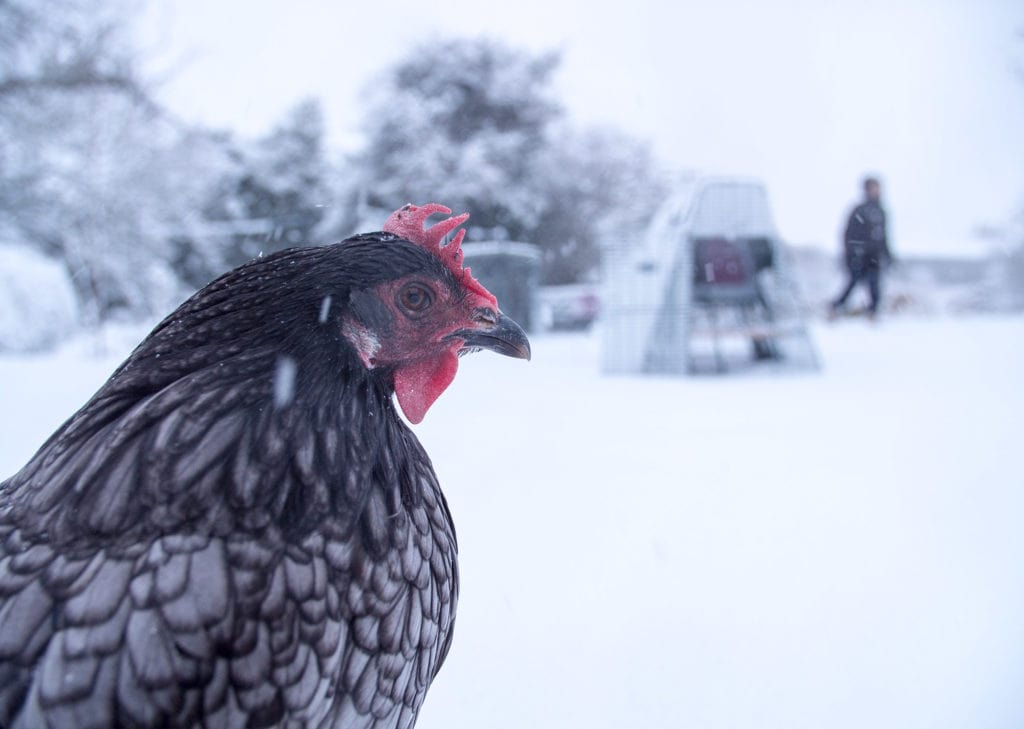 This entry was posted in Chickens
---