Getting a Guinea Pig? Here's everything you need!
Guinea pigs are fun, quirky companions for people of all ages and make fantastic pets. Though small, these little animals have bags of character and very distinct, individual personalities. If you're thinking of bringing some guinea pigs into your home, you'll be rewarded by conversational squeaks, affectionate nuzzling, and the comical sight of your pets devouring hay and vegetables like there's no tomorrow. If you're already an owner, then you'll know firsthand what enjoyable and easy pets they are to look after.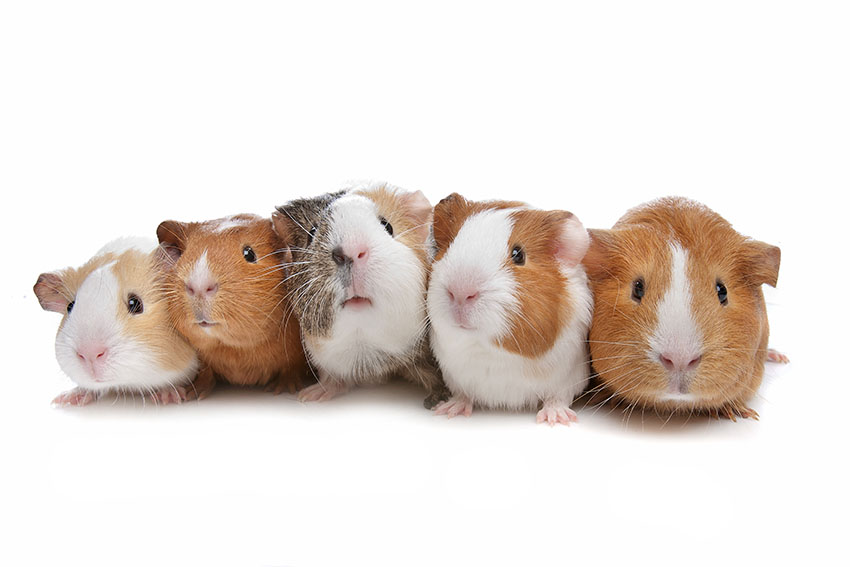 If you are thinking of getting a guinea pig here's a checklist of everything you need to keep your new pet happy and healthy! 
1 – A friend
Guinea pigs are very sociable animals, and will need to live together with a friend, or else they will get very depressed. Siblings of the same sex is normally the best combination, but males of different ages normally get along well as long as there are no females around. If you're planning to keep a male and a female guinea pig together and don't want plenty of guinea pig babies you must make sure to get the male castrated.
2 – A safe and dry house
Your guinea pigs will need a hutch to live in, even if you intend to keep them in your home. Whether you opt for a modern hutch like our Eglu Go Guinea Pig Hutch, or a traditional wooden hutch is up to you, but which hutch and run you choose, and where you keep it, requires some careful thought.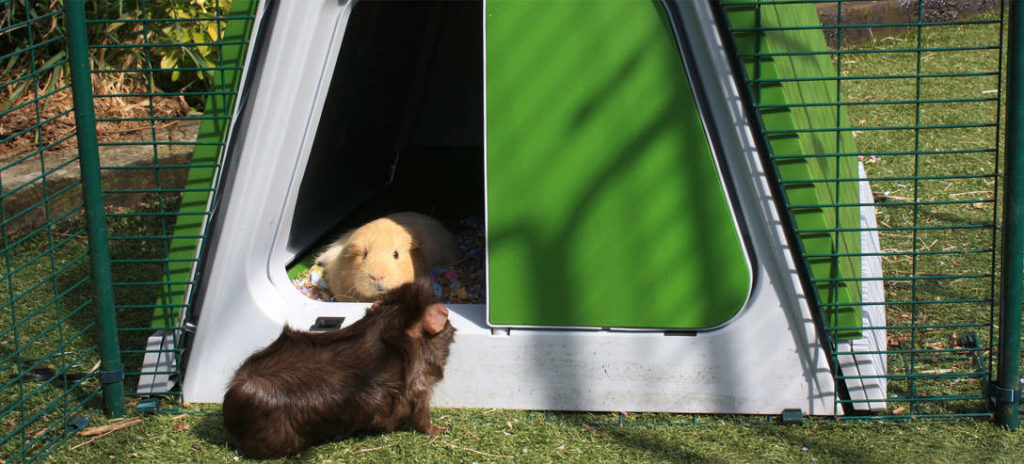 A good hutch is vital to a guinea pigs' wellbeing. It's their home, and where they'll spend the vast majority of their time. Well-made hutches provide a secure environment for your guinea pigs to sleep, socialize, and exercise, and a good hutch can last you and your pets many years, especially if you invest in a solid, robust model.
The Eglu Go Hutch is the simple, stylish, straightforward way to keep pets. Suitable for two to three guinea pigs, this will make a wonderful home for your new friends. It has been designed to enable your pet guinea pigs to express their natural instincts, offering them a fun environment that will make them feel really at home.  
3 – Space to run around and play
Guinea pigs love exercise and space to play, so they need to spend time in their run each day. If your guinea pig hutch has a run attached, like the Eglu Go Guinea Pig Hutch, simply open the door to the run when you bring your guinea pigs their food in the morning. If your hutch doesn't have a run attached, then it's a good idea to give your guinea pigs an opportunity to stretch their legs each day by purchasing a standalone guinea pig run. If your run is outside then, weather permitting, your guinea pigs would like to be be put out there each morning and brought back each evening. Take this opportunity for a cuddle!
You can enhance their living space by providing Guinea pig activity tunnels linking hutches to runs and playpens. It's a practical add-on that appeals to the animal's instincts too – in the wild they are wary of open spaces, darting for cover under a bush or in a grass tunnel, whenever they sense danger.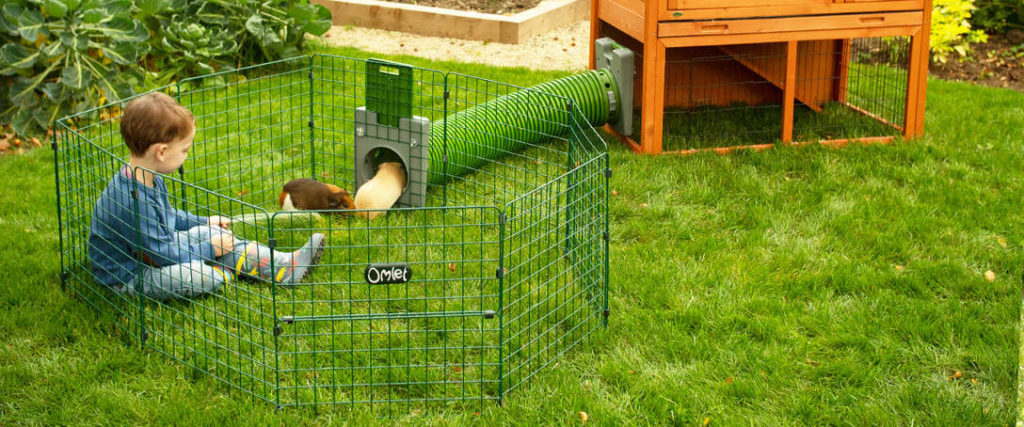 The Zippi Guinea Pig Tunnel System is custom made with all this in mind – something that keeps the Guinea pigs happy at an instinctive level, while providing a practical addition to your set up, and bringing hours of fun for the family. The Zippi's Guinea pig burrow pipes connect all the different areas used by your pets. Its Guinea pig hutch connector is suitable for whatever house you have provided for your pets – whether that's The Eglu Go Hutch, a traditional wooden hutch, or something you've put together yourself. It connects very handily to The Zippi Playpens and Runs and The Omlet's Outdoor Pet Runs.
4 – Food and Water
Guinea Pigs need constant access to food, so make sure you refill their dry dry food bowl twice a day. Fill their hay rack and cut up some fresh fruit and veg for them to munch on. Be sure to keep their water bottle nice and fresh, too.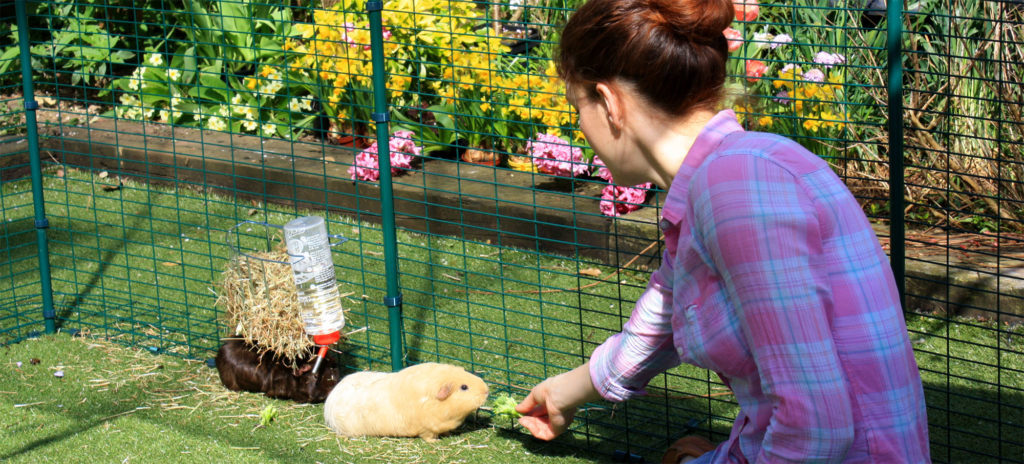 Guinea pigs will eat virtually anything! As well as grass in the summer, they can be given a variety of wild plants such as dandelions, plantains, chickweed and milk thistle. When wild plants are not available they can be given vegetables, herbs and fruit. The key is to introduce as many different fresh foods when they are young, as they may be reluctant to try something new as they get older. Do however stay away from potatoes, onions, raw beans and beetroot, as well as anything bloating. 
Hay is another important daily component of their diet. Only the best quality hay should be fed, and it should not be either dusty or mouldy. If you have somewhere to store it, it is often worthwhile to buy a bale from a farm, of a quality that would be fed to horses. As well as eating it, they will snuggle under it for warmth. Straw should not be used; it has no nutritional value, and the sharpness of its stalks often causes eye injuries as the guinea pigs burrow around in it.
5 – Vitamin C
The most important fact to know about guinea pigs is that, like us humans, they need a daily intake of Vitamin C. This can be provided by providing a balanced diet with plenty of fruit and vegetables. Most good guinea pig dry mixes now also contain vitamin C. Carrots and Broccoli are great sources of vitamin C, and a carrot a day keeps the vet away!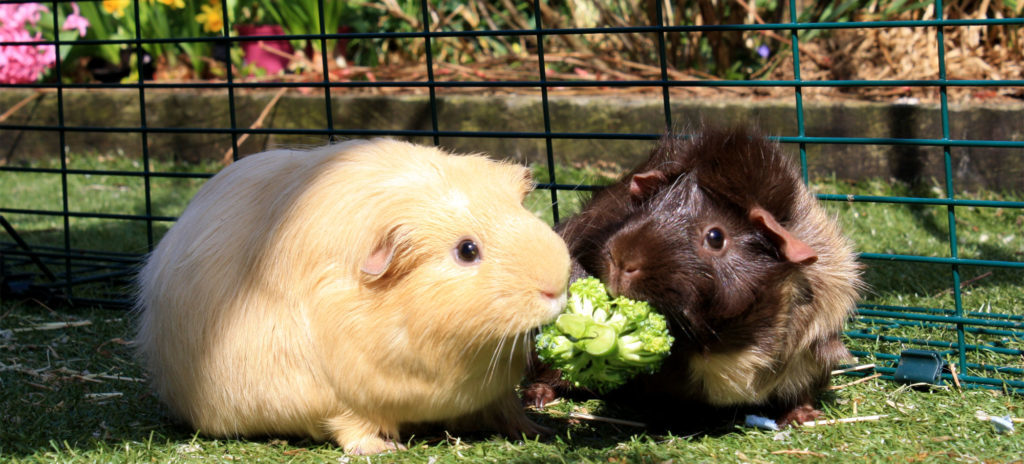 6 – And finally……..a routine!
Guinea pigs soon get used to a routine, and will reward you with welcoming squeaks as soon as they hear you open your back door. It is important to check on your guinea pigs at least twice a day, in the morning and evening. However guinea pigs love human company and the more time you can spend with them the happier they are.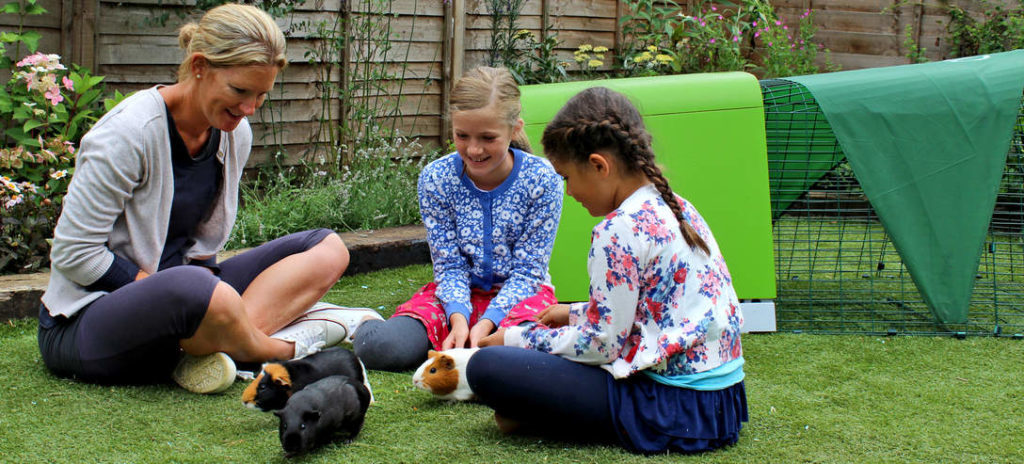 For further information about Guinea Pigs, please read our guide here
This entry was posted in Guinea Pigs
---