Top tips for the first week with a puppy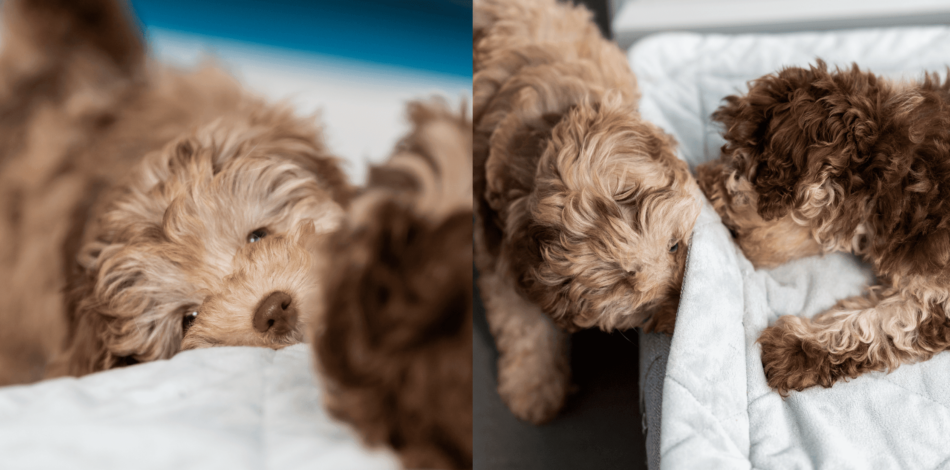 Bringing home a puppy is a very special time for everyone involved. And as with welcoming any new family member, your tiny, furry addition will inevitably change the dynamic of your household. With that, may come a few bumps in the road, also known as puppyhood. It's important not to forget that as exciting as this time can be, it can be quite a daunting experience for you and your puppy. But, seeing the exciting world through the lens of your new forever friend makes the first few restless nights and teething issues all worth it. Here are our top tips for the first week with a puppy.
Take some time off work
Once you know when you'll be collecting your puppy, it's wise to take at least a week off work to stay at home. The first week will be a learning curve for you and your puppy, so it's a good plan that you spend this time together building a bond, establishing a routine, and of course, having fun. It's also an opportunity to start toilet training with your puppy, and since dogs of this age need to go potty a lot more frequently than their adult counterparts, you'll need to be on hand to let them in and out of the home.
You should also have considered what your arrangements will be after the first week off work with your puppy. Will you be available to frequently check in on them? Is your partner going to be working from home? Most puppies under 10 weeks old can't hold their bladders for more than an hour, so you should think about whether you're able to make this big commitment with your current lifestyle. Fortunately, many workplaces are now dog friendly, so this might be an option for you as your puppy gets older.
First impressions count
The first few days with your puppy are crucial for establishing a strong and positive relationship with your pet. Take the time for everyone in the household to interact with your dog; playing, cuddling, and stroking them. Your new puppy may also be a little weary of you, to begin with. Be very gentle when you're handling them and slowly you'll be able to develop their trust in you and become familiar with your touch, voice and scent. Introduce them to a couple of dog toys and reward any good behavior with dog treats. 
Once the news gets out that you're getting a puppy, friends and family are bound to want to visit, but take it slowly. Socialization is key to having a well-rounded dog but there will be plenty of time for others to meet your new furry friend. Introduce people to your puppy gradually and don't forget that your pup shouldn't be interacting with unvaccinated or unknown dogs, as well as visiting areas by freshwater, areas that are known to have a rodent infestation, or anywhere that unvaccinated dogs could have visited until they're fully vaccinated themselves.
Be consistent with feeding time 
Dogs love routine, so to maintain as much consistency as possible, it's wise to follow the same diet as the breeder or rescue was feeding the litter. This is especially important while your puppy is already navigating a confusing change to their environment. Find out as much information as possible before you go to collect your puppy, so you have time to research and purchase the appropriate food. Once your puppy is home, follow the diet as closely as you can, and if transitioning to a different type of food, do so gradually to avoid upsetting their sensitive stomachs.
Find a dog bed that will stay with them forever
Puppies sleep…a lot. In fact, they can spend up to 20 hours of their day snoozing away but after a day filled with zoomies and making mischief, it's hardly surprising they need somewhere super comfortable to get some shuteye. It might be tempting to let your dog sleep on your bed, especially with their irresistible puppy eyes but in the long run, they'll thank you for providing them with a bed designed just for them. 
Omlet's Topology Dog Bed was built to last. With a memory foam mattress base that molds to the shape of your dog and a choice of removable toppers for you to easily wash clean, the Topology is what dog bed dreams are made of. For puppies, The Quilted topper is perfect, made from an ultra-durable, hard-wearing material that even razor-sharp puppy teeth can't rip through. Plus, you can even add a puppy pad beneath your topper for an extra layer of confidence. Should your pup manage to chew the cover on the Topology's memory foam mattress within 6 months to the extent of exposing the waterproof mattress cover beneath, we'll even replace the mattress cover for free. Find out more about the Omlet 180 Day Puppy Guarantee here.
Getting your puppy's bed right in the first week means that they'll soon associate it with their safe space from a young age. And since you can choose from 3 sizes, you can find the perfect fit for when your dog is fully grown. This bed will truly take your four-legged friend through from puppy to prime.
Use a crate
Dog crate training is invaluable, and can be started during your puppy's first week at home. Since you'll be unable to monitor your puppy's every move day and night, using a dog crate to use for short periods of time means that you'll be able to keep them out of harm's way when you cannot be with them. Dog crates are also a very useful training tool, and provide nervous puppies with a den they can call their own.
You can even add a dog bed, super soft puppy blankets and a couple of dog toys to your puppy's crate to create a cozy space. As your puppy gets older and begins travelling in the car, you can even take their crate with you so that they're secure and safe on their journey.
Omlet and your puppy
We're committed to bringing people closer to their pets, which is why we designed and carefully crafted the Omlet Puppy Bed and dog crates with puppies in mind. The joys of puppyhood also come with a few challenges but with this advice and Omlet's innovative products, the first week with your new puppy can be made as stress-free as possible.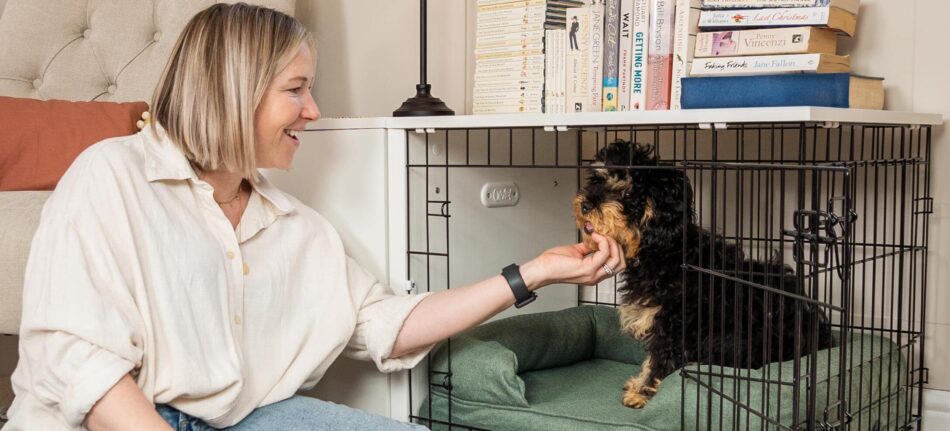 This entry was posted in Dogs
---