Ultimate Chicken Keeping Checklist
If you're a first time chicken keeper getting started this spring, you will likely be wondering what exactly you need to take care of your new pets. Some things will depend on your garden and how many chickens you will be getting, and others are a standard essential for all chicken keepers. We've put together this handy guide for everything you need, plus there is a checklist at the end for you to use when shopping.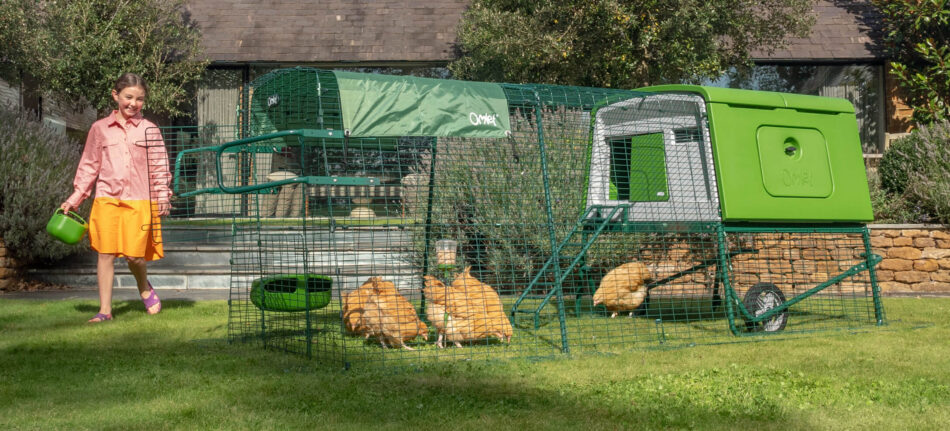 The Coop
First things first – housing. Your choice here will mainly depend on the number of chickens you plan on getting. At Omlet, we recommend a plastic chicken coop to reduce the risk of red mite infestation and to keep your girls completely weather protected. The traditional wooden chicken coop may look nice but they are harder to maintain, keep waterproof and red mite free.
Our Eglu chicken coops not only look great (available in purple or green), but they are also completely weatherproof, twin-wall insulated, and super easy to clean, making it virtually impossible for red mites to survive.
The Eglu Go Chicken Coop and Go UP Chicken Coop are a good starting point if you are only planning on getting 2 to 4 chickens. The house is the same, with a pull out droppings tray, nesting area, roosting bars and easy open back door, the only difference is that the Go UP comes on a stand with a ladder up to the coop, making the run taller, giving more space for hentertainment and allowing your chickens to roost off the ground.
The Eglu Cube Chicken Coop is our largest coop. It is suitable for up to 10 smaller bantam breeds such as Pekins, 6-8 medium sized hens like the Rhode Island Red or 4-5 large breeds like the majestic Cochin. The Cube also has a back door and pull out droppings tray, plus a side egg port for you to easily collect your eggs from the nest box (which is big enough for 3 chickens to lay at once).
The Run
The Eglus are available with a fox resistant chicken run made from strong steel weld mesh, impossible for predators to break. A unique anti-tunnel skirt sits flat on the ground and prevents animals from digging in. Choose your run length based on how many chickens you will be getting and how often you will be able to let your chickens free range. If you start with a smaller run to begin with and realise later on your chickens need more space, we have chicken run extensions available, or you may want to consider a larger Walk in Chicken Run to give your chickens lots of space and make it easier for you to spend time with them and look after them.
A number of accessories are also available for your Eglu run including wheels and run handles to make it quick and easy for one person to move the coop and run to another area of your garden.
Something else you may want to consider for your garden set up is Chicken Fencing. Although, not predator proof, chicken fencing allows you to section off an area of your garden to keep your chickens in one place. This is especially useful if you have a larger garden that you don't want your chickens to get lost in, or if you have a vegetable patch or flower bed to protect. This is best used when you are home or at a time when you know foxes are not about in your area, so you know your girls are safe free ranging outside of their coop run.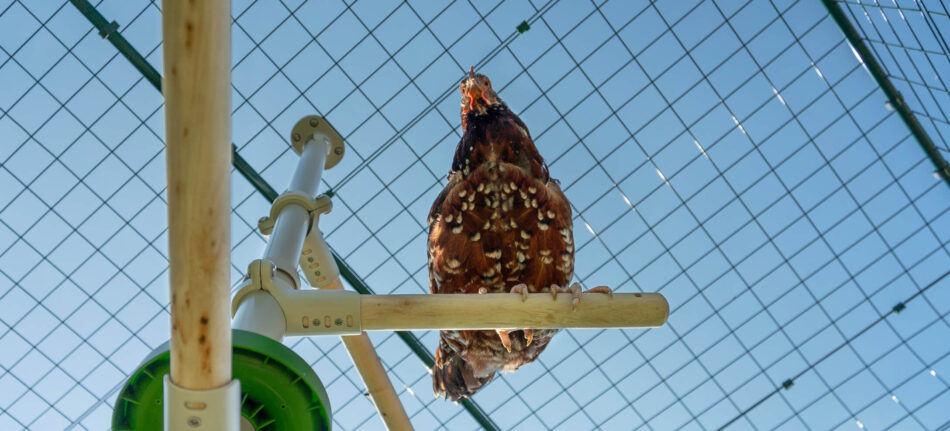 Hentertainment
Like any other animal, chickens can get bored and need good sources of what we like to call hentertainment to keep them occupied when you are not around.
Our Chicken Peck Toys slowly release treats over time while being pecked and offer hens great boredom busting fun. The Omlet Chicken Perch can be placed anywhere on any chicken run, and allows your hens to fulfil their natural desire to perch from the highest point available while in their run during the day. 
If you have a larger run or enclosure, you can accessorize it with the amazing PoleTree Chicken Perch Tree. The main pole of the PoleTree attaches to the roof of your run, and you can then add as many poles, perches and accessories as you like, creating an amazing poultry playground!
Weather Protection
For spring and summer time you may want to consider a shade for the run to give your chickens a cooler area out of the sun where they can chill out.
For winter, an Extreme Temperature Blanket is ideal for keeping the coop warm when temperatures drop below freezing for multiple days in a row. There are also a number of run tarps and wind breaks available so your chickens can still enjoy time outside while being protected from the elements.
Food
For laying hens you will need to provide layers pellets which offer the protein content they need to stay healthy and regularly lay eggs. A fully grown chicken will typically eat about 120 grams of layers pellets a day. You will also need to provide grit which is essential for helping chickens digest their food, as they do not have teeth.
Corn is a great treat for hens but should be limited as it is high in fat. Other treats, such as fruit, green veggies and cereals should also only be given in limited supply to avoid chickens filling up on those rather than the layers pellets.
It also important to ensure fresh water is available at all times – checking and refilling it daily.
Our Eglus all come with a feeder and drinker but you may want to consider buying extra to offer another area in your garden for when they are free ranging, especially important for chickens who don't like to share with their coop-mates!
Bedding
There are lots of different types of bedding available on the market, and which you choose is entirely dependent on your personal preference. Some to consider include dust extracted wood shavings, straw, chopped cardboard, Aubiose and Easichick.
Cleaning
When you give your chickens' droppings tray and bedding area its weekly clean, you might want to consider sprinkling some Diatom Powder around to prevent any bugs making a home in your chicken coop, and adding some BioDri to bedding will help to sanitize the litter, make it last longer, and reduce the growth of bacteria.
Deep clean your whole coop once a year with a disinfectant such as Johnson's Clean 'n' Safe to ensure the coop is spotless.
Last but not least: Chickens!
When you have everything in place and are ready to get some chickens, we strongly recommend looking to charities to rescue an ex-battery hen. While these hens may be a little more wary of their new home and the strange environment they are not used to, they will soon come round and settle in and be a great layer for you and your family.
Ultimate Chicken Keeping Checklist
Coop

Run

Fencing

Run wheels/handles

Run shade and covers

Toys; perches, treat dispensers

Feeders and drinkers

Layers pellets

Corn

Grit

Bedding

Diatom powder

BioDri

Chicken-safe Disinfectant
This entry was posted in Chickens
---