Your Cat's Guide to Thanksgiving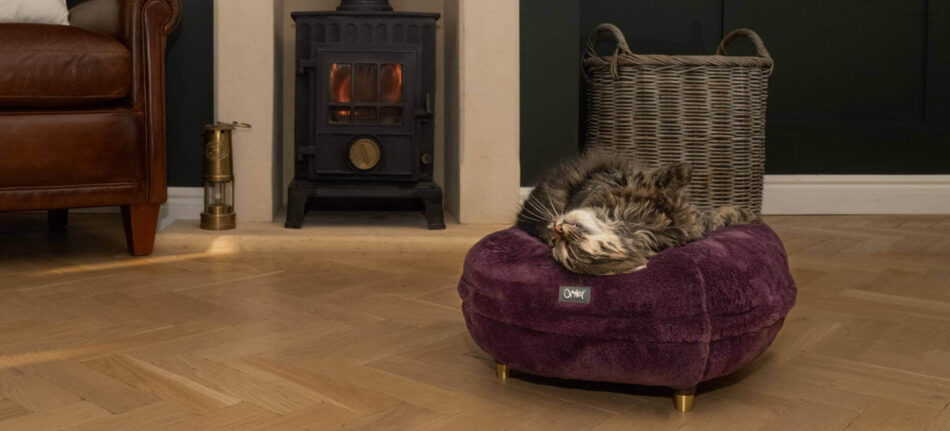 Tis' the season for turkey, stuffing and everyone's favorite, pumpkin pie! Thanksgiving is a time for gathering with your family and friends and delighting in the deliciousness of the holiday.
While it's important to soak up all the wonder of this magical time, don't forget to make sure your cat enjoys this wonderful time of year, too! Keeping your kitty safe this Thanksgiving means knowing the "do's and the don'ts" of holiday cat safety and we have your guide for everything you need to know!
Safe Thanksgiving foods for your cat
With the scents of apple spice permeating your kitchen and the smells of rosemary wafting from the oven, it's hard not to want to share the delicacies of Thanksgiving with your favorite feline! No more than 10% of a cat's diet should come from treats, and that is especially true during the holidays!
We know you want to include your feline friends in the festivities so here are some foods that are safe to feed your cat – in limited quantities! – this Thanksgiving:
Turkey

: The big question every pet owner wants to know is, "Can my cat eat some of the turkey too?" And the answer is "yes"! Just make sure the nibbles they eat are unseasoned, fully cooked and without bones! Certain spices, like garlic and onion, can make a cat sick, so be sure your cat's turkey portion is plain but delicious.
Apples:

If apple pie is on the Thanksgiving menu this year then your cat is in for a treat! Just like us, apples provide a nutrient-rich source of vitamins to our furry friends that are healthy for their bodies. Before putting the pie together, cut up an apple slice into small bites for your kitty to nibble on – it will be just like dessert for them.
Potatoes:

Whether you boil, bake or mash them, potatoes are a Thanksgiving staple on every holiday table. And good thing for your cat – they can enjoy them, too! Just be sure to include only fully cooked and dry potatoes for your feasting feline. Uncooked potatoes can be toxic to cats and butter can make them sick, so stick to the unseasoned cooked or chopped variety and your cat will dine delightfully.

Pumpkin:

What's Thanksgiving without a pumpkin pie? While we don't recommend giving your cat a slice of the decadent dessert, it is perfectly fine for your kitty to have some pureed or roasted pumpkin this Thanksgiving. This fiber-rich and vitamin filled fruit is loaded with water so it helps to keep you and your cat hydrated this holiday season!
Not-safe Thanksgiving foods to avoid for your cat
While sharing is caring, there can be some downfalls when it comes to giving certain Thanksgiving morsels to your cat. A cat's digestive system is much different than humans, so foods that we may eat regularly, could have serious side effects on your cat's health. 
Here is a list of Thanksgiving foods to avoid giving your cat this holiday season:
Chocolate:

With friends and family visiting your home, there are bound to be bowls of chocolate candies adorning the tables for intermittent sweet treats! But remember – your cat is curious and likes to climb, so any bowl left out (and unattended!) is a sure treat seeker for cats! Chocolate is extremely toxic to cats and can make them very ill if ingested, so keep the candies and the wrappers at bay this Thanksgiving or hand them out as parting gifts so you are sure your kitty is safe.
Grapes:

From waldorf salad, to ambrosia, to the always beloved fruit salad, grapes can be found in many dishes this Thanksgiving. But grapes and raisins are extremely dangerous for cats to eat as they will cause irreversible and sometimes fatal kidney failure. So be mindful when making your menu this holiday season and replace the grapes with a fruit that is more feline friendly, like apples!
Uncooked bread:

The smell of fresh baked dinner rolls is a Thanksgiving tradition in and of itself! And while it's ok for your kitty to nibble on a bit of cooked, plain bread, the uncooked dough can cause great harm. If ingested, the dough can cause severe bloating in your cat and be harmful to their digestive tract. So best to keep your kitty off the counter when making the bread and save it for them when it's warm out of the oven!

Alcohol:

It should go without saying that alcohol is not a cat approved menu item, but during the hustle and bustle of the Thanksgiving holidays it's a good idea to know where all the wine glasses are set throughout your house! Curious kitties seek out new things and half-drank wine glasses left on tables by unaware guests can lead to dangers for your feline friend. Even just a few sips of alcohol can cause vomiting and diarrhea for your cat, so make sure your guests keep their drinks with them at all times!
In the unlikely event that your cat does get a hold of some of these "no-no" foods, call your veterinarian immediately to get them help.
Feline friendly festive decor
Along with the delicious foods to dine on, the Thanksgiving spirit is felt with the decorations draped throughout your home for that cozy, winter wonderland feel! But as a cat owner, it's important to know which festive decor items could be potentially harmful for your feline friend.
Adding festive plants around the house to spruce up the holiday feel can, unfortunately, be dangerous for your cat. While there are many plants that are safe and non-toxic for your cat to be around, the traditional holiday plants such as poinsettias, holly, and mistletoe are extremely toxic to our feline friends. So if you are set on having those red and green foliage feels, consider using fake plants that produce the same holiday happiness but are safe for your cat!
Another popular decor item during the Thanksgiving holiday are beautifully scented candles. The flicker of the flames and the scent of warm vanilla can make an entire home feel full of warmth during winter! But open flames, whether candles or fires, can be a big danger for your cat around the holidays! A curious cat can quickly get burned, or worse, knock over a burning candle causing something else than to get burned. Instead, invest in some flameless candles to enjoy the festive glow and keep a gate in front of the fireplace!
And, finally, as you are adding lights around the house and Christmas tree, remember to keep those electrical cords covered. You can't stop your cat from being inquisitive, but you can stop them from getting hurt! Exposed electrical cords are like a welcome call to cats to come and chew, and you don't have to be a cat owner to know that's not a good thing. So as you are decking the halls with lit up wonder, make sure you tape down and cover the cords so your curious kitty can be safe and enjoy the view, too!
Cats and Thanksgiving guests
As you welcome friends and family into your home to celebrate the Thanksgiving holiday, remember that it is your cat's home, too. While your cat may not pay the mortgage or the bills, they certainly do feel a sense of ownership to where you live. 
So what do you do if your cat doesn't like house guests? With all the commotion that can come with hosting people at Thanksgiving, be mindful of your cat's personality to make sure their accommodations are met with peace this holiday season, too. Some cats love company while others are afraid, so before you tidy up the guest bedroom, here are some tips and Omlet products to consider:
Create a kitty cave
If your cat is a stranger to strangers, then it's super important this holiday season to make sure they have a place to escape. Dedicate a room in the house where your cat can retreat to in order to avoid any stress. You can even put a climbing tree in there, like the Freestyle Indoor Cat Tree designed by Omlet, so your cat can have fun festivities of their own! Don't have a room you can solely dedicate to your cat? No problem! Create a peaceful sanctuary with the Maya Indoor Cat House designed by Omlet so they can cozy up to a getaway nap. Place the cat house in a secluded space, such as a corner, so your cat won't get disturbed!
Get tired ahead of time
The best way for your cat to avoid any undue holiday stress this Thanksgiving is to sleep right through it! Before your guests arrive, make sure you get in some quality playtime with your furry friend so they can tire out easily. The Maya Cat Toys designed by Omlet are made with 100% catnip stuffing so your kitty will get both the mental and physical stimulation they crave!
Cozy quarters to the rescue
While some cats like to run and hide when new people come into their space, many are open to meeting new faces and making new friends. But all cats like to have their own space when they feel like it! So for the kitty that likes to mingle – just not for too long – make sure they have a cozy spot to head to when they need a break. The Maya Santa Donut Cat Bed with Gold Hairpin Feet designed by Omlet will not only keep your kitty comfortable and cozy, but the Santa Claus inspired design will beautifully add to any holiday decor. Pair the bed with a super soft cat blanket and you just created the coziest cat quarters in town!
Thanksgiving is a time to reflect on everyone and everything in our lives that we are grateful for. As a cat owner, your feline friend is likely at the top of your "thankful" list! So keep the stresses and demands of holiday prep at bay by using these tips and products to make your cat's Thanksgiving one to remember! Without a doubt, you are at the top of their "thankful" list, too!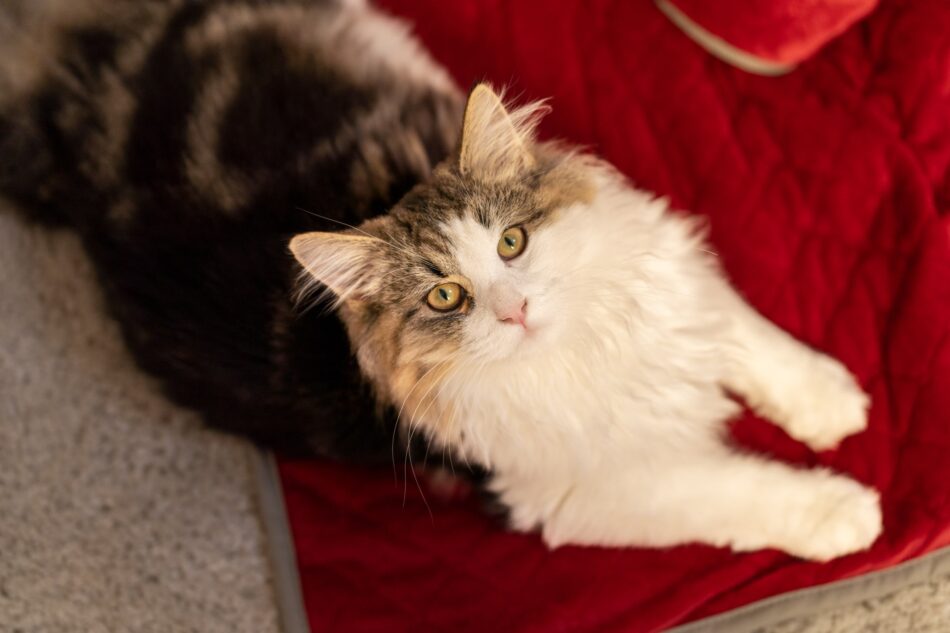 This entry was posted in Cats
---