Who Says You Can't Teach Your Guinea Pig and Rabbit Tricks?
One of the most rewarding experiences you can have with your pets is teaching them tricks, and despite what you may have heard, it's a lot easier than you might think.
Rabbits and guinea pigs are sociable animals, and they greatly benefit from spending time with their owners learning and playing. It can be a great way to establish trust between you and your pets and it's a lot of fun!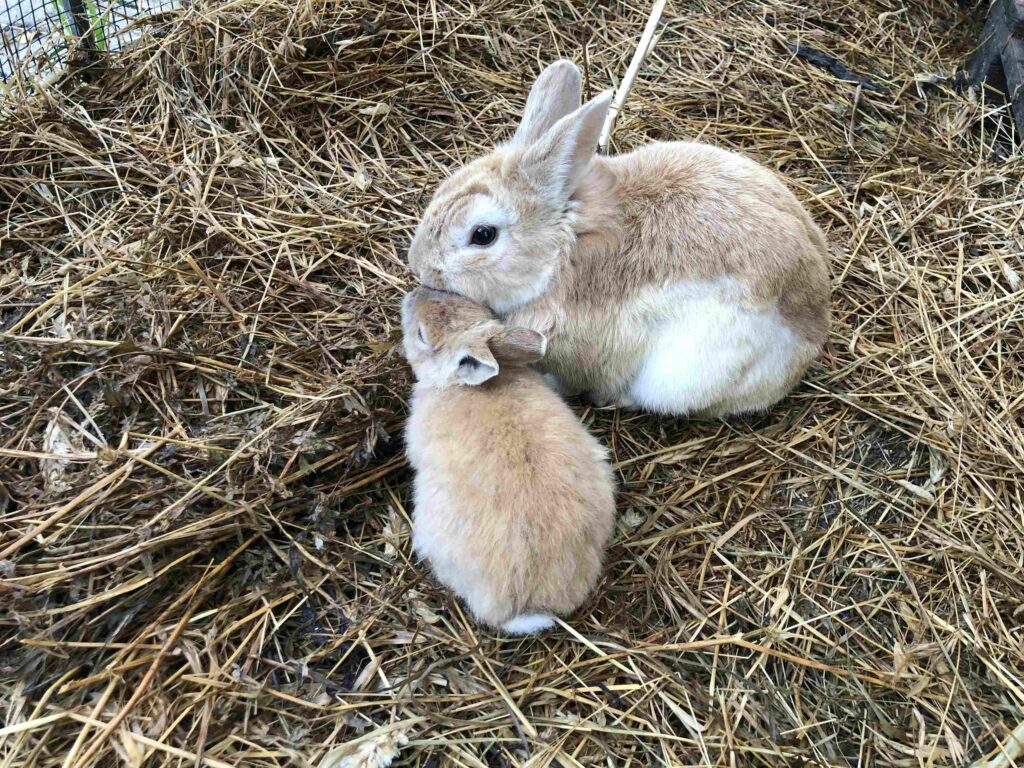 Training a rabbits or guinea pig works best when you can repeat it every day – even if it's only for five or ten minutes. Not only will your pets love the extra attention, having the daily routine will help them remember the tricks you perform together.
The first thing you will need is a quiet space away from distractions. Zippi Rabbit Runs and Playpens are ideal, giving you the secure and familiar space in which your pets can relax and enjoy the training. You will also need some of your rabbits' and guinea pigs' favorite treats to encourage and reinforce the learning.
It can be helpful to separate your pets when training them, but equally, some pets benefit from learning from each other – for example, if you have an older trained rabbit or a young, untrained one, the young rabbit can learn tricks faster by copying his or her older friend. Forget what you've heard about old dogs and new tricks – your pets are never too old to pick up new things!                                     Image Rolf Neumann from Unsplash
Rabbit and Guinea pig tricks for beginners
When you start to train your guinea pig or rabbit, it's all about patience and perseverance. Your pet might not seem that interested initially, but as you continue to reinforce their learning with treats, you will find they keep coming back for more. You should always start with something simple, such as 'Circling', a perfect trick for both rabbits and guinea pigs.
Training your guinea pig or rabbit to Circle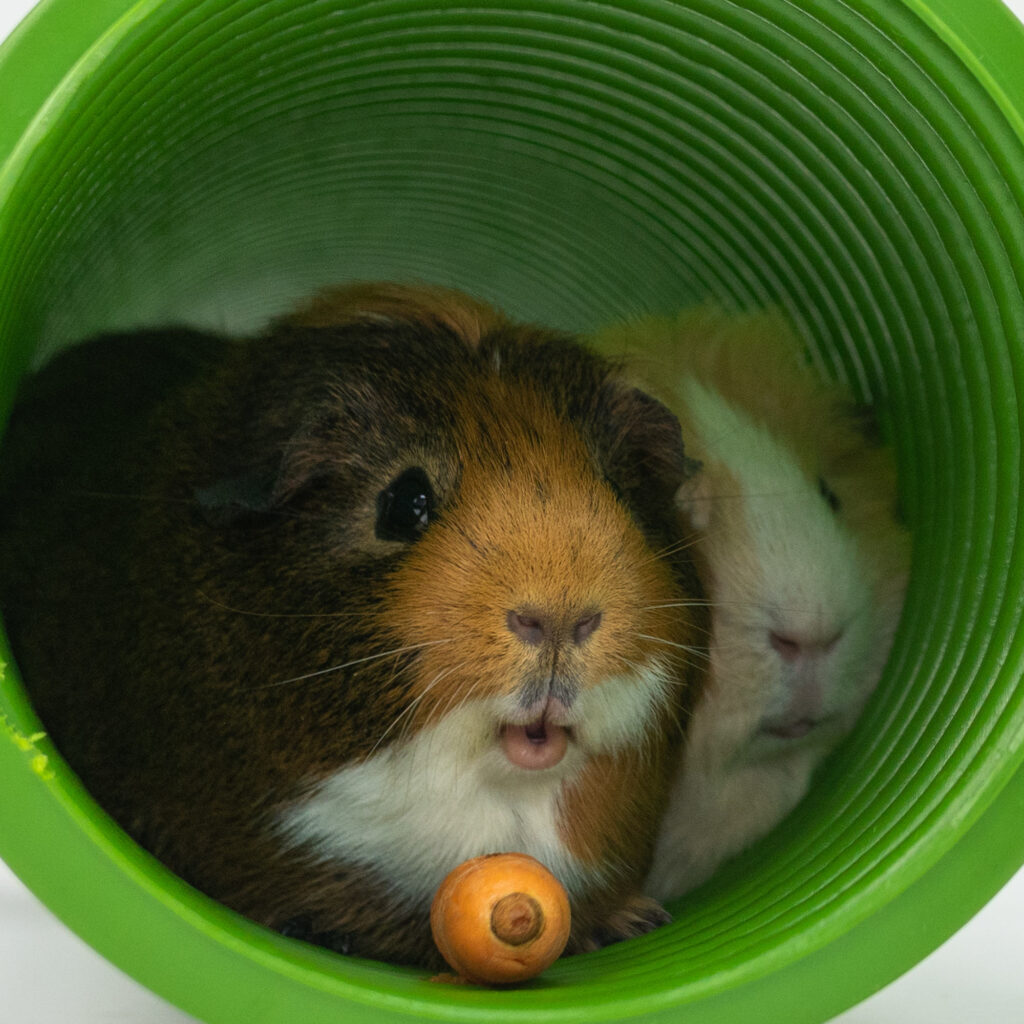 To teach your pet how to perform Circle, simply grip a treat tight between your fingers, and hold it close to your pet's mouth. Then lead your pet around in a circle with the treat – so that it spins on the spot. Repeat this until your pet spins around without you leading them, occasionally reinforcing them with the treat. It is important that you only give them a reinforcement treat when they successfully do the trick. Don't feel bad if they manage to steal the treat from you – it's all part of the experience!
Don't worry if this takes some time to learn – the first trick is always the hardest for your rabbits or guinea pig, and once they have mastered Circle, a whole world of tricks opens up for you and your pet to enjoy together! If your pet is struggling with Circle, try making them turn in the other direction – just like us, our pets are either left or right-footed.
There are all sorts of tricks that you can teach your pets using a similar method – teach your guinea pigs to go through a play tunnel in your Zippi Run by guiding them with a treat to the beginning of the tunnel, then place the treat at the other end of the tunnel as a reward. You can also teach your rabbits to first stand up by holding the treat just out of their reach. Also, when they have learned to stand, you can start by slowly moving the treat and you will soon find your rabbit taking its first steps on two feet to get that treat.
How to teach rabbits and guinea pigs 'Figure Eight'
If you've succeeded in all of these treat-leading tricks, then maybe challenge yourself by trying to teach your pet to walk a figure eight weaving between your legs – in the same way as you did with the "circle" trick. With some perseverance, you'll be amazed at what your pet can learn and remember. This is a great trick for showing off to your friends, and you'll find that your pets are a lot more comfortable around strangers after training.
Don't forget that the treats which you give your pets are a part of their diet, and if you're repeating your training daily as recommended, you may need to give your pet a touch less feed each day to make up for the extra nutrition they're getting from the frequent treats. You can further increase the effectiveness of your training by exchanging your dried treats for fresh leaves. Keeping the treats healthy is key!
How to make rabbits and guinea pigs answer to their name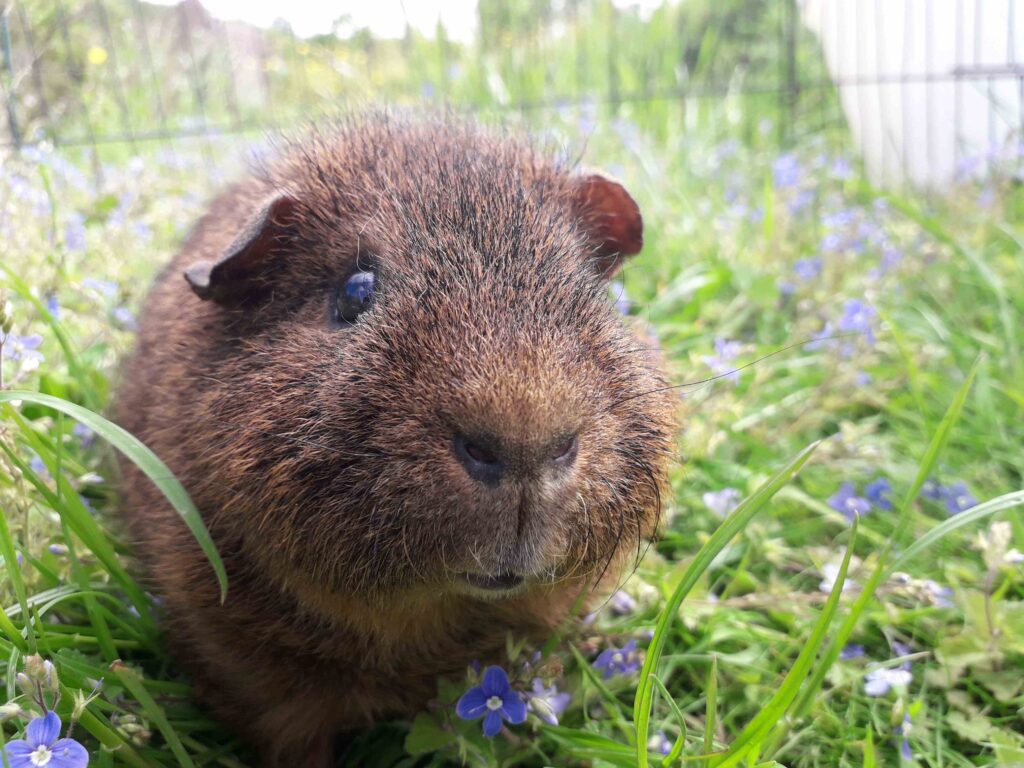 As with many tricks, the key here is treats. Offer the treat when you are close to the pet, and say the pet's name as you do it. Eventually, they will come to associate their name with the treat. The next step is to call your pet from further away, showing the treat. Repeat the name as they take it. Call your rabbit's name and give them a treat after they approach. After two weeks of this regular exercise – calling, treating – try calling your pet's name without showing the treat.
If the rabbit or guinea pig does not respond, they have not yet made the connection. Revert to the first steps, and call while showing – and giving – the treat. Once your pet has made the connection, they will scurry towards you when they hear their name. There's no harm in reinforcing this with a bonus treat now and then!
How to make rabbits and guinea pigs jump through hoops
The key to this trick is stick-training. You will also need the pet training device known as a clicker. To start training your guinea pig or rabbit- and over the first few days of training – simply hold the stick near your pet. When it turns to sniff and investigate the training stick, click the clicker and offer a treat. In time, your pet will come to associate the stick with a treat.
The next stage is to hold the hoop close to your Rabbit or guinea pig, slightly off the ground. Hold the stick on the other side of the hoop, and eventually your pet will jump through to get the treat. Guinea pigs will only manage a slight hop, whereas over time you can raise the hoop quite high for a rabbit.
How to make rabbits give you a High-5!
This is a complex one, and it is only suitable for rabbits. It involves a certain amount of 'click training', using a clicker.
The first step is to sit with your rabbit and wait for it to lift a paw – they do this frequently – clicking whenever it does this action. For the first few days, this is far as you'll get – raised paw, click! You can speed things up by offering a treat high off the ground – the rabbit will lift its nose, and then its paw. Be ready with that clicker when the paw is raised!
For the next stage, position your hand near the rabbit, on the ground. When the raised paw is put down again, it will touch your hand. As soon as it does, give the clicker a click and offer a treat. Once the rabbit begins to understand, you can move your hand further away. The key is to make the rabbit realize that the click and the treat only occur when they touch your hand.
By keeping your hand on one side of the rabbit, rather than in front, you'll make sure the paw-to-hand contact only involves a single paw – a key detail of the high-5. The rabbit will eventually know that touching the hand delivers the treat. So, the next step is to put your hand out and wait for the rabbit to make the connection and high-5 it. Once it does, give it the click and treat treatment!
This process can take time – but it's a great trick, and one that will genuinely amaze everyone who watches it!
If you have a large group of rabbits or guinea pigs, training them is a great way to give your pets some individual attention – you might soon find that it's both you and your pets' favorite part of the day!
This entry was posted in Guinea Pigs
---