5 Reasons You Need the Omlet Autodoor for Summer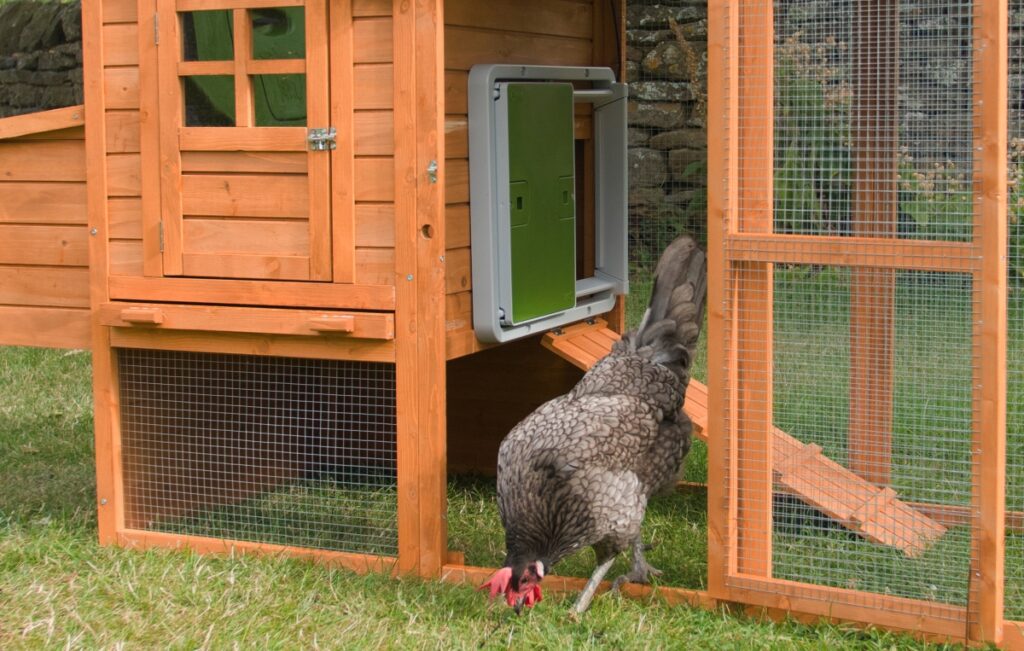 The Omlet Autodoor is a trusted coop companion for thousands of chicken keepers across the world and, just as in the dark winter months, the Autodoor offers ultimate flexibility and convenience for you and your chickens in summer too. Here's 5 reasons you need the Autodoor for Summer…
1. No more early mornings!
The Omlet Automatic Chicken Coop Door allows you to open your coop door in the morning without even getting out of bed, perfect for the early sunrises of Summer when your chickens want to get out and stretch their wings.
2. Light sensor adapts to the changing season
You can set your Autodoor to open and close at a selected time, or you can use the clever light sensor and set the door to open and close at a certain light percentage, meaning the timings will adapt with the changing season so you don't have to remember to do it yourself.
3. More play time for your chickens
As the sun rises earlier and earlier in Summer, your chickens will be desperate to get out and play even earlier too. Now they can step out at dawn, and they won't have to wait for you to start their day!
4. Improved coop security
The Omlet Autodoor opens horizontally making it far safer than other vertical, guillotine-style automated coop doors which can be easily lifted up by predators.
5. Get 15% off green Autodoors now…
when you sign up to the Omlet newsletter! Get life changing coop flexibility and save $33 for a limited time only! Sign up to the Omlet newsletter here to claim your discount code.
Don't just take our word for it, here's why our customers think the Autodoor is an essential coop accessory for Summer…
Donald – "We chickens have had our automatic door for about a month and we love it. When it gets light the door opens and when it gets dark it closes. We no longer have to wait for our humans to come out late in the morning with some excuse about having overslept. I mean, really people?! There are bugs to be had and things to scratch and explore!" 
Becky – "I love this door. No need to rush out when I just want to lay in bed 5 more minutes. They put themselves away at night and I don't have to worry about something getting them. They are safe and sound. Battery last long, easy to program. Tested the sensor and it worked perfectly. Very happy with this purchase!" 
Mary – "OMG. We installed the door a few nights ago and stood outside the coop like it was New Years Eve to watch the door shut. I can't tell you the freedom this gives us. No more worrying about getting home to shut the coop door, no more getting up at dawn through all sorts of weather. The door is also very secure. No animal can possibly pry it open. I just ordered a second one for my other coop!" 
John – "My wife was skeptical when I ordered the Omlet auto door! The fist morning she looked out of the window and saw all of our Girls out of their coop and roaming the pen without having to get out of bed, she said it was LIFE CHANGING!" 
 
15% off Green Autodoors when you sign up to the Omlet newsletter!
Terms and conditions
This promotion is only valid from 03/17/21 – midnight on 03/18/21. Once you have entered your email address on the website you will receive a discount code that can be used at checkout. By entering your email you agree to receive the Omlet Newsletter. You can unsubscribe at any point. This offer is available on the Green Autodoor only. The offer does not apply to the Grey Autodoor. This offer also excludes the power adaptors for Autodoor, Autodoor Replacement Wire and Duracell Batteries. Offer is limited to 2 green Autodoors per household. Subject to availability. Omlet ltd. reserves the right to withdraw the offer at any point. Offer cannot be used on delivery, existing discounts or in conjunction with any other offer.
This entry was posted in Chickens
---