Could You Be The Next Omlet Ambassador?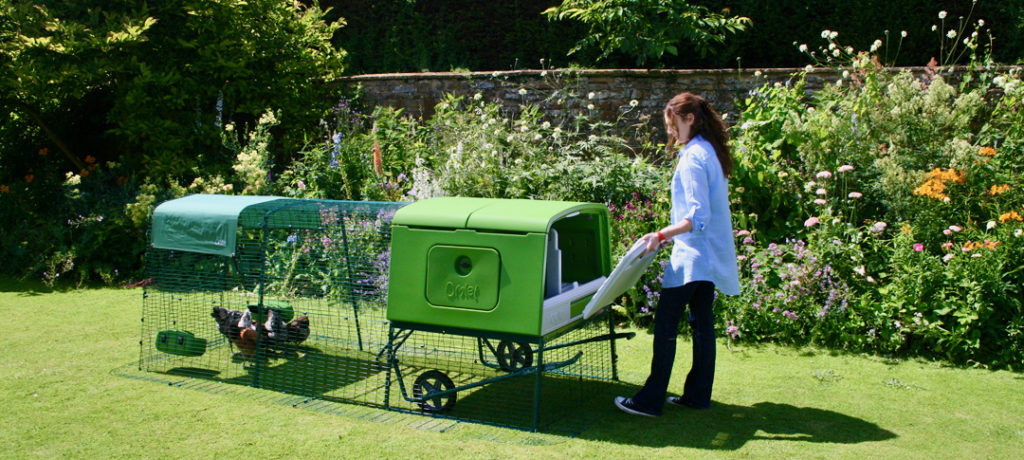 If you own and love an Omlet product and like talking to other people about your pets, then becoming an Omlet Ambassador will definitely suit you! 
The Omlet Ambassador programme offers a really great way for people to not only see the products they are interested in, but also ask an owner all about it, like a live, interactive review!
If you speak to someone that then goes on to buy, you will get commission on their order. On top of that, Omlet customers in other countries have found lots of like minded friends through the Omlet Ambassador programme so it's a great way to meet people who share your hobby in the area!
We spoke to two of our US ambassadors, Sueellen and Jennifer, about their experience of being an ambassador, and this is what they had to say:
---
Tell us about your chickens and your setup!
SE:
I am fortunate enough to have 2 different communities of very sweet chickens! We have 8 chickens right outside our side door and we have 23 chickens in our pasture in the backyard. We have had this arrangement for 3 years.
J:
The first is five barred rock layers. We have had them for about a year. They are in the Omlet Coop with a run and an outdoor enclosure. They get along well with each other, but won't accept any new members. They are good sized birds but do fine in the space we have. We could increase the size of the flock no problem in the coop setup that we have.
We also have 1 white silkie, 1 blue "satin" silkie, and 2 silkie mixes (probably silkie/polish – the white one is a sizzle, the black one not sure). They are all hens except the satin. They lay but are really pets. We have had the polish/ silkies for about a year and the silkie for 6 months. The white silkie is a hen but thinks she is a rooster – his/her name is Juancho. She sings and talks all day long. Quite a character. The blue satin silkie is new to the flock. We have to be a bit more careful with them in cold weather  and rain because they are so small, get wet easily and cannot fly. During the day we keep them with our Kune Kune boars Max and Luigi who help keep them safe and warm.
What do you like about your Omlet products?
SE:
About 10 years ago we got our first chickens and the entire family (all 6 of us) loved having them. We loved their darling and hilarious personalities, and we loved getting the beautiful eggs as well. But over a short time we began to lose our chickens to many predators! It was heartbreaking to say the least! Fortunately, one of my daughters discovered the amazing Omlet products at a trade show. She told me about the Omlet coops and the pet runs and various other products! I fell in love immediately!
I love love love the way the Omlet products look. They are beautifully designed and are very easy to clean and maintain! 3 years later my coops look new! I love the pet runs especially, as they can be smaller or larger depending on your flock needs. I love that I can walk into the runs without bending down or getting on the ground. This feature enables me to easily feed, water, clean, visit and bond with my flock!
J:
We love the Omlet coop and enclosure. It's very easy to keep clean and we have had (so far) almost no hygiene/sanitation issues. I believe that the plastic helps minimize this vs. wood or porous material. The coop is warm in the winter and stays cool in the summer even in our extreme heat. We have a lot of predators and so far, no one has been able to get in. They seem to have a hard time even getting on the coop because of the rounded roof so that is an extra plus. I also like that the product is simple – just three levers to use – simple. Everyone seems really happy and the barred rocks average an egg a day!
What's your experience with being an Omlet ambassador?
SE:
I love being an Omlet Ambassador! I love all the products and the versatility they offer! I love my chickens! They are a sweet, hilarious and adorable part of our family. It is super fun to collect farm fresh healthy beautiful eggs everyday!
It was a very natural progression to become an Omlet Ambassador because I love the products, and I really enjoy sharing my experience, my knowledge and my love of chickens! I enjoy showing other chicken enthusiasts or others just curious about chickens our set-up!
J:
I decided to become an Omlet ambassador because I really believe in the product and my interactions with the company have been very positive – seems like a nice group of people out trying to sell a great product.
What does a normal visit or contact from a prospect look like?
SE:
Often a person considering getting chickens and/or a chicken coop will contact me by email with a few questions. We begin a dialogue and set up a visit for them to see the fabulous Omlet products at work! We choose a time convenient for both of us! Once people see the chickens and the Omlet Coops, they can't wait to get started with their own amazing Omlet community!
J:
Pre virus, we had a few visits – everyone was very well informed (people really do their research!) and mainly wanted to see the product up close. I think part of it is the cost – it is expensive and therefore people want to make sure it's the right thing before committing.  Recently, we have had a lot of inquiries from people who are looking at getting chickens for the first time, probably driven to it by the high cost of eggs here in California. Some of them say they are a bit intimidated by the whole thing and again, want to make sure they are doing the right thing. We are definitely not chicken experts but the Omlet products help keep things simple – I am very confident that our ladies will be safe and clean, which seems to be half the battle!
---
If you think you would want to become an Omlet ambassador, send us an email and we will send you all the information you might need!
This entry was posted in Pets
---