Cat Tail Facts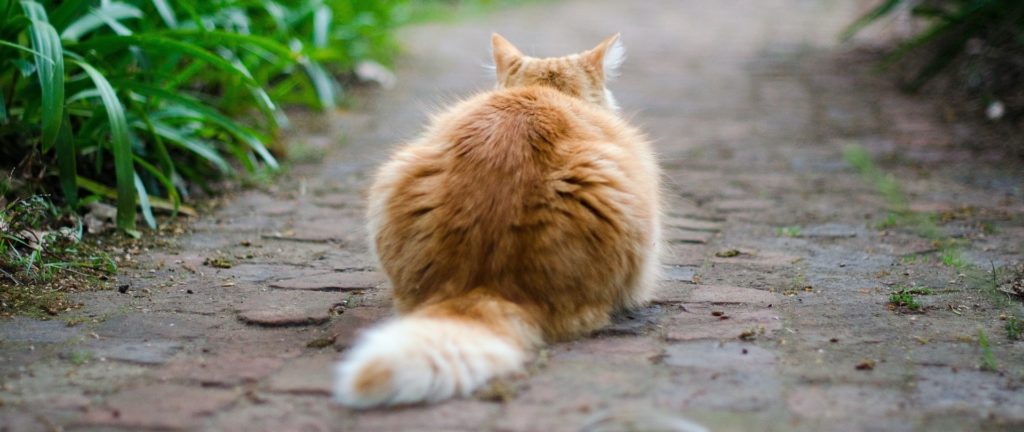 A cat's signature move is the slinky walk with an upright tail. Intriguingly, no other cat species walks like this, and it is not known exactly when pet cats first adopted the posture.
The domestic cat's ancestor, the African wildcat, hooked up with humans more than 10,000 years ago. They probably adopted us, rather than the other way round, attracted by the surplus of rodents nibbling away at our grain stores. It seems pretty certain that the feline freeloaders soon adapted their body language – tails included – just to please us, quickly securing their place on the sofa.
The following cat-of-nine-tails facts tell you everything you need to know about your pet cat's swishing tail.
1 – Balancing Act 
Cats have fantastic balance. Their tails play a major role in this skill, acting as a counterweight when puss is 'tightrope walking' on narrow walls or ledges. The tail also helps cats run and change direction with great agility – and without stumbling. Next time you get the chance, watch a cat run and turn – if a human took some of those feline twists and turns at a similar pace, they would simply fall over.
2 – Tails Tell Tales
 Cats communicate with their tails, sending out subtle signals. The most familiar signal is the upright tail, a sign of a happy cat. In moments of great pleasure, the upright tail will quiver at the tip. This is not to be confused with the twitching tail of a resting cat, which means she's irritated. Once the cat is on her feet and the tail is swinging from side to side, she's switched from annoyance to anger, so watch out!
3 – Let us Prey
When they're stalking prey, cats tend to keep their tails low and still, but they may still flick and twitch in excitement as the moment of pouncing draws near. If the hunt is unsuccessful, the tail will twitch restlessly in irritation.
4 – No Tail to Tell 
Some breeds, including the Manx, are born without tails, due to a dominant gene. Two tailless Manx cats should never be allowed to breed, however, as a combination of the two dominant genes brings severe health problems to the kittens. The curly tail of the Bobtail breeds doesn't come with the same potential health problems as the Manx cat gene. Both the Manx and the Bobtails seem to have learnt to balance pretty well without a classic cat tail.
5 – When the Tail Goes Cold
A cat that has lost its tail in an accident, or has injured it in a door or traffic accident, is definitely handicapped. It will not be able to balance as well as before or send out those tail-twitching signals. It is still capable of leading happy life, though – owners just have to look for other body language details to read their pet's mood.
6 – Inside Story 
Cat's tails have between 19 and 23 vertebrae, depending on the breed (and not counting the tailless Manx!) This represents around 10% of the total number of bones in the cat's body. These vertebrae give the tail its whiplash flexibility, held together with complex muscles, tendons and ligaments.
7 – Ailing Tails 
If your cat is feeling unwell, you can usually see the signs in its tail. It won't be held upright or twitching excitedly like before. If you notice that the behaviour of your pet's tail has changed, take it as a sign that she needs a health check. Some cats are prone to dermatitis, sometimes brought on by fleas. This can often be seen in inflamed areas in the region where the tail joins the rump. Some hormonal problems can result in inflammation in the tail too.
8 – Upstanding Felines
The ability to walk with an upright tail is actually unique to domestic cats. All other members of the cat family walk with the tail down, horizontal, or tucked safely between the legs.
9 – Tail End
Cats raise their tails to tell us they're happy and relaxed, but when prowling amongst other cats the raised tail signal is an invite to come and investigate. Other cats will sniff a cat whose tail is in the air.
It is widely thought that purring is something cats invented just for us – and perhaps that upright happy tail is another one of the ways they won a place in our hearts and homes.
This entry was posted in Cats
---