Keeping Chickens as a Gardener
Amy Shore, the lovely lady behind the Instagram account chicksandveg, is a gardener and chicken keeper living in Norfolk. In this blog she is sharing her experience of what it's like keeping chickens as a gardener, giving you some helpful tips on what you can grow for your chickens, and what you can do to keep them off your prized crops!
---
My garden just wouldn't be the same without my chickens. As I shuffle round, their chatter keeps me company and there is something so joyful about seeing them have a dust bath under the hedges or weed my paths! My chickens love helping me out in the vegetable patch but if I left them too it, I wouldn't have many veg left! So, I've tried to design my garden in a way that allows all of us to enjoy it.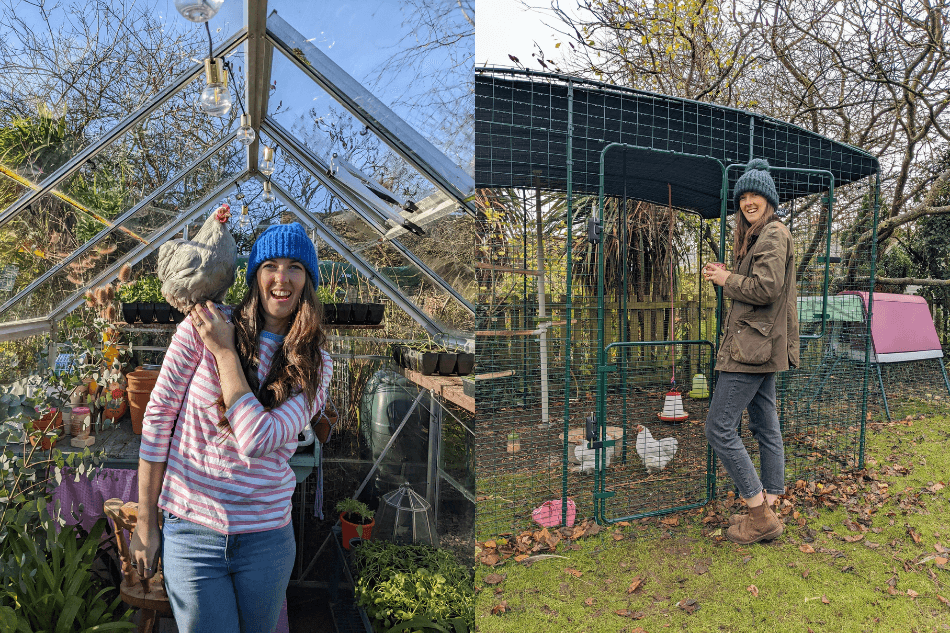 Setting up your space 
It's a good idea to have the ability to move your chickens around the garden and shut off areas you don't want them exploring. I've divided my garden into areas, some the chickens are free to explore and others are kept gated. This isn't possible in every garden but the same can be done using temporary fencing. I've used chicken fencing and even expandable trellis to section off areas. It's a good idea to move your chickens around, giving areas of your garden or lawn a breather and it keeps your chickens busy exploring new spaces. 
Despite being mostly able to range freely in my patch, I do have a safe and secure home for them in the form of their Walk in Chicken Run from Omlet. It's got plenty of room, treats and perches to keep them occupied, and it provides a great space to shut them away if required.
I use raised beds in my vegetable patch which stop my hens nibbling my vegetables but if you want to guarantee your chickens can't access your precious veg you could look at using tunnels or netting to cover them. I have hoops and netting over some of my seedlings to keep pests out but they also help to keep hungry chickens at bay too!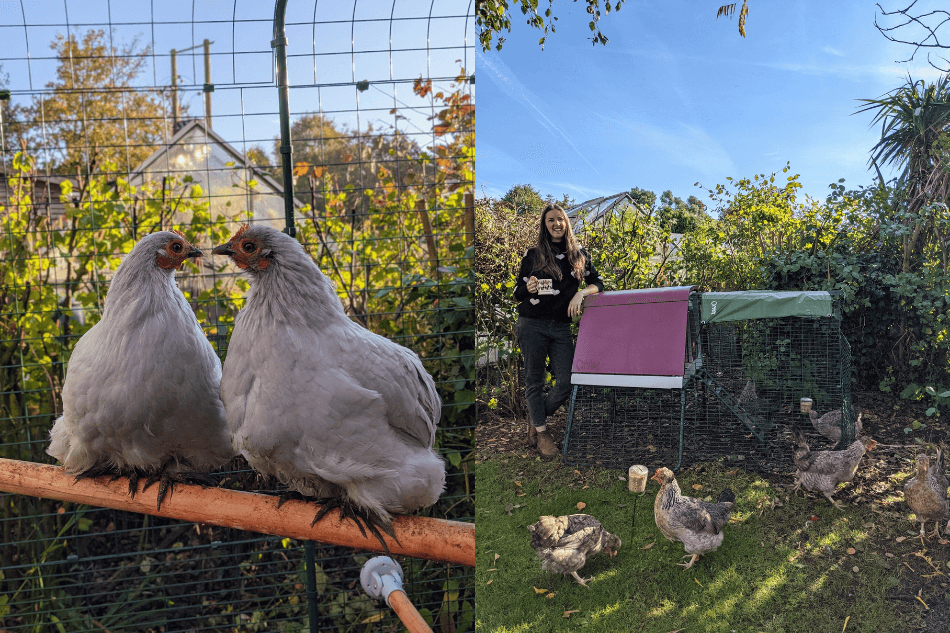 Growing for chickens 
Don't get me wrong, while I like to make sure my chickens don't help themselves to everything I'm growing, I do like to treat them every so often! I grow lots of 'extra' veg throughout the season and my hens are great at tidying up any plants that are looking past their best. 
My favorite thing to grow for my chickens are speedy salads and super quick microgreens. I have a few pots that I dedicate to sowing and growing some tasty treats for the hens. Each week I'll scatter a few seeds in a pot or shallow tray and some of the speediest microgreens can be growing after only a few days. They finish them off in a few minutes but their happy chirps are so worth it! 
Another speedy crop that doesn't take up too much space is radish! Plus, if you want to keep the root yourself they love the leaves on their own! Speaking of leaves you'll often find me pulling off and sharing the outer leaves of brassicas and lettuce with my hens. They love chard too which is handy as it thrives in my garden and I'm often overrun! 
I don't just grow vegetables for my hens! They are big fans of sunflowers (aren't we all). So, once they've finished blooming, as well as leaving some for the garden birds, the chickens love nothing more than pecking out all of the seeds. Nasturtiums are another beautiful bloom which I love to have dotted round my garden, they grow well in hanging baskets and draped over the edge of beds. Perfectly placed for hungry chickens and they distract them from my vegetables! 
Chickens bring so many benefits to the garden. They are great at pest control for slugs and other critters, they provide manure which when broken down properly can act as a brilliant fertilizer and most of all, they are great company! I'll always share my garden with my chickens, and I want to make sure they enjoy it as much as I do! 
This entry was posted in Chickens
---