Which Topology Topper is Best for Your Dog?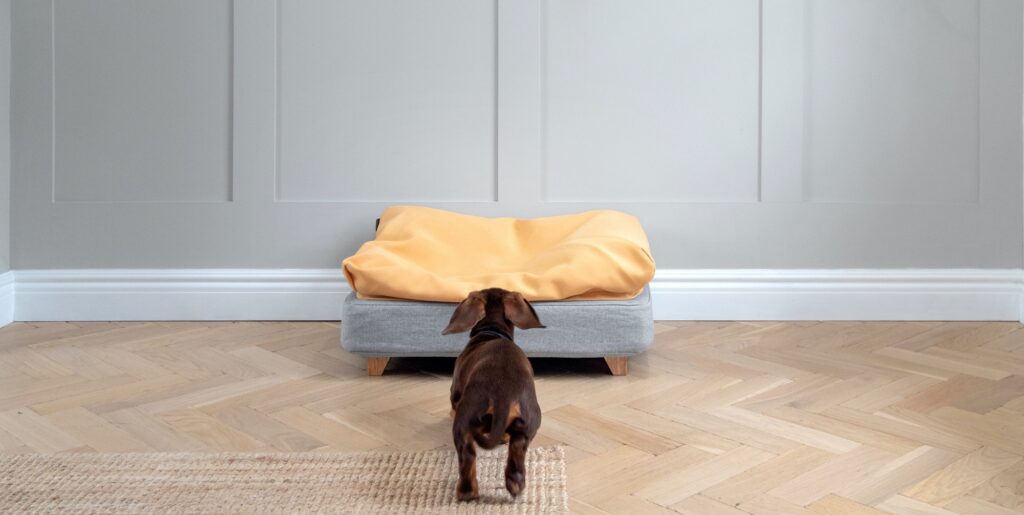 Discover the new Topology Dog Bed from Omlet, with customizable toppers to suit your dog's personality. Not sure which topper your dog will love best? Take the quiz below!
What kind of walk does your dog enjoy the most?
Run, doggie, run! The further the better

A gentle stroll around the park will be fine, thanks

I'm only small. A short walk followed by snuggles please.

A simple stroll around the neighborhood for us!

The muddier the better. A cold swim would be a bonus!
Which breed is your dog most like in personality?
A dashing dalmatian

A pampered poodle

A snuggly pug

A sleek saluki

A water-loving spaniel
What would you find most useful in a bed?
A bed that gives them a lot of support and allows them to rest fully

A luxury material but that's also easy to clean

Something that creates a den-like environment

A sleek and stylish bed that matches your home

A practical bed that helps to clean and dry after dirty walks
Where is your dog's favorite place to sleep?
Somewhere squishy they can really bury into

Only the softest of blankets, preferably by the fire

In a cozy corner somewhere away from the noise

Somewhere they can really stretch out and relax

Anywhere they can dry themselves off and snuggle in
On a scale of 1 to fox poo, how clean is your dog?
As long as there's a big walk with a nap at the end, they don't mind mud!

Very clean, wouldn't put a paw near a puddle

I think they would rather stay fresh and clean in their den

Clean, but loves a dash about in the park

They LOVE mud. They LOVE swimming. Bring on the dirt!
What is your favorite color palette within your home?
I love a mustard yellow. The brighter the better.

Creams and whites please.

Cool, soft greys are perfect for my home

Stylish mints and subtle greens really suit me

Brown is great to cover muddy pawprints
Answers!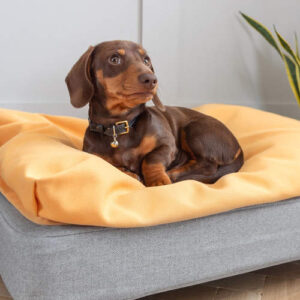 Mostly A's: Beanbag topper!
This super squishy beanbag molds around your dog's body for a sublime night's sleep. The extra support is great for relaxing after a long walk, and the bright pop of mustard yellow looks stylish in any home! Plus, the beans inside can be easily removed to wash the cover.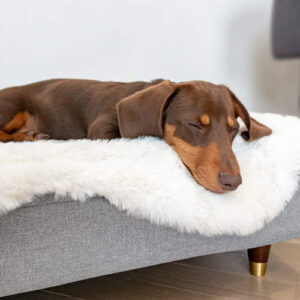 Mostly B's: Sheepskin topper!
The luxurious, super soft sheepskin topper in sophisticated white offers premium comfort to pampered pooches who desire the very best for bedtime. Don't worry about fur and dirt, the sheepskin topper can be unzipped from the mattress and thrown in the washing machine!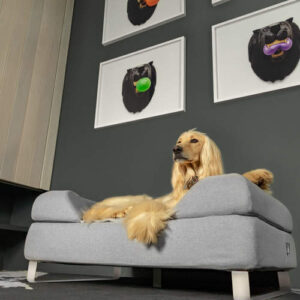 Mostly C's: Bolster topper!
The cushioned bolster topper is deep filled around the sides and designed to support your pet's head, just like a pillow. This bolster shape also helps create a secure feeling of protection around your dog. The Bolster cushion can be removed from the cover for washing too!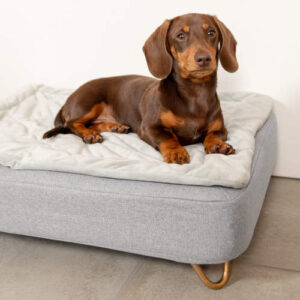 Mostly D's: Quilted topper!
Simple and sleek, the quilted topper is a great choice for dog's who love to stretch out after a long day. The stylish, blue-grey hue fits nicely in all homes, and the super soft material on the memory foam mattress provides ultimate comfort. Easily unzip and clean in the washing machine.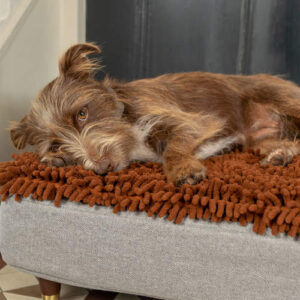 Mostly E's: Microfibre topper!
The microfiber topper is perfect for dogs who love long, muddy walks. Puddles aren't a problem for your dog, and they're not a problem for this topper either. The brown tassel design absorbs moisture from your dog's fur and camouflages muddy paw prints. Simply unzip and throw in the washing machine ready for your next adventure!
This entry was posted in Dogs
---