How To Train Your Cat To Walk on a Leash
Bhim Solomon is Omlet's junior guest writer, currently exploring fun activities to try with her two kittens Moonpie and Shadow Weaver, and introducing easy tricks you can try with your feline friends! In this article, Bhim talks through the simple steps to training a kitten to walk on a leash and the benefits of safe outdoor adventures for cats.
---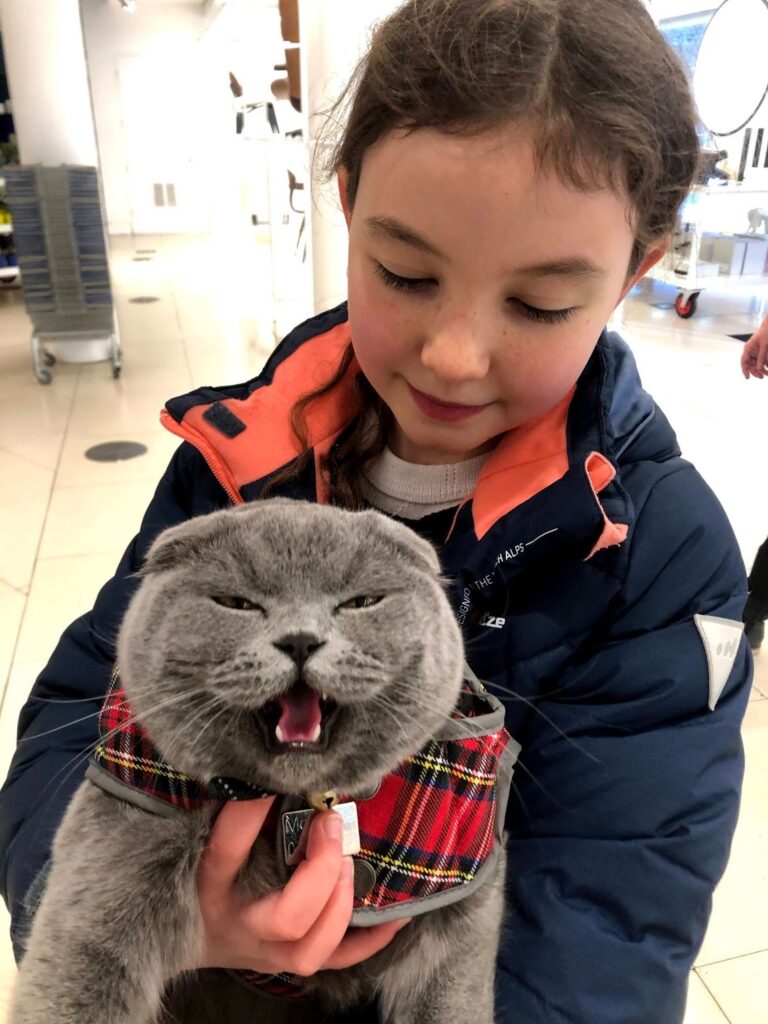 My kittens are 11 weeks old. They are Scottish Folds and their names are Moonpie and Shadow-Weaver. Moonpie is a girl and Shadow is a boy, they are brother and sister. They live indoors because they are quite small still but we want them to know what the outside world is like so we decided to buy a harness and leash for them so we could take them for walks.
Not many people know that you can take your cat for a walk, just like a dog, but one day I was in London in the Conran Shop and I spotted a beautiful, big soft grey cat on a leash! I asked the lady on the other end of the leash if I could stroke it. She was very friendly and said of course, she told me his name was Moonpie. Then she said would you like to see a trick? She got some treats out and said "paw" Moonpie lifted his paw into her hand, it was so cool. Then, the owner said "Hi Five" and Moonpie did a Hi Five! I'd wanted a kitten since I was 4 and now I knew I wanted a Scottish Fold and I decided to call my kitten Moonpie too.
I couldn't get the kittens straight away but little did I know that as a surprise for my 10th birthday my parents gave me two little Scottish folds. When I first got them they were eight weeks old, my brother wanted to call the boy Shadow-Weaver because half his face is grey and the other is a kind of apricot color. At the beginning, they both slept a lot and we kept them in one room so that they could get used to us little by little. Then one day we let them adventure around the house, then the next day they wanted to go outside. I asked my dad if we could get a leash and harness for them. He agreed and we got two for the kittens. I thought it would be good to get them used to being on a leash when they are young. I thought I would write a description about how to put it on, and use the harness to take your cat\kitten for walks to help other people who would like to take their indoor cats outside safely.
---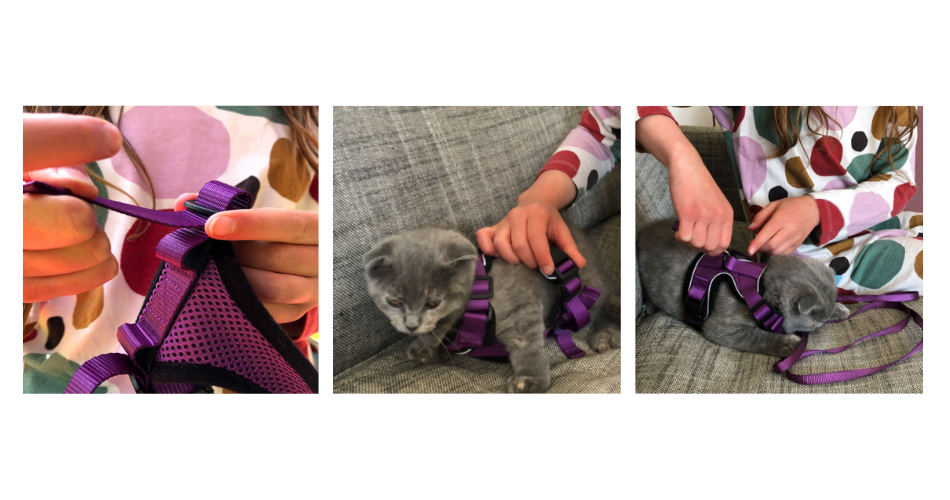 How to Fit a Harness
First, you adjust your strap so it fits your kitten.

Check that the harness isn't too tight and all the clips are done up, you might have to adjust the size a bit now, you should be able to get a finger under comfortably but if it's too loose your cat might slip out by accident. If your kitten is still too small for the harness to adjust small enough then you can get them used to wearing it in the house as if they slip out it won't matter too much.
Once you are satisfied that the harness fits securely and your cat is happy then all that is left is to clip the leash on the hook and take them for a walk.
Your kitten is now ready!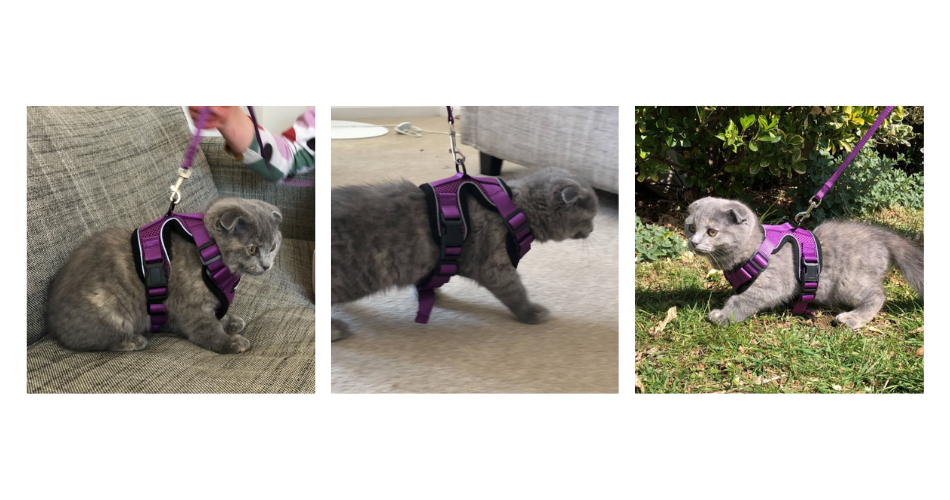 First, to make sure Moonpie was happy with walking and running in her new leash I took her for a walk around the house which she was used to, with the back door shut. I did this for three days in a row before we went outside.
I chose a nice sunny day for taking her outside on the lead. As I took her outside she was a little bit unsure and stayed still for a moment. Suddenly she went to some catmint that we have close to the door and put her whiskers in it.
Then she ran across the lawn at maximum speed, I had to sprint to keep up! She wanted to explore an old small tree. Moonpie can run really fast! Moonpie climbed up onto the tree and stayed still so she could balance. She was having lots and lots of fun exploring!
Next she started to explore the concrete part of the garden and looked behind the metal bucket, she inspected the wheelbarrow wheel and legs (she hadn't seen one before).
Then I think she knew where the house was as she ran back towards it.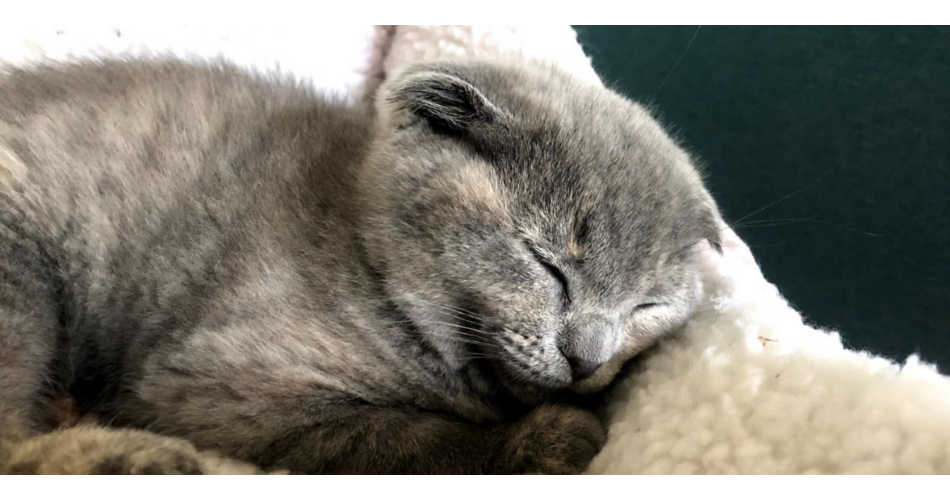 We had stayed outside for about ten minutes and as she ran towards the house I guessed she was tired, she went straight to the back door and as I let her into the house she went to the 'Kitten Room.' As I looked she got into her bed and after she had licked herself clean she went straight to sleep, a little fluffy ball.
I really like taking the kittens for walks because you get your exercise and have lots of fun seeing what the kittens like best in the garden. I think the kittens really like it because they get to smell fresh air and see the wildlife including our chickens. I try to take them into the garden when it is nice weather, so about twice a week after school and on the weekends. After school every day I try to put them on the harness so they can get really used to it.
As they get bigger and bigger we will take the kittens on longer walks. It's a really safe and fun way for them to explore the world around them. If you live in the city and you want your cat to have fresh air, exercise and to stimulate their senses but are worried about your cat then you can take them out on a leash and they can safely explore outside with your supervision, they can even learn to take the bus or the train!
This entry was posted in Cats
---